September 15th, 2022: Gophers knocked on the door to a title last year but were once again eliminated by Minnesota State. Developing a mentality of "if we keep knocking on the door it's gonna happen."
–> Follow @Dylanloucks4 on Twitter
---
MINNEAPOLIS, MINN – On a somewhat brisk 68-degree day, the Gophers hosted their first practice of the year on their home ice, 3M at Mariucci Arena. It was a practice filled with tons of new faces including a new assistant coach, Steve Miller, and 11 new freshmen. 
Logan Cooley, a top NHL prospect and recent third overall selection in the 2022 draft by the Arizona Coyotes, was one of the top freshmen forwards that turned heads. But along with the 11 newcomers, the Gophers also returned six defenders, two goalies, and seven forwards. With 11 of the 15 returning players being upper-classmen, Gophers head coach Bob Motzko states it's time to put it all together.
"I see some familiar faces out there on the rink and I see a whole pile of new guys but that brings excitement," Motzko told the media on Tuesday the 13th. "They can skate, the guys are working their tails off, we've got great camaraderie right now, great spirit inside our group, and we're excited to get going."
Some years you have three to four freshmen coming in, or even upwards of six to seven at times, but this year the Gophers have 11, seven of them being forwards. Motzko joked his team was probably the last team in the country to start practicing, and while that's likely true, they believe themselves to be ready to go come October 1st for their home opener against the newest Division-I team, Lindenwood (MO).
The first couple of practices will be used to work on systems, strength, and developing skill. With all the newcomers coming in, there will be a lot of drills early in the season that will be repeats from previous years, but that won't bother the returning players.
In just 15 days, the Gophers will play their first game of the year. With the 11 incoming freshmen, it can sometimes be tricky to get them all to buy into what Motzko is implanting on this team, but that hasn't been a problem. They have been doing nothing but team bonding since rosters were announced. Trips to the golf course, Minnesota State Fair, Top Golf, and football games, have created a unique bond and excitement that has the whole team buying into the plan.
"When you have a large freshman class, it brings this giddy little energy in the room but we got to blend it all together," Motzko said. "We are just one week into school, they're getting acclimated on campus and in the classroom. But boy, would I like to be playing in the national championship tonight, but it's a long way away. There's just a lot of excitement right now and that's what we want to play off of."
Gophers' 2022-23 Schedule
Sure, the schedule seems to start out relatively easy, with two games against Lindenwood, but the next six games bring a challenge we have all seen before. After Lindenwood, the Gophers open a home-and-home against Minnesota State, the team that has ended the Gophers season in two straight years, and two at home against North Dakota.
Their first Big-Ten matchup comes against Ohio State which will be played on the road to end the month of October. This series starts a string of six straight Big Ten matchups including dates with Notre Dame, Penn State, and Michigan. January starts off with a home and home against St. Cloud State followed by 14 straight Big-Ten matchups, six of which will be played at home.
Minnesota's schedule brings some challenges early, but in our eyes, the Gophers are likely still Big-Ten favorites. In USCHO's preseason rankings, the Gophers rank second.
The @DCUcreditunion https://t.co/2QgdyNoHQx Men's Preseason Division I Men's Poll is here! pic.twitter.com/6VgPIa9bOB

— USCHO.com (@USCHO) September 19, 2022
Like previous years during winter break, the Gophers will play a couple of scrimmages, one against the United States U18 National Team Development Program that consists of newly recruited future Gophers Beckett Hendrickson and Oliver Moore. The USNTDP also is a team with only three uncommitted players, two of which are Minnesota-born players.
The final scrimmage before the regular season will be against Bemidji State, a team that went 19-20-0 last year and 16-10-3 the year before. A team good enough to make it all the way to the NCAA East Regional finals in 2021. Bemidji's impressive run was eventually put to an end by the later NCAA National Champions, the 20-5-4 University of Massachusetts Minutemen.
"I called my buddy Ernie and said 'Do you wanna play the Gophers this year?', I had a little fun with him and said 'We'll come to Bemidji'," Motzko said. "It will be a great trip for us this year, it's a great building."
With the 2023 World Juniors and any possible injuries, it will be an excellent time to get some guys back up and going. These two games are likely when we will see some good looks at sophomore goaltender Owen Bartoszkiewicz, and freshman goaltender Zach Wiese.
Finding Replacements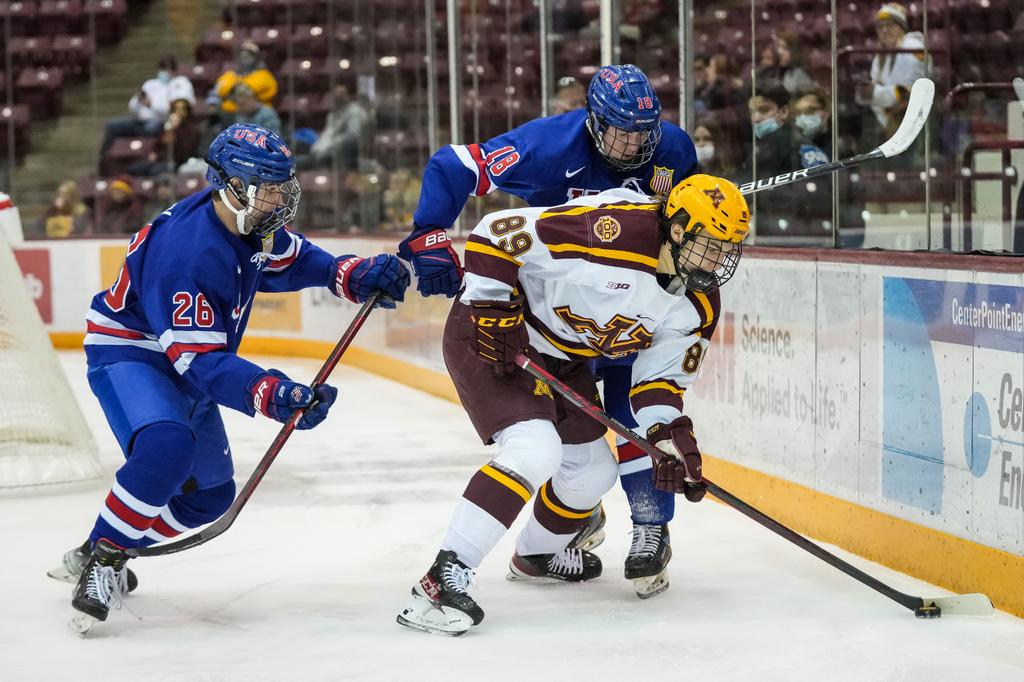 Funny enough, the picture above features Matthew Knies battling for a puck against now former Gopher freshman, Logan Cooley (18) and Ryan Chesley (26). The photo was taken on January 3rd, when the Gophers welcomed the USA NTDP U18 team to Mariucci for a scrimmage.
Cooley, one of seven freshmen forwards coming in, will play a huge role in replacing the offense that was produced by Ben Meyers, Sammy Walker, and Blake McLaughlin. All three upper-classmen signed deals with NHL teams this offseason. Those three were all top five point getters for the Gophers last season. Those are some of the top few amongst other notable offensive contributors, including Chaz Lucius, a notable threat that put up 19 points in 24 games, who also ended up signing his ELC with the Winnipeg Jets this summer.
"We're really strong on defense and our goaltending has been strong since I've been here," Motzko said. "But it's pretty obvious we got to replace some great offense, we've got guys in there that will do it. Maybe not right away but they'll get there."
You're obviously going to look for guys like Cooley, Jimmy Snuggerud, Matthew Knies, and Bryce Brodzinski to step up and provide some offense that's missing, but you also have some sleepers in Rhett Pitlick, Aaron Huglen, and Mason Nevers. I personally think Pitlick, Huglen, and Nevers will likely be a line come opening night. This line scored three goals on only six shots last year. They only played 90 shifts and a total of 18 minutes together, but that line cashed in three times and allowed zero goals against.
Fortunately for the Gophers, almost every single freshman that was brought in carries offensive traits that can translate to the Division-I level, it's just going to be a matter of when. Last year Knies and Lucius jumped on the scene early, Tristan Broz, Huglen, and Pitlick took a little bit to get going, but once they hit it they were a force down the stretch for the Gophers. Broz decided to transfer to Denver for his sophomore season after playing 36 games for the Gophers.
There's no question that the top-four defenders for the Gophers this upcoming season will be captains Brock Faber and Jackson LaCombe, Mike Koster, and Ryan Johnson. The bottom pair will be competitive with three incoming freshman defenders, all with great offensive ability, and two defensive studs in freshman Cal Thomas and junior Carl Fish.
Thomas and Fish will likely be pushing Matt Staudacher for his spot, Luke Mittelstadt and Ryan Chesley will be pushing hard for Koster's top four spot, and furthermore also Staudacher's spot. You've got four very good defenders battling for two spots. But who doesn't love competition?
Mittelstadt went undrafted in the summer after putting up an impressive 19 goals and 55 points in 60 USHL games with the Madison Capitols. Chesley was taken 37th overall in the second-round by the Washington Capitals after posting 15 points and solid defensive numbers in 26 games for the US NTDP U18 team. Thomas, also drafted by the Coyotes 171st overall in the sixth-round in 2021, put up 25 points in 61 games between the Sioux Falls Stampede and Chicago Steel this past season.
Fish played 21 games for the Gophers last season and put up six points. Yet, he ranked third on the team in CORSI amongst defenders. Fish also ranked ahead of Johnson and Staudacher in defensive zone retrievals. Most importantly, Fish ranked first amongst Gopher defenders and third on the team in puck battles won per 60 minutes, behind Knies and Huglen.
The 21 games Fish played last year for the Gophers provided the team with great defensive play and some physical play that the team was missing at the time.
Final Thoughts
There will be competition up and down this roster specifically on defense, but also in goal and upfront. There is still a bitter taste in the returning players' mouths after losing to Minnesota State to end their season. For guys like Faber, LaCombe, Close, Koster, Fish, Johnson, Brodzinski, Nevers, Nelson, Colin Schmidt, and Staudacher, they have seen their last two games of the season end in the hands of a Minnesota State win. You think October 7th is circled on their calendars? You bet.
"We want to win that last game of the year and we will keep poking. Two region finals in a row punched our ticket through once, and we're knocking on the door. If we keep knocking on the door it's gonna happen. That's what we need to do," Motzko said. "We were 60 minutes short of being in the championship game, now we have to go back and build it again. We've got the heart, character, and leadership that wants to get there."
Defensive metrics from Instat Hockey, general stats from HockeyDB.