August 18th, 2022: The native of Edina, Minnesota, notched 48 goals and 112 points in 144 career games for the Gophers. He now signs a contract with the Minnesota Wild.
–> Follow @Dylanloucks4 on Twitter
---
Reported first by Michael Russo, Senior writer at the Athletic for the Minnesota Wild, Sammy Walker has signed a contract with the Minnesota Wild, putting an end to his time with the Gophers.
Nothing's done until it's done, but every indication I'm getting is that 3-time University of Minnesota captain/2018 Mr. Hockey MN Sammy Walker plans to sign with his home state #mnwild. Speedy 2017 #tblightning draft pick had 48 goals and 112 points in 144 games at the U

— Michael Russo (@RussoHockey) August 18, 2022
Walker has spent the last four seasons wearing the maroon and gold colors of the Gophers, three of which with a captain patch on his jersey. This year, Walker led the Gophers to a Big Ten regular-season championship but most importantly a frozen four appearance. Marking the first frozen four appearance since 2014 and their 22nd time in Gophers' history.
"Walker's progression is reminiscent of NCAA players like Mark Jankowski, Teddy Blueger, Andrew Copp, Tommy Wingels, and Jimmy Hayes. Those are the notable ones that made the NHL," Bryon Bader, creator of hockey prospecting told Gopherhole. "An atypical college player like that finds their way to the NHL and when they do it's often in a support role."
What stands out the most to me is Walker's speed. He has great hands upfront and has the ability to work past the opposition in tight spots. During a couple of games this year, Gophers' head coach Bob Motzko used Walker on the wing. This allowed Walker to use his speed and fly in from the side. A prime example was Walker's goal against Penn State on November 20th.
When Sammy Walker picks his spot you better watch out👀 pic.twitter.com/XUr6nfH0GZ

— Minnesota Men's Hockey (@GopherHockey) November 21, 2021
The former Big Ten Freshman of the year tailed a new career high in goals with 14 this season. Walker notched 13 assists for 27 points in 39 games for the Gophers this year. Now the three-time academic All-Big Ten honoree, earning the accolade every year he has been eligible, will likely play for the Iowa Wild this upcoming season.
"Walker's hockey IQ is not discussed nearly enough. Walker is a fundamental-machine, showing terrific awareness of the three lanes of the ice, which allows him to look perfectly in-tune with play in all three zones," said Gabe Foley, Head of North American Scouting for Recruit Scouting.
Foley added, "Walker could improve at controlling the puck through the neutral zone and taking command of play from the center position. This inefficiency keeps him from finding a scoring knack that his IQ, and skating, could compliment."
The first ever three-time captain in Gophers history also became the 85th Gopher to record 100 career points with an assist on Blake McLaughlin's goal on January 14th, 2022. Walker was also a All-Big Ten Honorable Mention after helping the Gophers win the 2021-22 Big Ten Regular-Season Championship.
Walker ranked sixth amongst Gopher forwards in xGF and fifth in GF/60. Both offensive stats I individually tracked throughout the season based on my expected goals model. Walker ranked seventh on the team in puck battles won per 60 minutes and first amongst forwards in puck retrievals after opponents' shots.
The five-foot-eleven forward ranked second on the team in face-off wins and second amongst forwards in accurate passes, only behind Ben Meyers. Walker also ranked second in penalties drawn and shots on goal behind Blake McLaughlin according to Instat hockey.
Also playing sound defense, Walker was relied upon by his coach Bob Motzko in all situations. Walker ranked first in defensive zone possession time and second in offensive zone possession time amongst all Gopher forwards while also ranking third on the team in scoring chances.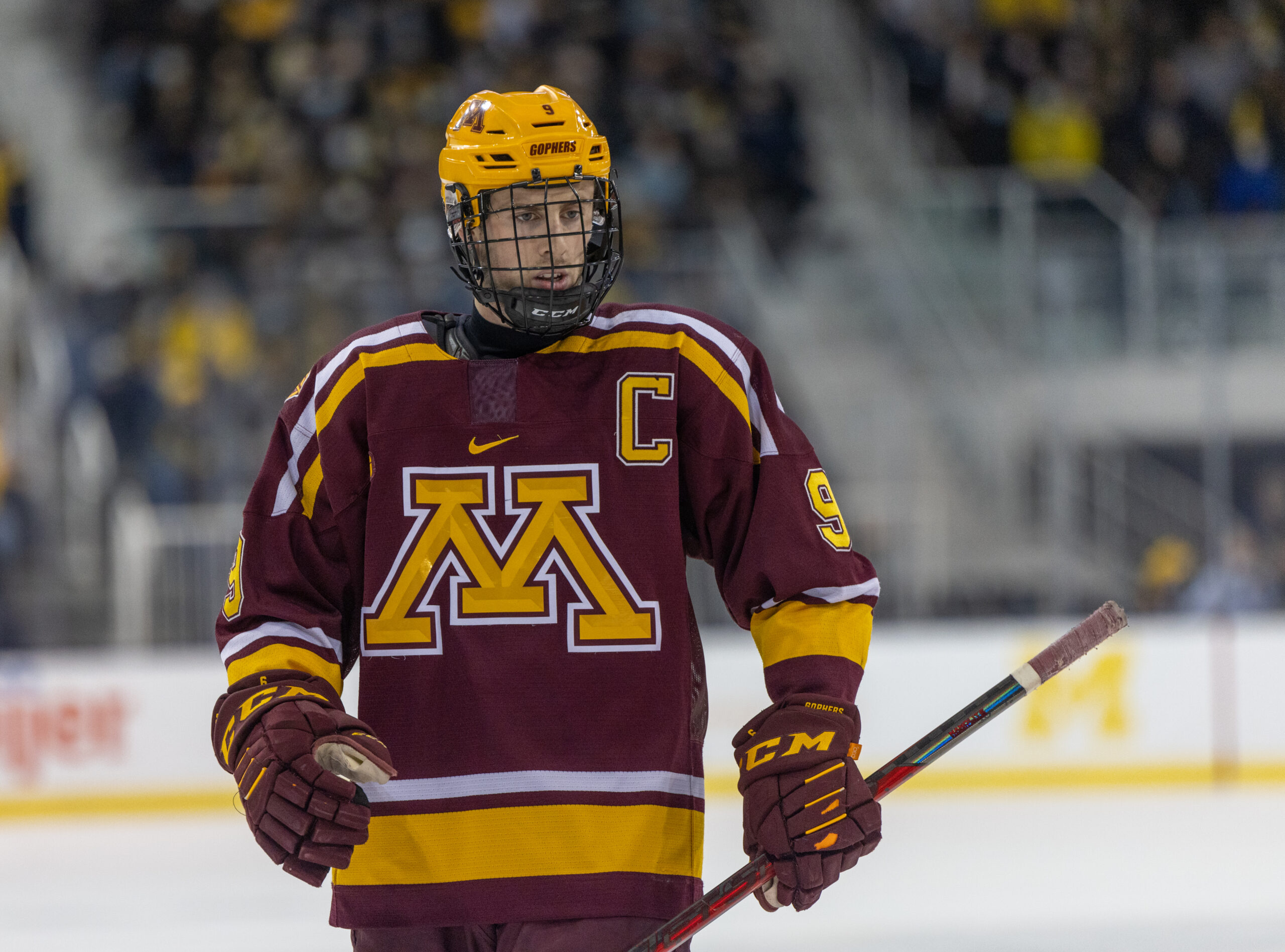 The former captain of Edina high school put up 72 goals and 147 points in 100 career games with the hornets while accepting the Mr. Hockey award in 2017-2018 for the best high school hockey player in Minnesota. Walker capped off his high school career by leading the Hornets to a third-place finish in the 2018 MSHSL Class AA State Tournament while earning all-tournament honors.
This year the Gophers were 10-1-0 when Walker scored a goal and 16-3-0 when he tallied a point. Walker also led Minnesota's forward group with a career-high 25 blocked shots. Walker provided the Gophers with clutch moments throughout his career. His game-winning goal against Penn State in the Big Ten tournament semifinals on March 12 sent the Gophers to the Big Ten championship. This marked the second year in the row where Walker scored the game-winner which sent the Gophers to the Big Ten championship game.
He was known as captain clutch, or a member of the famous PB&J line, or even the guy who eats fruit rollups before games. Walker's leadership will be missed in the Gophers locker room.