Joined

Mar 13, 2019
Messages

1,277
Reaction score

949
Points

113
8 Big10 teams selected and only Michigan State has a chance to make the sweet 16.
This is a pathetic showing for the conference.
At what point is the basketball world going to wake up and realize that the Big10 isn't the powerhouse that everyone says. It shouldn't be getting more than 5 teams in and it shouldn't be getting these lofty KenPom rankings all year.
How in the hell was Wisconsin still a bubble team when it went 7-12 since Jan 1 (not including NIT)… and their KenPom is still 68.
Ohio State; 16-19 on the year, finished ranked #49 via KenPom. Since January 7-16 (loss streaks of 5 & 9 games). - how is this team still ranked 48th? I don't care who you're losing to, you lose 5 times in a row or even worse 9 times in a row, you're not a top 100 team.
Then you can look at how the Big10 actually does in March Madness (let's look at 2000-2022).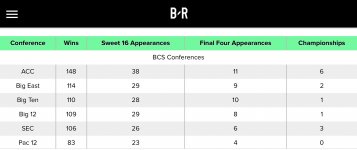 LINK TO ARTICLE
.
In my opinion, the Big10 is essentially the new Pac12 (but I'd take the top Pac12 against the top Big10 most years *in the NCAA tourney), and the conference shouldn't get more than 5 teams into the dance on a yearly basis.
EDIT: forgot about Indiana, but it's still really bad
Last edited: