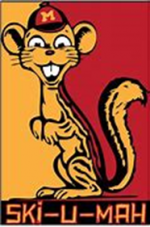 Week four results went with the favorites for the most part, however upsets were clearly lurking. While last week produce no predictions of all 4 games being picked correctly, this week we had 19 individuals who were successful in picking all 4 games correctly. If two games had gone the opposite direction at the end, the numbers would have plummet greatly. Of course,
Talon's
Southern Boys also snuck by!
Those picking all 4 include:
Bleed Gopher………………..BobbyG……………………cloupher……………….El Amin Fan
ergopher……………………….Go4………………………….Goldenboy……………Gophergrandpa
HitMeAgainI'mStillMoving….JayBobDobbins…..MirandaB……………..MGGopher
nitramnaed……………………Otis………………………….Some Day…Maybe...swelna
Triple D………………………….USAF………………………..WA Gopher
Standings after 4 weeks of college football
15 pts. Some Day…Maybe
14 pts. cloupher
14 pts. HitMeAgainI'mStillMoving
14 pts. MirandaB
14 pts. MGGopher
13 pts. Gophergrandpa
13 pts. Gopher-In-Keno
13 pts. swelna
13 pts. Triple D
Meanwhile the Gophers are
back
in the weekly picks based on the poll. Other games are typically picked when spreads are somewhat tight. Thanks for your comments regarding the poll. Perhaps a little tougher this week.
Week 5 pick'ems
…please have your picks in by 11:00 a.m. Saturday, September 30th. Even if you're somewhat behind in the standings, go for the Saturday
sweep
!
Louisiana Ragin Cajuns at Minnesota Golden Gophers 11:00 a.m.
Kentucky Wildcats at Florida Gators 11:00 a.m.
LSU Tigers at Ole Miss Rebels 5:00 p.m.
Illinois Fighting Illini at Purdue Boilermakers 2:30 p.m.