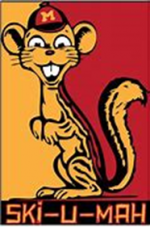 As I have a full day on Monday of this week, I decided to post this thread a little earlier.
Many pickers had cramps this past week!
NO ONE
predicted the winners of all 4 games. 12 individuals picked 3 games correctly. Naturally the Gopher game messed up many predictions. Sometimes it's hard not to pick the Gophers out of loyalty. Perhaps as to not deal with this issue in the future, perhaps I should remove the Gophers (
survey below picks
).
Huge
can of worms with this one I realize. Perhaps I shouldn't have suggested it. But I did. Due to trolls etc., commissioner will rule in the end. Meanwhile I did remove the Gophers this week due to the spread and added a game that some of you may enjoy.
Meanwhile the current leaderboard is as follows with many on their heels.
11 pts. Some Day…Maybe
10 pts. MirandaB
10 pts. MGGopher
10 pts. Gopher-In-Keno
10 pts. Gopher_Devil
10 pts. Cloupher
Please have your picks in by 11:00 a.m., Saturday

Pick'ems are as follows for this week:
Auburn Tigers at Texas A & M Aggies, 11:00 a.m., Saturday
Florida State Seminoles at Clemson Tigers, 11:00 a.m., Saturday
Georgia Southern Eagles at Ball State Cardinals, 1:00 p.m., Saturday
Ole Miss Rebels at Alabama Crimson Tide, 2:30 p.m., Saturday
Should the Commissioner remove the Gophers in the future?
Yes/No.