GopherHole Admin
Staff member
Joined

Nov 3, 2008
Messages

4,890
Reaction score

883
Points

113
Get to Know Gophers Freshman Volleyball Player Lauren Crowl​
By: Mike Pokrandt | August 26, 2021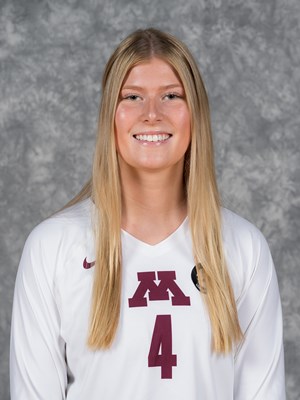 Lauren Crowl is a 6'4" Opposite from Eagan, MN. She was a 5-year letter winner and 4-year All-Conference selection at Eastview (MN) High School. Lauren finished her high school career with 931 kills, 769 digs and 84 aces. As a senior, Lauren was named Metro Player of the Year, First Team...
gopherhole.com
Lauren Crowl is a 6'4" Opposite from Eagan, MN. She was a 5-year letter winner and 4-year All-Conference selection at Eastview (MN) High School. Lauren finished her high school career with 931 kills, 769 digs and 84 aces. As a senior, Lauren was named Metro Player of the Year, First Team All-State and a Third Team Under-Armor All-American. She played with Northern Lights Volleyball Club. Lauren is part of a very strong class of incoming freshmen for the Gopher volleyball program. I caught up with Lauren to understand her decision to play volleyball at Minnesota and her expectations for the upcoming season.
You were a multi-sport athlete early in high school, playing hockey and volleyball. Why did you decide to stop playing hockey and focus on volleyball?
I played hockey through my freshman year. It was becoming a lot, playing club volleyball and hockey on a team that was making state tournament runs. Hockey was a big-time commitment for me, that my heart wasn't fully into. I was taking time away from girls that were at practice every day and were doing everything they could to get playing time. I didn't fully care for hockey and kind of got burned out on it. My heart was always with volleyball and I felt like it was just in my best interest to give hockey up.
As a senior at Eastview High school, you had more digs than kills. Not a lot of people would expect that from someone who is 6'4". Tell me about your development in becoming a 6-rotation player.
I had always played some back row in high school and occasionally for club. As I became older and become more of a leader on the court, I began to embrace playing 6 rotations. I wanted to make the most of all of my time on the court. I wanted my team to win and I was trying to do everything I could, by going for every ball and just making the most of it.
In college, do you think you'll play front row only or do you have aspirations to play 6 rotations?
At first, I'd just like to find the court and play front row. Eventually, if I earn my time playing back row, that would be super cool and is a goal of mine.
High school and club volleyball are two different animals. What lessons did you learn from high school volleyball? What lessons did you learn from club volleyball?
The biggest lesson I learned from high school volleyball is what you make of it is what you're going to get out of it. If you go into it with a bad attitude and aren't excited to be there, you aren't going to get anything out of it. It was also important to just have fun with it. I learned so much from club volleyball in different areas. I feel like there was a lot more skill development because we had so much more time in the gym. In club, I felt like I got a lot better on the court. In high school, I developed more of my leadership skills.
Tell me about the recruiting process, what other schools did you consider and what made you decide that the University of Minnesota was the right place for you?
Recruiting started in 8th grade. As the years went on, I had a lot of interest from different programs across the country. During my 16s year, the NCAA came out with new rules for recruiting and it all came to a stop. I couldn't talk to coaches or anything. The summer after, it started back up again. I committed to the University of Minnesota in the winter of my junior year. No other school gave me the feeling that it did. I really bonded with the coaches unlike I did at any other school. The gym culture and legacy of the program were selling points for me. The University of Minnesota is also a great academic school.
The Gophers early-season schedule is tough (Baylor, Texas, Florida, Stanford, Oregon). What was the reaction from you and your teammates when you saw the schedule?
At first, I think we were in shock. We are excited about it, as it gives us a chance to play other Top 25 teams that are outside of the Big 10. It's going to be good to prepare for the postseason tournament. It will be a fun early season. I think everyone would rather be playing teams like this than teams that aren't very good competition.
What are you expecting from the first week of practice?
I'm excited to get into the gym to work with the coaches since we haven't been able to do that all summer. I think it's going to be more mentally draining than physical draining because we haven't had this much volleyball and workouts in quite a while. I think I'll learn a lot.
What goals have you set for your freshman year?
I'm just trying to master the basics and fundamentals. I'm looking forward to developing my game at a higher level.
Your brother Steven plays basketball at the University of Wisconsin. What has he shared with you about Big 10 athletics?
He has talked a little bit about it with me. It was hard with the COVID season last year. When Wisconsin went to the Big 10 tournament, they were in a bubble the whole time and it wasn't the true experience that he had hoped to get. He talked about taking everything in and being grateful that you are there. He told me that when you are at practice, just try to grasp what the coaches are telling you because everything they are doing is for you to become the best player that you can be.
What do you like to do when volleyball season is over?
I really like to spend a lot of time on the lake. That is one of my favorite things to do. I like to travel and explore places that I've never seen before. I like to hang out with my friends that I don't get to see during the season when we are so busy. I take a deep breath, chill and just step back from everything.
Who are the people that have had the biggest influence on you?
Throughout my life, my parents have always been there to support me and to help me make the right decisions. I also had a high school coach, Becky Egan, that had a big impact on me as a player and how I presented myself as a leader on the court. I look up to her because she also played for the Gophers.
What are you studying at the University of Minnesota?
My major is sports management. I want to work with the business side of athletics.