Anyone know why USA U23 changed their roster? The U23 team with Van Lith that qualified was good. The replacement U23 team not so much.
As an FYI, Van Lith played for the
U24
team that I think is also called the national team. They played in a different tournament earlier this summer and won the gold.
Team USA
U18
also won gold. The number of teams is confusing.
Mara Braun of course played for
U21
: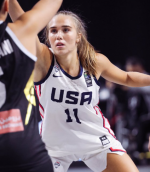 Oh! I previously wrote about Hailey Van Lith's cut back left money move she has milked for years to great success. Here is Mara Braun's version earlier this summer in international competition: