April 6th, 2023: Thunder Alley is packed with hundreds of Gopher hockey fans as they cheer on their Gophers before their game against Boston University. 
–> Follow @Dylanloucks4 on Twitter
---
Tampa, Fla – They call it Thunder Alley, right outside Amalie Arena, Gopher fans stand by a blue carpet cheering on the Gophers hockey team as they enter the arena for a Frozen Four matchup against Boston University.
Not long after, the Gophers band, who made the trip along with the Gophers cheer squad, start playing the Minnesota Golden Gophers rouser. Hundreds of fans in maroon and gold come together to chant the ending of the rouser. M-I-N-N-E-S-O-T-A, Minnesota, Minnesota, eeeeehhhh, GOPHERS!
The #Gophers have arrived! pic.twitter.com/as5mH5E4QA

— GopherHole.com (@GopherHole) April 6, 2023
You can feel it in the air, Gopher fans are pumped for today's 5:00 Pm ET game against Boston University. The vibe is different, it feels different than last year were the Gophers lost to Minnesota State in the Frozen Four 5-1.
But for the Gophers' biggest hockey superfan, this year feels a little different.
Gopher Hockey Superfan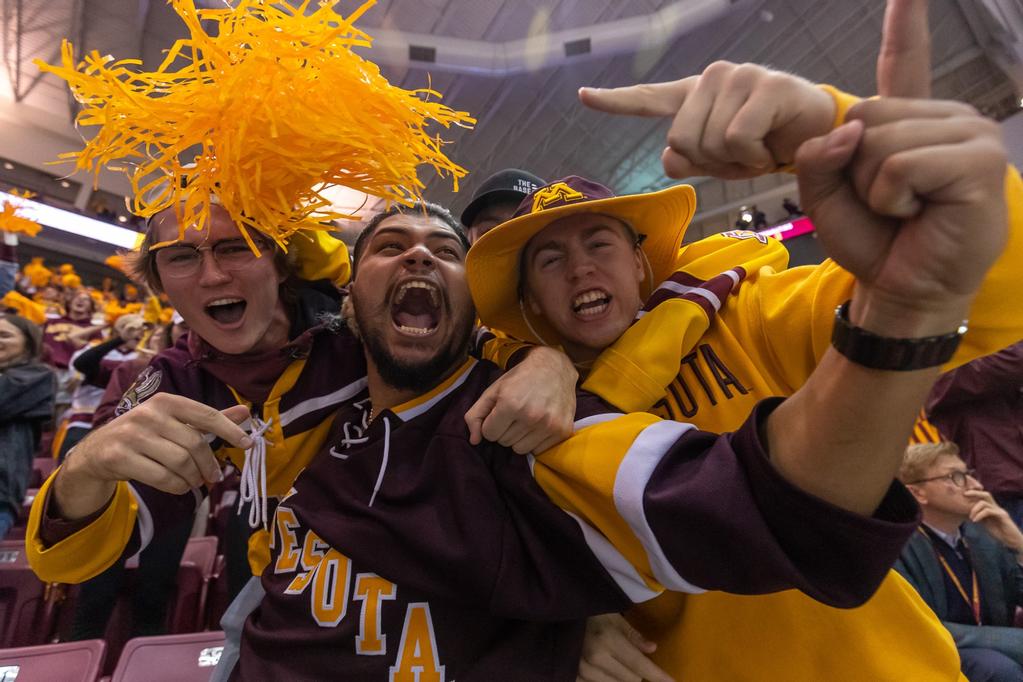 Growing up in Los Angeles California Andrew Mercado quickly became a hockey fan with his dad, Armando, who was a die-hard hockey fan. Mercado recalls hearing stories from his dad when Wayne Gretzky got traded to the Kings on August 9th, 1988. Gretzky was traded from the Edmonton Oilers alongside Marty McSorley and Mike Krushelnyski to the Kings for Jimmy Carson, Martin Gelinas, three first-round draft picks in 1989, 1991, and 1993, and $15 million in cash.
Mercado's dad was a big reason why he became a diehard hockey fan. He decided to move to Minnesota to attend school and pursue an English major in hopes to become an English teacher someday. He got some Gopher merchandise when he was 11 years old after his dad came to Minnesota for a work conference. Since then, Mercado had the University of Minnesota as his dream school.
Now a Senior, Mercado went to his first Gopher hockey game in his Junior year. He was quickly hooked on Gopher hockey when he had a front-row seat to a 7-4 win over Mercyhurst to open the 2021-22 season. His first of many appearances on the Jumbotron at 3M Arena at Mariucci, was the Gophers' first goal scored by Bryce Brodzinski.
The first thing that jumped out was his mullet, which has gotten a lot of jumbotron screen time since then. Mercado started being known as the mullet man and knew he couldn't get rid of it.
"Before I moved to Minnesota," Mercado said. "I hadn't gotten a haircut in a while and my dad, Armando, asked if I was growing a mullet."
"Nah, not really. I'm just too lazy to get a haircut," Mercado said.
"Alright let's do a contest," Armando said. "May the best mullet win."
But two weeks was the longest Armando could last before he got a haircut, Andrew on the other hand, has been growing his for four years now and decided to bleach it in 2020.
"It was supposed to be a joke but it has stuck on," Andrew said. "When I moved out here everyone knew me as the mullet man so I felt I can't get rid of it, not now."
You can see Andrew's mullet at almost every Gopher home game on the jumbotron or even see it in many Gopher sports promotional videos. He always sits in the front row and everyone in the arena knows he and his three roommates have those four spots on the glass behind the net on lockdown.
"I'm pretty superstitious," Mercado said. "I have never sat on the glass so I thought I should at least one time, since it is general admission for students. I sat there and we won so I wanted to sit there for every game."
Indeed he has.
Mercado has sat in the front row corner along the glass for every home game in the last two years except one game. Mercado and his roommates, Andrew Lubke and Grant Grenti, show up two hours before puck drop which is an hour before the gates open to claim their spots behind the net.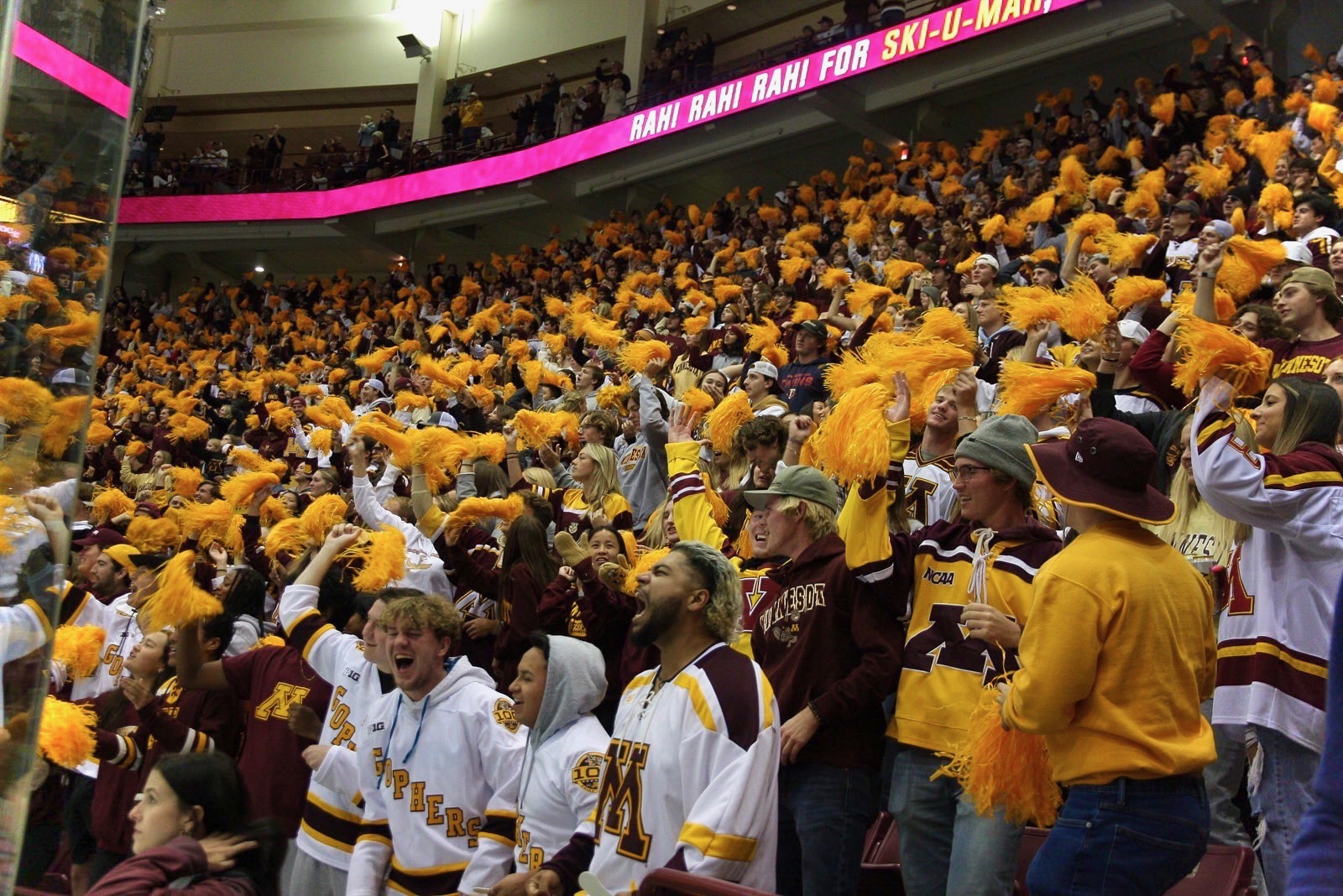 He feels confident this year about the Gophers' chances. "Last year losing to Mankato was heartbreaking," Mercado said. "I'm very confident this year, we have to win it."
But when they aren't playing at home Mercado still has to be with his roommates and friends. He says he gets very nervous watching games. Mercado will be watching at a bar close to his apartment back home but will be cheering the Gophers on.
Two of his friends are in Tampa cheering the Gophers on with their families but they don't have the iconic mullets like Mercado does. Unfortunately, Mercado will be cutting his mullet on Monday after the season is over. But he has plans of growing it out for next year.
But being a senior now, Mercado says he will still go to games next year but will sit a couple of rows up from his usual spot as he plans to pass the torch onto his younger roommates.
"If we win the national championship I will switch things up a bit," Mercado said. "My roommates are younger than me so they will be here longer than I will be. I'll have to pass the torch onto them and have them sit in the front row."