April 3rd, 2023: The Gophers are set to take on the Boston University Terriers in the Frozen Four for their 23rd time in program history.
–> Follow @Dylanloucks4 on Twitter
---
Minneapolis, MINN –The Gophers are on their way back to the Frozen Four for the second straight season. They beat the Canisius Golden Griffins 9-2 in game one of the Fargo Regional then beat the St. Cloud State Huskies 4-1 to advance to the Frozen Four. 
Their opponent the Boston University Terriers made the Frozen Four after beating Western Michigan 5-1, the team the Gophers beat last year to advance to the Frozen Four, then they beat Cornell 2-1 in the Machester regional. 
The Terriers had an interesting season, they won the Hockey East Tournament Championship against Merrimack after beating them 3-2 in overtime. Boston University referred to as BU, played Merrimack during the regular season and went 0-1-1 in their two meetings with an overtime loss. 
Merrimack made the NCAA tournament but lost to Quinnipiac 5-0 in the first game of the Bridgeport Regional. Quinnipiac ended up beating Ohio State to advance to the Frozen Four to take on Michigan University, a team Gopher fans know all too well. 
So full circle you can boxscore watch and see who teams lost to who and who they beat but the Terriers shouldn't be overlooked if you think they are a lesser team. They are on fire right now, winning nine straight games after a four-game losing streak.
They are currently 29-10-0 on the season and have a very good goaltender in Drew Commesso who was drafted 46th overall in the 2020 NHL Draft by the Chicago Blackhawks. Commesso is 8-0-0 in his last eight games with a 1.50 goals-against average and a .943 save percentage. 
But that doesn't mean he's unbeatable.
Scouting Report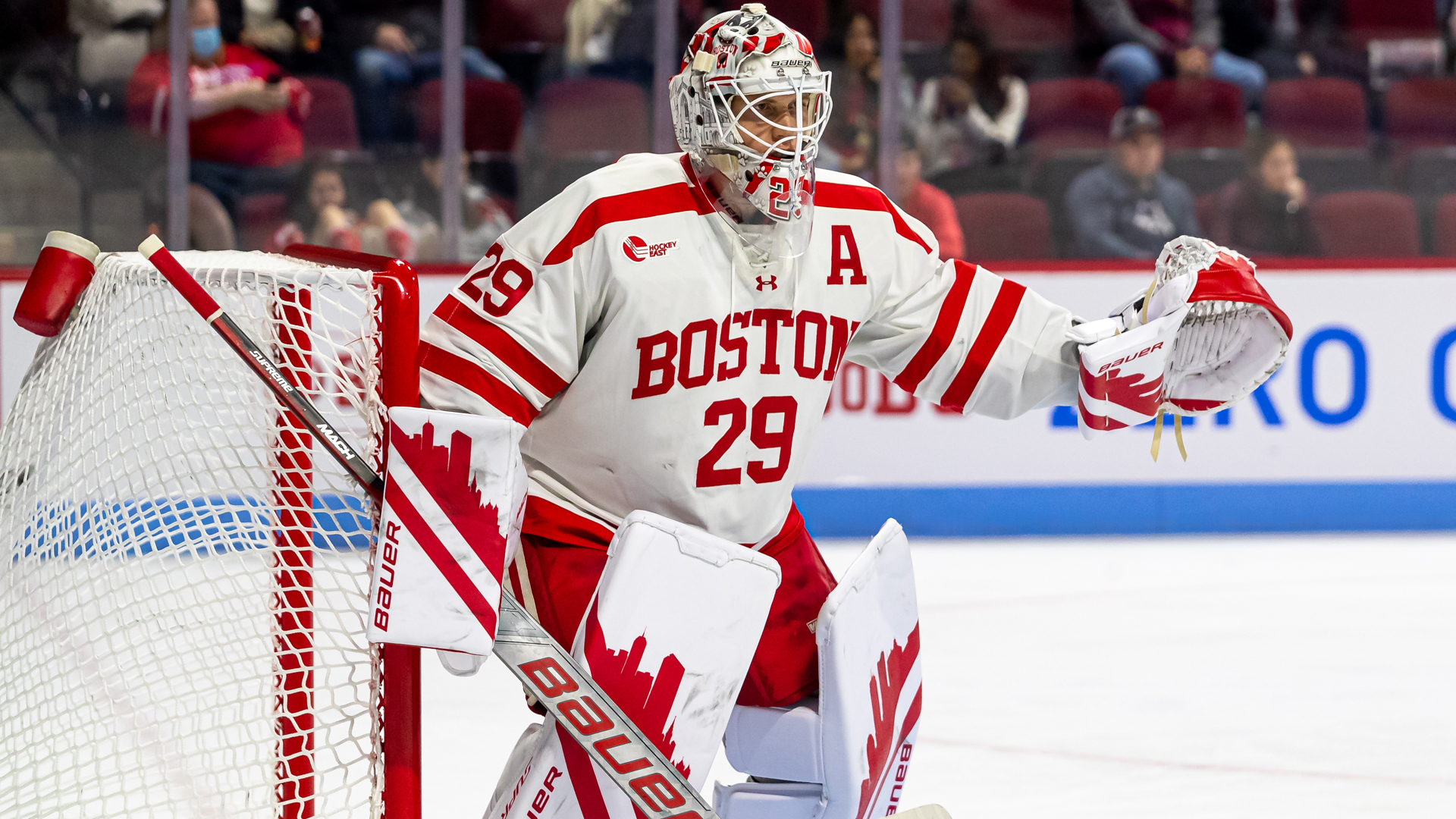 Watching Commesso this year has been a little weird. Most goalies love to use their glove and are usually most comfortable with catching the puck. Commesso seems to be the opposite. In his last ten games, he has allowed 14 goals with seven of them on his glove side. All seven of them have been on the low glove side. He has allowed three goals fivehole and four on his blocker side with two being high-blocker and two being low-blocker. 
He has also struggled with one-timers or slap shots in general, specifically on the glove side. One thing I have noticed in his last ten games is how he looks shaky on quick shots. Shots off the faceoff or quick spin-around shots he seems to struggle with but I think most goalies do. 
Another thing he struggles with is one-timers but specifically one-timers on odd-man rushes. The good thing is Boston University gives up a lot of odd-man rushes. Lane Hutson, Ty Gallagher, Chase McCarthy, and Cade Webber all have allowed more expected goals than all eight Gopher defenders who have played. 
Senior Defender Jackson LaCombe who scored on a one-timer against St. Cloud last game spends a lot of his time after practice working on one-timers, especially this week leading up to the game.
Boston's defensive core is pretty similar to the Gophers. They have a great top-four filled with defenders who move the puck really well. They are a little weaker on the defensive side of the puck which is unlike the Gophers defenders but you need to watch out for BU in the offensive zone. 
"Depth," Gophers head coach Bob Motzko said when asked about Boston. "All four lines can score, a couple of defensemen that are highly offensive and dangerous. They've got a lot of seniors with 29 wins. You watch the film and can confirm that this team deserves to be here."
Lane Hutson was one of the ten Hobey Baker finalists and probably should've finished as a final three with the way he has played this year. Cale Makar won the Hobey Baker in 2019 with 16 goals and 48 points. Hutson has 15 goals and 47 points this year.
Domenick Fensore is their other big defenseman. The 2019 90th overall pick by the Carolina Hurricanes has nine goals and 29 points for Boston this season and used to play with Brock Faber in the USNTDP program back in 2018-19. 
Logan Cooley, Jimmy Snuggerud, Ryan Chesley, and Luke Mittelstadt also played with Hutson in their careers. Cooley, Snuggerud, and Chesley played with Hutson for the last two seasons in the USNTDP. Mittelstadt just played with Hutson in the 2023 World Juniors for team USA. 
One last BU defenseman I want to talk about is Cade Weber. The Hurricanes prospect plays most of his game in the defensive zone. In fact, he's played 120 more minutes in the Dzone than the offensive zone this season. His CORSI is not where he wants it but his 92 blocks are the most by a BU player since 2014-15 when Brandon Hickey had 91. 
Other than blocking shots Weber struggles a bit with breaking the puck out. He only has 77 total breakouts this season, Hutson has 384, Fensore 263, Case McCarthy has 226, and Ty Gallagher has 222. 
In the last five games, Mike Koster, Ryan Johnson, Cal Thomas, Faber, and Chesley have engaged in more puck battles than Weber, Fensore, McCarthy, Gallgher, Lachlan Getz, and John Copeland who were BU's six defenders recently. 
The plan of attack is to get behind BU's defenders and make them work along the boards. The Gophers have some of the best players in the nation win it comes to winning puck battles.
Rhett Pitlick has been a beast all season long for Minnesota, winning 52 percent of his puck battles which ranks first amongst Gopher forwards. Brody Lamb has also won six of his last ten puck battles which is a three-game sample size. They will continue to look for big-time play out of the freshman, especially if Connor Kurth and his lower-body injury isn't ready to go. 
"He's okay," Motzko said on Kurth after practice on Wednesday the 29th. "There is a chance he is ready to play in the Frozen Four."
Between the two teams, no player has been in or won more puck battles than Matthew Knies in the last ten games. Knies has won 74 of the 148 he's been in, the next closest would be BU's Dylan Peterson who has won 43 of his 93 puck battles. 
This is a crazy stat considering what Knies has been playing through recently. 
Final Thoughts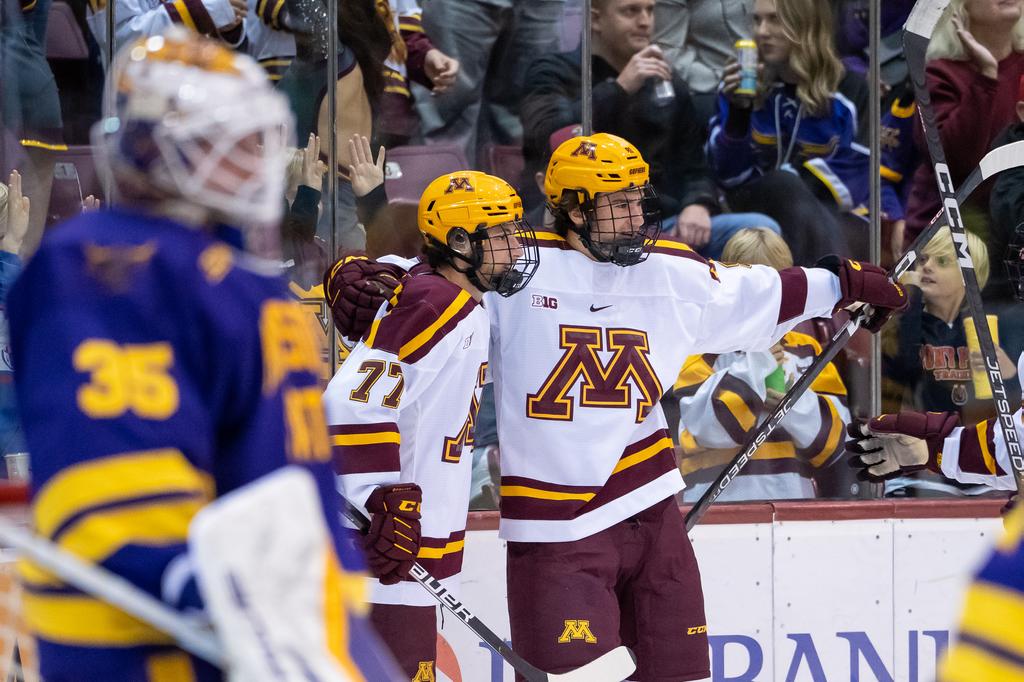 We have all seen when the Gophers have played their game, it is almost unstoppable. We have also seen when they haven't played their game and it is not a good sign, but sometimes they sneak away with a win. 
They played one of their best and most complete games of the year against the St. Cloud State Huskies in the Fargo Regional two weeks ago and came out with a win. 
"It's hard hockey," Gophers captain Brock Faber said on their last opponent and what to look for in Boston. "St. Cloud was a Frozen Four caliber team, and it'll be the same pace."
I want to take you back to the Big Ten Championship game against Michigan a couple of weeks back. The Gophers had a tough time boxing guys out in front of the net and winning puck battles. When they win puck battles, like they have done all season, they can create more offense and limit their opponent's chances. 
In that game, the Gophers got out-muscled along the boards and in front of the net. In fact, all four Michigan goals were scored when a Wolverine player won a puck battle against a Gopher or Minnesota failed to establish positioning in front. The Wolverines won 107 puck battles that game, as opposed to the Gophers' 83 and Minnesota, just seemed to turn way too many pucks over. 
If you jump back to the past series between the two the Gophers won 21 more puck battles against Michigan, didn't turn the puck over that much, boxed guys out in front, and resulted in splitting the series after a three-on-three overtime loss. 
Now, puck battles aren't the whole game or the name of the game but I think they play a big part in team success. If you aren't winning battles you might be slow on pucks or not in the right position or not dumping the puck in with a purpose. These little things Motzko stresses to his team and he really stressed it in practice this week. 
These two teams have played each other before and every game resulted in a hard-fought contest. It will be the 23rd time these two will play each other. The Gophers beat Boston University 5-4 in the 1974 Frozen Four to advance to the National Championship game in which the Gophers beat a team from Michigan to win it all. 
Michigan will be facing Quinnipiac in the Frozen Four while the Gophers play BU. Will history repeat itself? We will have to find out.