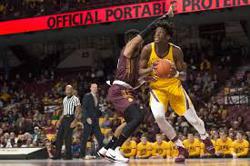 Over the years, the Minnesota Gophers college basketball team has produced some great players. Gopher icons like Kevin McHale and Mychal Thompson did Minnesota proud when they moved into the pro game after being drafted. Of course, this fine sporting tradition is still carrying on today with top Gopher players' Daniel Oturu and Marcus Carr declaring for the NBA Draft to make it in the pro game. The big question for those wagering on WV sports betting sites and in other US states is just which pro teams may draft both players.
Daniel Oturu is a coveted player by many
Center Daniel Oturu has lit up the Big Ten Conference since joining the Gophers basketball team in 2018. He has made such a significant impact that he looks sure to be a top pick that many pro teams will look at seriously in the 2020 NBA Draft. When you look at his stats and physical attributes, you can see why. At 6 feet 10 inches and 240 pounds, he is an imposing figure on the court!
Over his time playing for the Gophers, Oturu has shown just what talent he has. His defensive play is solid and helps to stop opponents from getting to the basket so easily when he is around. Oturu's long-range shooting is usually very smooth, while he is more accurate now from the three-point line. When you also add in his ability to get past the block and a decent dribbling skill set, he does have a lot to offer any pro team looking for an exciting young center. In all, he has played 66 games in his Gopher career with a 20.1 point average and a 70% shot average from the free-throw line in 2019/20.
Who will pick Oturu up?
The hype around this dominant center is growing daily after the stunning season he has just enjoyed with the Gophers. One pro team certainly looking likely to be in for him will be the Charlotte Hornets. The Hornets have struggled lately with rebounds, and Oturu would help them improve there with his wingspan and awareness. His height will also help them become more effective at blocking shots when the new season arrives.
The other team who might be seriously looking at Oturu are the Milwaukee Bucks. They are also likely to be looking at picking up new talent in the center, and Oturu's improving offensive skills, excellent defense, and sheer size may tempt them to pick him up. Oturu would also fit in well with their style of play and how they like to go about the game.
Where could Marcus Carr end up?
The other major 2020 Draft prospect that Gopher fans expect to end up with a pro team is Marcus Carr. He, like Oturu, has made a name for himself during his time in Minnesota and should have a few teams after him. Carr is a point guard by trade and has a lot to his game that NBA sides should like. At 6 feet 2 inches and 195 pounds, he can handle the physical side of basketball while also having great athleticism, decent ball-handling, supreme confidence, and excellent playmaking skills. During the 2019/20 season, Carr averaged 15.4 points per game and set a record number of assists for a single college season with 207.
But who are the NBA teams who need a point guard most in the 2020 Draft? The most obvious candidate would be the New York Knicks, who are crying out for some fresh talent in Carr's position. The Knicks have been mediocre of late in terms of creativity and assists, which is something Carr would help with if drafted. It would also not surprise you to see the LA Lakers come in for this player as some cover for LeBron James over a season. Of course, the Lakers may also have Carr learn from star man James, so he is ready to take over when required.
Carr and Oturu look set for big things
Any Gopher basketball fan who saw these players light up the court in 2019/20 will know how special they are. While both have aspects of their game they can improve on, it looks likely that an outstanding pro career awaits each when they enter the upcoming 2020 NBA Draft. Where they will end up remains to be seen, but their absence next year will be a real miss for the Gophers.