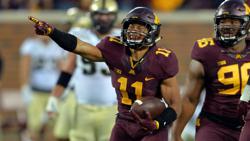 In the absence of live sport, sports bettors may have tried their hand at live dealer blackjack NJ instead throughout the past few months. One event that did take place as planned, however, was the NFL draft. This year saw five Minnesota Gophers selected by NFL teams, the highest number for 30 years. The new additions promise to bring a wealth of talent and ability to the league this season, and at least one or two could make the step up quickly and have memorable rookie campaigns with their respective sides.
Antoine Winfield Jr. – 45th pick, Tampa Bay Buccaneers
The first off the board from the Gophers in the NFL Draft was sophomore safety Antoine Winfield Jr. who was selected in the second round by the Tampa Bay Buccaneers. The 21-year-old featured in the All-American Team last term after registering seven interceptions, which tied the single-season record in the modern era.
Winfield should be an excellent signing for a Bucs side that is targeting big things after bringing in quarterback Tom Brady in the offseason. NFL Network Draft Analyst Daniel Jeremiah expects Winfield to hit the ground running. He said: "Range, instincts and the ability to drive on the football from the deep hash. Once the ball is up in the air, it is his."
Other commentators have also been effusive in their praise of Winfield, with many expecting his active and aggressive playing style and incredible closing speed to transform the Bucs' defensive capabilities. He will also be coached by Todd Bowles, who is renowned for his preference for free-roaming, which will suit Winfield's exceptional playmaking. Everyone is expecting big things for Winfield Jr. during the next twelve months.
Tyler Johnson – 161st pick, Tampa Bay Buccaneers
Wide receiver Tyler Johnson joined the Buccaneers and will link up with Winfield Jr. after he was drafted in the fifth round. The youngster leaves Minnesota as the most prolific receiver in the college's history. During his 49 game career, Johnson scored 33 touchdowns and made 3,305 yards, both Gopher records.
He will now run the lines and catch passes from Brady if he can secure a starting berth ahead of Pro Bowlers Chris Godwin and Mike Evans. The Bucs will look to make the most of Johnson's ability to play out of the slot, a position he excelled in with the Gophers last season. The stats suggest Johnson will be a significant force for Tampa Bay in the coming years.
Kamal Martin – 175th pick, Green Bay Packers
The Packers selected Kamal Martin in the fifth round of the draft. His collegiate career took a little while to get going, but the six-foot three-inch star came into his own after converting to an off-ball linebacker. Martin's senior year was laden with standout moments, and he eventually logged 177 tackles and broke up nine passes during his Gophers career.
He now heads to Green Bay, where experts expect him to use his safely-like athleticism to bring cohesion to the team's linebacking unit. Martin may not feature immediately for the Packers, but he could be deployed in a tweener role sometime during his rookie season.
Carter Coughlin – 218th pick, New York Giants
Carter Coughlin is another player leaving Minnesota with an impressive record. He showcased his excellent defensive skills during a junior season that saw him log 9.5 sacks and 15 tackles for loss. After being named the Most Outstanding Defensive Player in 2018, Coughlin continued to impress in his senior year, though his figures could not quite hit the heights of a year earlier.
He was also a standout performer at this year's scouting combine where he recorded a time of 4.57 seconds in the 40-yard dash. Coughlin is an edge rusher by trade, but he could move to the linebacker position with the New York Giants for the NFL 2020 season. If he continues to develop, Coughlin could be a mainstay in the Giants' defense for the foreseeable future.
Chris Williamson – 247th pick, New York Giants
Chris Williamson will also compete for a roster spot with the Giants after being selected in the seventh round. He is fresh off two seasons with the Gophers following a transfer from Florida in 2017. He has built a reputation as a strong slot corner in collegiate football after evolving from an off-the-bench contributor to a solid starting pick.
Williamson played nine games for the Gophers in 2019 and recorded 2.5 sacks and 57 tackles. Broadcaster John Schmeelk expects Williamson to offer the Giants much-needed flexibility next season. Schmeelk believes the 23 year-old's "good deep speed" and tackling ability will trouble QBs and WRs if he is given the time to showcase his talent.