Charlie Neuenschwander grew up a huge fan of the Gophers, attending countless games at The Barn with his family. Charlie is a rising junior at USC while maintaining his Gopher fanaticism in Southern California. At USC, Charlie is studying Industrial and Systems Engineering and hopes to work in sports analytics, a fast-growing industry.
---
While Ben Johnson's first season as Gophers head coach didn't produce as many wins as most would like, he's building a program from the ground up and there has been a story-worthy transformation brewing in Minneapolis. In the history of NCAA basketball, few teams have undergone as drastic of a roster transformation as the Gophers men's basketball team has in the year and a half since Johnson arrived back on campus.  
In Johnson's first off-season the Gophers lost the second most players ever to the transfer portal with 10 players finding new schools. It's important to note that a few years ago having ten players transfer away from a team would've been a complete catastrophe; however, Minnesota was able to find a solid cast of veteran players to ease the growing pains of the new look Gophers. In fact, last offseason saw the Gophers make history again by gaining the second most players ever through the transfer portal with 8. With the addition of freshmen Treyton Thompson, and Abdoulaye Thiam the Gophers had fully replaced the ten transfers on the official roster and completed the first step of the rebuilding process, but the journey back to Big Ten relevancy was just beginning.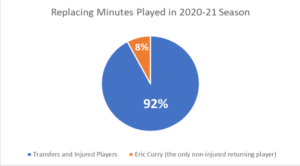 The rebuilding Gophers were not afforded the luxury of getting to select the most talented transfers or even young prospects to build around for the future. Over half of the players they picked up were seniors and ironically the senior-laden team's biggest flaw was experience. None of the incoming transfers were coming from power six programs (Big Ten, Big 12, ACC, SEC, Pac-12, and Big East), and Johnson had no experience as a head coach for a college basketball team on any level. There was no certainty from a coaching standpoint as to which players would be able to rise up and fill a role for the team except for returning senior Eric Curry who had never been a high-usage player previously. Furthermore, there was no certainty from the players that the coaching staff would be able to gameplan for battling night in and night out in the Big Ten conference which was statistically speaking coming off the strongest conference season ever in terms of average SOS. All that uncertainty was in turn projected onto Gopher fans who found it hard to show the move to begin this transformation would be a fruitful one.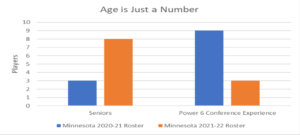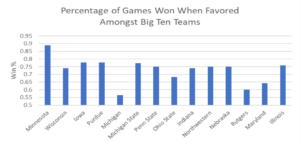 Despite early wins and contending in several down-to-the-wire games versus ranked teams, the Gophers ended the season tied for the most conference losses in school history, but there were two key moral victories that show the value of the season. First, from a strictly results-oriented standpoint, the Gophers only lost one game in which they were favored to win. While they weren't favored to win very many games, most teams will at least have a couple of games where they fell apart and blunder what seemed like an opportunity to get a win on paper. Props to the coaching staff and the players for staying locked in and winning the games they were supposed to win as well as a couple they weren't, characteristics of a solid and developing program. Secondly, following the season Minnesota was once again tasked with replacing a good deal of their roster, this time due to graduation, but the team enters next season with the important certainty of having a go-to scoring option in Jamison Battle. Battle averaged 26 points per game over his last three games and demonstrated his ability to be an impact player in the Big Ten, providing at least one aspect of reassurance for a team with a lot of uncertainties at the beginning of the season. 

After a season designed more for stabilization than success in the win column, the Gophers have been able to overhaul their roster this offseason and address needs across the board. They have been able to specifically target shortcomings of their team that was forced due to the mass transfer such as lack of size, young depth, and positional versatility. The Gophers again used the transfer portal, and even though they did not set any historic numbers this time, they still made a splash by hauling in Taurus Samuels and Ta'Lon Cooper to provide veteran ball control, essential to success in the Big Ten, and Dawson Garcia, their 3rd highest ranked prospect in a recruiting class since 247Sports began keeping high school rankings (roughly 20 years). Replacing the production from the experienced players from last year with more experience is a plus, but where this offseason has really shown growth is through the onboarding of young talented players. Pharrell Payne projects to be a force in the paint for years to come, reminiscent of John Thomas. Braeden Carrington will provide valuable playmaking ability as well as dynamic three-level scoring. Jaden Henley and Joshua-Ola- Joseph brings length and athleticism that the program really lacked last season as well as a potential to provide elite slashing. Last but certainly not least, Kadyn Betts is a last-minute addition to this year's class but is full of potential to become a prototypical 3&D stretch 4 in the Big Ten. With injuries to Parker Fox and Isiah Ihnen, many of these freshmen will be thrust into a featured role this season, giving them the opportunity to play big minutes right away. Thus, next season could very well incorporate one of the most impactful freshmen classes in the recent history of Gopher basketball.  
The Gophers went from a state of absolute free fall to a hastily made team that could compete but had some clear holes, to a program that is now able to strategically build a roster of talented players and projects to become a contender sooner rather than later. The wins still may not come flooding in this very next season, but there is no question that the Gophers have completely changed the trajectory of their program for the foreseeable future and most importantly have revitalized the culture of Gopher basketball.