–> Follow @N0elthompson on Twitter
---
It was a weird 2021 season for the Gophers. They won back the axe from Wisconsin, dominated Iowa but somehow still lost, dominated Colorado in Boulder, lost to Bowling Green and then finished the year by beating West Virginia in the bowl game. Minnesota hopes to build off of their 9-4 season a year ago with another solid season led by their offensive weapons: Morgan, Ibrahim, and Autman-Bell. The Gopher's opponents last year finished with a combined record of 80-84. Their 2022 opponents finished last year with a combined record of 70-80. At first glance, the Gophers' schedule this upcoming year looks favorable. 
With the season just over 50 days away, let's look to see what games are the Gophers' toughest, easiest, and toss-up for the upcoming season. 

Easiest Game: Western Illinois. 
When: September 10th @ Minnesota
The Leathernecks have a new head coach in 33-year-old Myers Hendrickson. He led Kansas Wesleyan University the last three years to a 31-4 record in his stint as a head coach. Western Illinois is an FCS school from the Missouri Valley Conference, where they finished 2-9 overall last year averaging 24 points a game while giving up 38 points a game.  Western Illinois only has had two winning seasons in the last 10 years. Western Illinois will also be breaking in a new QB with the departure of second-team all-conference player, Connor Sampson. They do return dual-threat running back Ludovick Choquette.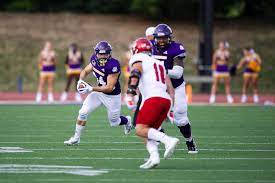 According to ESPN's Football Power Index, Minnesota has a 98.8% chance of winning this game. 
Runner Up: New Mexico State
---
Toughest Game: Penn State 
When: October 22nd @ Penn State
The White Out. One of the toughest and loudest football environments in college football. It has been described as "the best atmosphere in college football" and your Minnesota Gophers have the pleasure of playing in this year's White Out game in Happy Valley. Even though Penn State is 11-11 in its last 22 games and finishing 2-6 at the end of the year, this will be a difficult challenge for the Gophers. QB Sean Clifford returns and Penn State has a great recruiting class coming in and some transfers to plug in some holes.  If I was Minnesota, though, I would take this as a compliment. This has trap game written all over it for Penn State, who plays at Michigan the week before and Ohio State the week after Minnesota.  Clearly, James Franklin doesn't want his team to lose their focus against a good Minnesota team.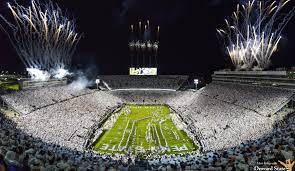 According to ESPN's Football Power Index, Minnesota has a 24.7% chance of winning this game. 
Runner Up: @ Michigan State
---
Toss-Up Game: Nebraska
When: November 5th @ Nebraska 
Somehow, Scott Frost still has a job at Nebraska after going 15-29 since he has taken over the program. The problem hasn't been talent, it's been costly mistakes that have been almost comedic at times. Of the 29 losses under his belt, 20 of them have been by eight points or fewer. P.J. Fleck is 3-1 against Frost and seems to know how to get his team to perform against the Cornhuskers. This year is make or break for Frost, who brought in a new OC in Mark Whipple who made Kenny Pickett a stud at Pitt. Adrian Martinez transferred and now Casey Thompson from Texas will be leading the offense. They also beefed up their WR core with transfers in Trey Palmer and Marcus Washington. This might be the most talented team Frost has had, but will they finally finish games? With this game in Lincoln and their record against MN, I expect Nebraska to come out strong as this will be a critical game for both teams, which makes me pick this as my toss-up game.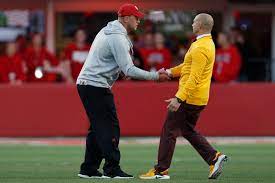 According to ESPN's Football Power Index, Minnesota has a 36.1% chance of winning this game. 
Runner Up: @ Wisconsin