The Minnesota Gophers take their 5-0 record on the road for the first time this season in a true road game when they face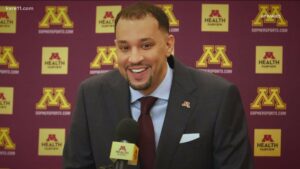 The Panthers have struggled so far this season, losing two "Buys games" to The Citadel (78-63) in the season opener and UMBC Saturday 87-77 to fall to 2-4 this season and 2-3 at home.
The Panthers, much like the Gophers, have a much different roster from last season as they lost all three double figure scorers from last season. Two transferred to Arkansas and Indiana, while the top scorer, Justin Champagnie, declared for the NBA Draft.
John Hugley is the Panthers' top scorer and rebounder with 14.3 points and 7.2 rebounds per game. He was the runner-up for Ohio's Mr. Basketball as a senior. Hugley was suspended for the final 15 games as a freshman, due to an off-the-court incident. He scored 27 in the loss to The Citadel and 21 versus UMBC, but was held to just one versus Vanderbilt.
Sophomore guard Femi Odukale emerged the final five games last year when the two starting guards left the team. He is averaging 13.2 points and a team-high 3.5 assists per game.
Pittsburgh are a deep team that has nine players averaging double figure minutes. Four players have started in all six games.
They have struggled with their shooting this season, shooting just 43.7% from the field, 27.9% from three-point range and 60.4% from the charity stripe.
Minnesota is shooting 46.7% from the field, 34.6% from three-point range and 68.1% from the charity stripe and has seven players averaging more than ten minutes per game.
Pittsburgh started last season 8-2, beating Duke and Syracuse, but faltered down the stretch, winning just two of their last twelve contests.
Head coach Jeff Capel has been just 40-48 in his three seasons as Pittsburgh and he has been hurt by players defections. The slow start this season could be troublesome for his long-term future, especially since the program didn't sign anyone in the early signing period.
The Gophers are 11-11 all-time in the ACC/Big Ten Challenge and 1-2 versus Pittsburgh with the last meeting in 1950 with Minnesota winning 72-43.
The Gophers have been somewhat a pleasant surprise and they have a good chance to stay unbeaten versus a lower Division ACC team on the road.