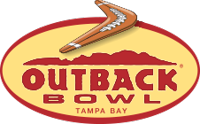 The Minnesota Golden Gophers are heading to Tampa Bay!
After a historic 10-2 regular season, the College Football committee has awarded the Gophers a Jan. 1 Bowl Game with an Outback Bowl matchup vs. Auburn. The Outback Bowl–played in Tampa Bay, Florida isn't the Rose Bowl like many fans were looking for BUT is still a great bowl game overall. The Gophers will have an impressive opponent in Auburn who are 9-3 with all three losses to top-10 teams.
Below are a few facts about the upcoming bowl game for the maroon and gold, along with some facts about the Gophers bowl history.
– The Gophers are currently on a three game winning streak in bowl games. In 2015 and 2018 Minnesota won in the Quick Lane Bowl over Central Michigan and Georgia Tech respectively. In 2016, the Gophers defeated Washington State 17-12 in San Diego. The Gophers didn't have a bowl game in the 2017 season.
– Minnesota is 0-2 in bowl games played in Florida. In 2000, the Gophers played in the MicronPC.com Bowl against NC State and fell 38-30. On Jan. 1, 2015, the Gophers lost 33-17 to Missouri in the Citrus Bowl.
– The Outback Bowl has been around for 33 years and does a lot for local charities as well. Since 2016, the Outback Bowl has donated $1,500,000 to local charities according to their website.
– The Outback Bowl is played at Raymond James Stadium on Jan. 1 each year. The game is played on ESPN at 12 p.m. Central Time. The stadium capacity of Raymond James Stadium is 65,657 and the game is played between a Big Ten and SEC team each year. The Outback Bowl was formerly named the Hall of Fame Bowl from 1986-1995.
– This will be just the third time since 1962 that the Gophers will finish their season on Jan. 1. Minnesota defeated UCLA in the 1962 Rose Bowl and lost 33-17 to Missouri on Jan. 1, 2015 in the Citrus Bowl.
Leading up to the game, GopherHole will have a ton of content about the matchup and much more. Click here to chat with other Gophers fans about the upcoming matchup!