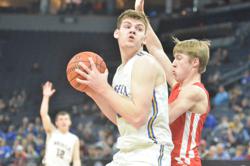 Andrew Morgan, a 6-foot-9 junior power forward/center from Waseca (MN) High, is ranked as state's number four player in the Class of 2021 and one of the Midwest's top big men.
Morgan averaged 21.0 points and 10.3 rebounds per game for the Bluejays in the state tournament last season, losing the Class AAA state title in March to DeLaSalle 63-56. He shot an amazing 29 of 37 shots from the field in the three games. Waseca finished 30-2 last season.
Gopher Hole caught up with Morgan at the Breakdown Big 12 Classic after scoring 24 points in the Blue Jays' 65-49 loss to DeLaSalle to learn the latest on his recruitment and junior season.
Gopher Hole: Season opener for you guys. How pleased are you with how you played in the opener? I know that you played against an opponent (DeLaSalle) that you played in the Class AAA championship game last year.
Andrew Morgan: We are all right with our performance. We knew that we could have done better, but they are a great team to start out against. We can learn things that we need to work out throughout the season. They are just a great team to go up against. They will really show you what you need to work on. We are pleased with what we got to see and what we need to see better.
Gopher Hole: You lost one of your key players, Malik Willingham, who scored 32 points in his first two games at Minnesota State Mankato. How does your role change with him begin gone?
Andrew Morgan: Just become the leader that he was. Just trying to replace what he was, I learned a lot from him to become a leader and lead the team in every phase of the game, so just trying to replace his leadership role was about as big as any.
Gopher Hole: You had a really strong summer AAU-wise. How much did that help your confidence going into your junior season?
Andrew Morgan: It helped my confidence a lot. We had a good AAU team and I've got a great coach and he taught me all the right way to do things, so I thought coming into high school ball, I had more confidence than I did last year from shooting beyond the arc, so I just felt better about that.
Gopher Hole: How much does AAU help you because in your conference you are not always playing against guys that you are going to be seeing in college, where in AAU, you are playing against guys that are as big as you or even bigger sometimes. How much do you think that helps you?
Andrew Morgan: I think AAU helps a lot. I get more game experience. Get to see all different types of players. All different ways people play. All different ways you can guard people, so it is more experience that is way better and playing against higher competition at all times, helps you a lot.
Gopher Hole: What things are you working on this year during the offseason to get ready for a big junior year?
Andrew Morgan: Offseason, was completely working on my outside game. Last year, I thought that my inside game was pretty good and this year, I had to step up my outside game, so I was trying to work on that.
Gopher Hole: Do you think that helps a lot because teams can't just double team you inside because you can step out and you have the ability to put the ball on the floor a little bit and get by a bigger guy or a slower guy that guards you too far away from the hoop?
Andrew Morgan: Yes, that was one of the main keys that I had to work on. I worked out with my trainers and just tried to get that down and my footwork right.
Gopher Hole: What would it mean to get back to the state tournament?
Andrew Morgan: It would mean a lot. I want to go to a state championship game again this year and win it. That is what we all strive to do and it's not just a goal of ours. It's a mindset and we are just in to win it.
Gopher Hole: What is the latest on your recruitment? How many offers are you up to right now?
Andrew Morgan: I have three offers right now. North Dakota State, South Dakota State and South Dakota.
Gopher Hole: What schools are you hearing from besides those three?
Andrew Morgan: Minnesota, Marquette and Wisconsin. I've talked to UNI.
Gopher Hole: What are you hearing from the homestate school, Minnesota? What are they saying to you?
Andrew Morgan: I have talked to them a lot. We are just on a recruitment basis. We are just trying to talk. We talk a lot.
Gopher Hole: Have you been to any Gopher games recently?
Andrew Morgan: I have not, personally, I have never even been to one. The first time I was ever in the Barn was last year for the state tournament. I watch them on TV. I've just never gone to a game.
Gopher Hole: What would it mean to have the opportunity to be recruited and maybe play for the homestate school?
Andrew Morgan: It would mean a lot. I grew up watching and learning all about them It would mean a lot to represent my homestate.
Gopher Hole: Do you watch a lot of college basketball as a fan?
Andrew Morgan: I watch a fair amount, mostly March Madness and the brackets.
Gopher Hole: Are there certain teams or certain players you watch?
Andrew Morgan: Not really. I like them all. I like to just watch them all. See the good teams and look how they do things. See how they execute.
Gopher Hole: You are only a junior, so you are obviously, going to have a chance for a good school. What would it mean to play Division I basketball?
Andrew Morgan: It would mean a lot, just to represent my city. My town has never had a high offered kid like this, so I take it as an opportunity to show off my talent and show off what Waseca is.