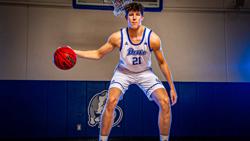 Liam Robbins, a 7-foot-center who played at Drake last year, transferred to Minnesota earlier this spring. Robbins averaged 14.1 points, 7.1 rebounds and 2.9 blocked shots per game this past season as a sophomore at Drake, leading the Bulldogs in all three categories. He was named All-Missouri Valley Conference (MVC) after the season and was named to the All-MVC All-tournament team. He started all 34 games and shot 49.9% from the field, 24.4% from three-point range and 69.4% from the charity stripe. He was named to the MVC All-Defensive team after leading the conference in blocked shots.
Robbins made strong strides from his freshman season, where he averaged 4.1 points, 2.7 rebounds and 1.1 blocked shots. He played high school basketball at Davenport Assumption, but did not have a single Division I scholarship offer. That was partly due to the fact that he weighed close to 300 pounds. Robbins spent a postgraduate year at Sunrise Christian Academy and lost 70 pounds, which earned him eleven scholarship offers. He landed at Drake, where he came off the bench as a freshman and emerged this past season.
Gopher Hole: First of all, how are you doing during this pandemic situation?
Liam Robbins: I'm doing good. Just staying inside and practicing social distancing, like everyone else.
Gopher Hole: Is there anything unusual you are doing to keep busy during this time? Any new TV shows or new hobbies or anything you have done to keep occupied?
Liam Robbins: No, luckily, I have school online, so that has kept me pretty busy, but for the most part, I've slept more than normal.
Gopher Hole: Are you able to do much basketball-wise?
Liam Robbins: Fortunately, I have a hoop outside (he is staying at his parent's house in Davenport) and stuff like that, so I am able to get shots up and do some drills on my own.
Gopher Hole: Have you been able to do that quite a bit?
Liam Robbins: Yes. I try to do it every day. These last two weeks have been finals weeks, so I stepped back a little bit to make sure that I get all my studies done for the semester, but next week, I'll probably be, especially with gyms opening up in Iowa, I'll be going to those and getting some shots up on a main court.
Gopher Hole: You were one of the most improved players in the country this season. You played behind Nick McGlynn as a freshman, but moved into the starting lineup this year. What were the main reasons for the improved play this past season?
Liam Robbins: For my improved play, my coaches at Drake deserve a lot of credit, but I think the person who doesn't get as much credit as he should is Nick McGlynn. Last year, he was a senior. I was a freshman and he was really like "Listen, I'm not going to be there next year. I am going to everything that I can to get you ready to step into this role." So, to have that and him being a mentor. I was able to compete with him every day. He was first team All-Valley and runner-up for the Larry Bird Player of the Year Award, so to learn from him that year was big for me to take that next step.
Gopher Hole: Does that give you even more confidence knowing that he had a lot of faith in you as a player?
Liam Robbins: Oh, yes. He was one of the most supportive teammates that I have ever had and just to have him check on me throughout the year like before a Loyola game and ask how I am feeling and if I'm ready and to remember that they do this or they do this differently. Just to have that relationship with him was really important for me to succeed.
Gopher Hole: When did you decide to move on from Drake?
Liam Robbins: I didn't officially decide until COVID hit and I had gone back home and I started talking with my family. I had thought about it towards the end of the season. I'm a big college basketball fan. I would love to play for a Power Five (school) and I was like "I think I put myself in position to try and do this," but I wanted to obviously, see what my family thinks, so I talked with my parents over a course of a few weeks and we decided it was the best decision for me to see what I could do at the next level.
Gopher Hole: Was it hard to leave a program that you had played for the past two years?
Liam Robbins: Yes. It was difficult, mainly because I did have a few really good friends on the team, but at the same time, I was ready for a new challenge and so in order to accomplish what I wanted to accomplish in my college basketball career, I felt that this was necessary and in that case, it was easier to make the decision.
Gopher Hole: You obviously attracted a lot of interest after you entered the transfer portal. What schools did you hear from?
Liam Robbins: I heard from Gonzaga. Louisville, Wisconsin, Houston. I heard from a lot of schools. I was only in the portal for about 24 hours, but I heard from roughly 25 schools.
Gopher Hole: Minnesota, obviously, has a connection with your uncle, being on the coaching staff. What was it about Minnesota that made you decided that this is where you wanted to play?
Liam Robbins: Coach Pitino contacted me right after I hit the portal and he said "Obviously, I know that you have a relationship with your uncle, but I want to tell you why you should choose our program." Family, that obviously played a factor, but he just walked me through all the great guards and forwards that they had coming back. The success that they have had with big men and just the facilities, both academically and athletically, at Minnesota. He just kind of sold me on "I'm going to do everything to help us win." That is my main goal. I just want to win at the higher level, so it felt like an easy decision.
Gopher Hole: If you weren't the most improved sophomore big man in the country, it was maybe Daniel Oturu of Minnesota. Did you get a chance to see him much this past year?
Liam Robbins: Yes. I like watching Big Ten games, I probably watched ten or twelve Minnesota games throughout the year and what he did was really impressive and just to average, what was it 20 and 11 and three blocks. I don't think you see that in a lot of senior centers. To see him do that was incredible.
Gopher Hole: Daniel is hoping to be a high draft pick. Have you thought much about playing pro basketball down the road?
Liam Robbins: Yes, I love basketball and that is kind of part of the reason that I wanted to go play for a Power Five, to get that next step in my development to see if I could some day play pro basketball, because it is a game that I love. If I can continue that for as long as possible after college, that would be a special opportunity.
Gopher Hole: There is a chance that you might not be able to play next year, due to transferring. How hard would it be to sit out the year?
Liam Robbins: It would be tough to sit out a year. I am holding out hope that I will get a waiver and I'll be able to play, but whatever. If I do find out that I have to sit, I am just going to take it as an opportunity to develop. Get bigger, faster, stronger and support my new teammates and cheer them on as they take on the next season.
Gopher Hole: You weighed 300 pounds as a high school senior. Could you ever have imagined where you would be today back then?
Liam Robbins: Uh, no. In high school, I had just a few Division III teams that wanted me to come play for them. If you had told me as a high school senior that in three years, I'd be playing for my uncle in Minnesota with my cousin and doing what I did at Drake, I would have been (sarcastically), "Yeah, that sounds great," so it has been kind of a wild ride.
Gopher Hole: What has your cousin told you about the program?
Liam Robbins: He just told me that everyone on the team is fantastic. The chemistry is great and that it is just a fun group to be around and that he is excited for me to come get to work with him.
Gopher Hole: You were the youngest person in your high school class and didn't have a single Division I scholarship offer after high school. You spent a season at Sunrise Christian Academy. How much did that helped your play spending a postgraduate year as a player?
Liam Robbins: Sunrise, I can't thank them enough for everything that they did for me. My head prep coach there, he really dedicated his time to all the players on the team, but especially me. For him, it wasn't just getting me an offer, it was getting me ready to play college basketball. Teaching us how to understand the game and how it is going to work at the next level. So being there, of course, I was young for my age. I was 17. I just had a huge growth spurt my junior and senior year combined, so I wasn't used to my body. I was overweight, so he got me, not only in shape, but mentally ready to play college basketball, so it was a huge part of my success.
Gopher Hole: What are you up to height and weight-wise right now? At Drake, you were listed at 7-1 and 235 pounds. Is that pretty accurate?
Liam Robbins: I'm seven-foot, maybe a little taller. I haven't gotten officially measured in a while, but I am, for sure, seven-foot and I'd say I'm about 240 now.
Gopher Hole: I think I saw on Twitter that you posted that "despite social distancing, people always ask how tall you are." How often would you estimate you hear someone ask you about your height on a daily basis?
Liam Robbins: On a daily basis, it depends on how much I go out. If it was a normal day, there was no COVID and I just go to Walmart to get some groceries, I would probably get asked six or seven times.
Gopher Hole: Does that ever get old a little bit?
Liam Robbins: No. I think it is kind of cool. Some people have never seen someone with my height, so it is kind of special thing for them, so I just try to look at it positively. I've never really seen anyone taller than me. I'm sure that I would be pretty excited if I saw someone. A lot of times, it is little kids or something like that. If I'm five foot and I see someone who is seven foot, I'd want to know, so I kind of see it like that.
Gopher Hole: What is the reaction of most little kids when they see you?
Liam Robbins: They are just like "Whoa." I'll hear them say "Whoa" or "He's tall." That makes me laugh like they did not see that coming for the day.
Gopher Hole: I always look at it like at least, you are a good basketball player, because I always feel that worse thing would be to be seven-foot and not be able to utilize that in a way.
Liam Robbins: A lot of people right after I tell them how tall I am, will say "You play basketball, right?" Sometimes, I'll make a joke and say "No, I play mini golf," and they'll be like "You're kidding" and I'll be "Yes, I'm kidding. Usually, I'm wearing something that says basketball on it. Sometimes, I make jokes. It does help that a least I can say that I play basketball somewhere.
Gopher Hole: For Gophers fans that didn't get a chance to see you at Drake, how would describe yourself as a player?
Liam Robbins: I pride myself on defense for the most part and I am just going to do whatever the coach asks me to do to win. Whether I need to get rebounds, I'll try to be as versatile as possible to help the team win. Mainly, a defensive player, I'd say.
Gopher Hole: When are you finishing school at Drake?
Liam Robbins: This is my last week. This is finals week.
Gopher Hole: I know that it is hard to know what is going on with everything going on in the world, but have they talked to you about summer school or your plans at Minnesota?
Liam Robbins: I am in the process of getting admitted to everything. Just getting all my transcripts. They are waiting to see how many credits I get from Drake and also in high school, I took community college classes and they are trying to see how that will work into a degree, so I am just trying to figure that out. I am getting that all situated and hopefully, I can take some summer courses online.
Gopher Hole: Have you thought much about a college major?
Liam Robbins: Yes. Business and Marketing Education will be my major at the University of Minnesota.
Gopher Hole: Have you thought about what you would like to do with that down the road?
Liam Robbins: Definitely, something in business, I would like to be involved with basketball or just sports in general even after my playing career, whether it is just college or pro. So I'm hoping that this will facilitate me to step into a role somewhere marketing for a team. Just be involved around sports, that is my main focus. I don't know exactly what I want to do yet.
Gopher Hole: You have a very sports-minded family with several members in your high school Hall of Fame. Is that where you get that love of sports from them?
Liam Robbins: Yes. My whole family, they all grew up around sports. I'll talk to my uncles about not just basketball, but football or baseball or whatever is going on. Sports is our family's thing, so it wasn't really even a choice. It was just this is what we do. I love it.
Gopher Hole: Last week, they talked about transfers not being immediately eligible. Have they told you what your next step is or can you appeal it?
Liam Robbins: I am in the process of filing a waiver and arguing why I should be able to play and then we'll go from there. We are just going to file a waiver and see what happens with that.