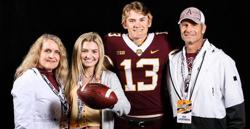 Cody Lindberg, a 6-foot-2, 205-pound senior linebacker from Anoka (MN) High, is ranked as one of the state's top players in the Class of 2020. He committed to Minnesota in May and will sign with the Gophers this week.
Lindberg is a versatile athlete who played football, basketball and baseball for the Tornadoes.
Gopher Hole caught up with Lindberg last Sunday at the Minnesota Vikings-Detroit Lions game, where was named to the Minnesota Vikings' All-State team to learn the latest.
Gopher Hole: You were named to the Minnesota Vikings' All-State team. What was that experience like?
Cody Lindberg: It was awesome. Not a lot of people from Anoka have been able to get the chance to play on the All-State team. I know that my good friend last year, Joey Lombard, was able to participate in it, but like I said, not very many people from Anoka got the chance, too, so I was really humbled to be able to get chosen to play in it.
Gopher Hole: Had you been to US Bank Stadium for a game before?
Cody Lindberg: Not to play, but I had to watch some of my friends play in the state tournament.
Gopher Hole: You played in the Minnesota Football Showcase here yesterday. What was that experience like?
Cody Lindberg: It was awesome. Getting to play in the US Bank Stadium where not many kids get a chance to do it and to play along with all the other kids chosen to play in the All-Star game, it was really awesome.
Gopher Hole: Did that make you think it would be kind of cool to maybe play here down the road?
Cody Lindberg: Oh, definitely. That is definitely a goal of mine to get to the next level and be able to up my game and play here.
Gopher Hole: You committed to Minnesota awhile back. What was the reason that you decided that Minnesota was where you wanted to be?
Cody Lindberg: I've grown up as a Minnesota hometown kid. It always been a dream of mine to play for the Gophers and now they are on the up now. I got the offer and I took it and ran with it.
Gopher Hole: The Gophers had a good season, going 10-2 and did maybe a little better than expected. Did that get you even a little more excited about Minnesota, seeing that they are a little ahead of where people thought that they might be?
Cody Lindberg: Yes, definitely. I think it got the whole state on their feet. You see the Penn State and Wisconsin games sold out stadium. We are looking for more this next season, but, yes, it definitely helped a little bit with the morale and everything.
Gopher Hole: You are enrolling at Minnesota in January? How much do you think that is going to help you as a player to come in early and go through spring practice?
Cody Lindberg: I think it is going to help a lot. Just getting used to the whole campus. No one is really that comfortable coming in, a new facility and all that kind of stuff, so I just think that coming in early is going to help me be more comfortable and learn the system a little better.
Gopher Hole: What have they said about expectations for you as a freshman?
Cody Lindberg: They are hoping for me to come in and be able to start, but will see how I develop in spring ball and the competition how everything will go then.
Gopher Hole: What is it going to mean to you the first day you walk onto TCF Stadium?
Cody Lindberg: It will mean the world to me, my whole family. Another reason why I choose Minnesota, I'm a big family guy, so my whole family most likely will be there, so that will be a really huge thing to be able to see them and them to see me on the field.
Gopher Hole: What do you see as your strengths as a player?
Cody Lindberg: I've got speed, so my ability to cover as a linebacker and cover ground is one of my big strengths.
Gopher Hole: Obviously, they lose some key players at that position. Is that something that makes you think that if you work hard on your game that you have a chance to play as a freshman?
Cody Lindberg: Definitely. That is something that I am looking forward to. Just get some good competition in this spring and see where that takes me.