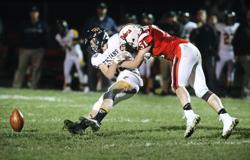 Ben Wileman, a 6-foot-2, 225-pound senior linebacker from Edgerton (WI) High, committed to Minnesota as preferred walk-on last December.
Gopher Hole: First of all, how are you doing during this pandemic situation?
Ben Wileman: I'm doing great. It is definitely a lot different. I think that I would be finishing school up this Wednesday, would be my last day. I've got a whole weight room in my gym, so I have been training every day and just staying in the best shape I can.
Gopher Hole: Is there anything unusual you are doing to keep busy during this time? Any shows on Netflix or new hobbies or anything you have done to keep occupied?
Ben Wileman: Actually, I don't know if you know the show "Last Chance U." I got my dad into the that. It a community college football show where they take a bunch of bounce-back Division I kids and get them ready for Power 5 football again, so my dad and I have been binge watching that together.
Gopher Hole: Have you picked up some things from that show that will help you?
Ben Wileman: Yes, definitely. It shows what college practices are like. This really is getting me pumped, honestly. Motivating me to keep working.
Gopher Hole: You mentioned weight lifting. Is there anything else that you have been doing to get ready for football?
Ben Wileman: Eating right. Maintaining a healthy body. A lot of speed training that I have been doing with my trainer. A lot of agility ladder work. Just staying in the best shape I can, so when football rolls around, I'm ready to go.
Gopher Hole: To be honest, I feel bad for high school seniors because you are missing out on a lot of things such as graduation. I know that you were planning on playing baseball this year. How hard was that to miss out on some of those things that you were, to be honest, looking forward to for a long time?
Ben Wileman: It is very hard, especially the baseball season. We were returning, basically our whole team and had a chance to make it to the state tournament. We had a couple of practices before the whole pandemic started, so we were looking really good. We were super excited about the baseball season. It is just really disappointing to get this news that we are not going to be able to play.
Gopher Hole: How about your senior year in football? I know that you were named All-Conference again. How pleased were you with your senior year in football?
Ben Wileman: I was really pleased. We had a really great group. We all really played well together. Conference champs, that was the first time in, I think, like ten years. It was just really a great time to spend my senior year with a conference championship.
Gopher Hole: What school were you hearing from for college football?
Ben Wileman: I was talking to Illinois State. They were one of my top targets and several Division II schools had offered me. Minnesota invited me for a game day visit and it was unreal. I loved the place. I loved the coaches and they invited me back again and mentioned a preferred walk-on spot and I knew right then that that was where I wanted to go. I told them I was going to commit and I actually committed on my birthday.
Gopher Hole: What games did you get a chance to come to for the Gophers?
Ben Wileman: The Georgia Southern game, Maryland and the Wisconsin game.
Gopher Hole: What offers did you have from Division II schools?
Ben Wileman: Missouri Western, the University of Drake, Southwest Minnesota State and the University of Sioux Falls.
Gopher Hole: Were you hearing from any other schools, Division I about walking-on or was it mostly Minnesota?
Ben Wileman: I talked to Wisconsin a little bit, but they had a heavy linebacker class, so that kind of slowed down. I went to the Wisconsin camp and they said that they liked me and Illinois State and Central Michigan, I talked to a good amount.
Gopher Hole: I know that the plan is probably to redshirt you, especially since you are coming in as a freshman since they usually redshirt players on the defensive end. Minnesota had a couple of linebackers that were drafted in the NFL, Carter Coughlin and Kamal Martin, so there are maybe some opportunities at that position. Is that something that makes you a little more excited about Minnesota because maybe there are some chances to get some playing time down the road?
Ben Wileman: Yeah, for sure. I am just going to keep working, hopefully see some time early on special teams, maybe. I know that is a high possibility and just prove myself at practices and as a scout team player and hopefully, I get a shot to go into a game.
Gopher Hole: For fans who haven't gotten a chance to see you play, how would you describe yourself as a player?
Ben Wileman: I would like to say "hard hitter." I like to fill gaps. I can read the run really well and I like to fill gaps hard, fast and hit hard.
Gopher Hole: What are you up to right now height and weight-wise?
Ben Wileman: Right now, I'm 6-foot-2, about 228 pounds.
Gopher Hole: Have they talked to you about what they would like you to get up to in college?
Ben Wileman: A little bit. I've talked to the strength coach and he just said for me to come in and evaluate me and then we'll see where to go from there.
Gopher Hole: I know that the world is so strange right now, do you have your plans finalize for when you are going to come to Minnesota yet?
Ben Wileman: No. That is the thing right now we are wondering. Orientation was originally supposed to be June 4th and I think that I was supposed to move in, but that just moved in to online orientation, so we are just sitting back and just see whatever happens.
Gopher Hole: Does that make it kind of tough since you are obviously excited and want to get going, but there are so many questions?
Ben Wileman: It is definitely a little bit hard. I am just staying on the mindset that we are going to be playing this year and I'll be up there soon to get working.
Gopher Hole: I am assuming that the Gophers talked to you about having quite a few preferred walk-ons who have earned scholarship, including Blake Cashman, who played in the NFL this past year. Is that got you excited that you could be a player who could earn a scholarship down the road and contributes quite a bit to the team?
Ben Wileman: Yes, definitely. When I took a visit, they showed me "The Wall of Walk-ons" in their facility. It is all the walk-ons who have earned a scholarship. I think that is one of my main goals to get on that wall, too.
Gopher Hole: What things are you going to be continuing to work on? I know that you said that you are doing a lot of speed training and weight lifting. What other things are you doing to get ready for college?
Ben Wileman: Just working on my speed, mainly, to get back in coverage. Improve my coverage skills a little bit and just overall my football IQ and learning how to hit the holes harder. Mainly just coverage, I'd say.
Gopher Hole: Have you thought much about what you are going to major in at college?
Ben Wileman: Yes, something in the Sports Management, like marketing around that area.
Gopher Hole: Obviously, you are a Wisconsin kid, but you are going to Minnesota? Have any of your friends or anyone given you any grief about "crossing to the dark side?"
Ben Wileman: Yes. The community is proud. I don't think that we have had a kid go Division I for football in a long time. What most of them are saying is "that they'll cheer for me, but not as much for the Gophers." I know that they are joking, but it is funny.