Cade McConnell, a 6-foot-5 1/2, 300-pound senior tackle from Choctaw (OK) High, committed to Minnesota Sunday. He had previously verballed to TCU, but re-opened his recruitment after a coaching change and will enroll at Minnesota in January.
McConnell comes from a football family. His father, Aaron McConnell started his college career at Oklahoma State before transferring to Pittsburg State. He was a consensus first-team All-America selection and MIAA Defensive Player of the Year as a senior in 2003. McConnell also earned first-team All-America honors from the AFCA his sophomore year in 2001 and from the Associated Press as a junior in 2002, after receiving honorable mention All-America recognition as a freshman in 2000. He was a four-time first-team All-MIAA performer and had career totals of 232 tackles (116 solo) with 75.0 tackles-for-loss and 21.0 quarterback sacks in 48 games for the Gorillas. He was inducted into the Pittsburg State University Intercollegiate Athletics Hall of Fame in 2013. McConnell also participated in cheerleading for the Gorillas, winning the Collegiate National Cheerleading Championship his freshman season in 2000.
He met his future wife (Tessa) at Pittsburg State and lived there before moving the family to Oklahoma when Cade was in fifth grade.
GopherHole caught up with Cade to learn more about his commitment and plans for arriving at Minnesota next month.
GopherHole: You committed to Minnesota today. What was the main reason that you decided that Minnesota was where you wanted to play college football?
Cade McConnell: I think one of the main reasons was, like everybody says, you step on campus and you know. I think I had that feeling a couple of places, but I think the coaching staff and the culture and the structure of Minnesota football is what really sold it to me. My high school is very culture based. I think I said that quite a few times to everybody, but we have our own "Row the Boat" deal. It's the "Gold Standard", but having that culture there and structure is definitely something I feel comfortable in after high school because I have been doing it for four years, so that definitely influenced it.
GopherHole: You are planning on signing Wednesday, right?
Cade McConnell: Yes, sir and I'll graduate Friday technically and I'll be up there for the spring.
GopherHole: Were you always planning on waiting close to the signing date or did that just happen?
Cade McConnell: I was committed to TCU from Valentine Day's this year, so February all the way up until Halloween when the coaching change happened. I decommitted about four weeks ago, a little bit more than a month. I was going to announce on signing day and commit around the same time, but I just wanted to get it out there. I'm kind of a laidback guy. I didn't really feel that the whole dramatic deal was my forte. I also wanted people to know that I was going to be playing there and that I wanted to be there.
GopherHole: Has the recruiting process been a little bit difficult because TCU was a school that you committed to and they underwent a coaching change and a few other schools have gone through some changes. Did that make it a little bit tougher, knowing that there is a lot of uncertainty unfortunately?
Cade McConnell: Yes, it definitely did. With that happening, that definitely blew up in my face. I like to say blew up in my face, not literally. It kind of just threw me a loop. We like to call it the coaching carousel, but it has definitely been a hard thing to do for recruiting, because you don't know and you don't know for sure. Everybody says pick a school instead of coaches, but it is hard. That's hard because you know that you are going to play for your coach. You are playing for the school, but it's like the school is not coaching you, so it is hard. Definitely with all the coaching staff happening, it's hard to settle down when you don't know what is settled down behind the scenes.
GopherHole: When did you come up to Minnesota for your visit?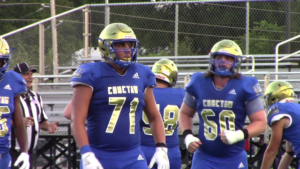 Cade McConnell: I was there the 3rd, 4th and 5th. It was the weekend of the fourth of December.
GopherHole: What all did you have a chance to see and do?
Cade McConnell: We really did everything. We started off with academics. It was kind of an academic day on Friday. Saturday, they had a little practice, so that was kind of the football side of things. We toured and went to the facilities and Sunday, was our exit type deals and exit meetings. We really got a little taste of everything. I think the practice was something that was different than any of the other schools, because the other schools we kind of just had to watch a game and really didn't get to watch what happens every day to lead up to that game and that was definitely crazy. I don't know if you've ever been to one of those practices, but they are like a million miles an hour. Everybody's sprinting around. Everything's on like 25, 30 second clocks. It's crazy.
GopherHole: How hard was it this year? I know that you suffered an injury and only played a couple of games. How hard was that because I'm sure that you are a competitive kid and you wanted to be out there?
Cade McConnell: Yeah, that sucked. We went deep in the playoffs last year. We actually lost by three in the state championship, so not being able to play with my guys this year and kind of retaliate from last year, that really sucks because I got injured in week two and ended up trying to play through in Week three and it didn't hold out. It didn't work, so that cut me down a little bit. It threw me in a loop and that definitely played a role in how I felt my recruiting was going to go when the TCU coaching change happened. Minnesota coaches had trust in me the whole time, so I'm not really worried about that. I'm ahead of schedule on my recovery process, so I should be good for spring.
GopherHole: When did you first start from Minnesota?
Cade McConnell: Minnesota was my third offer after my sophomore year and then I committed and it kind of died down. It obviously picked up after the TCU coaching change happened. I think they were the frontrunners in it most of the time, because of the effort that they put in it. They put in more effort than anybody else and they made sure that I knew that they wanted me and they made sure that I knew that I was their guy and came to the house and all that stuff. They started recruiting me a while ago, but it definitely picked up here a little late.
GopherHole: Was it weird because you had been committed for so long and then decommitted back in November with the coaching change. Was it weird that all of a sudden everybody is after you even harder than you were being initially recruited?
Cade McConnell: Oh, yeah. 100%. It was definitely weird because I hadn't in a long time talked to anybody else, so it was like the moment I did it, it was bang, bang, bang, bang, bang. All  these people. New people. Old People. People who I had maybe stayed in touch with while I was committed, but just had conversations with. Just hitting me with all this recruiting stuff. It was definitely weird. It was definitely something to get used to because I hadn't done it for in a year, six months, so it was definitely something to get used to.
GopherHole: Had you ever been to Minnesota before this visit?
Cade McConnell: No. I joked with Coach Patterson, because he is an Oklahoma guy. I honestly don't think I've been outside of an airport and stepped on the ground, north of Kansas City. I've been in Chicago for a layover, but that's about the most North I've ever been.
GopherHole: Did you even get a chance to see Minnesota play on TV at all this year?
Cade McConnell: Oh, yeah. 100%. We watched the Wisconsin game and like I said before I committed, they were still recruiting me, so we would flip through a bunch of games and they are always entertaining to watch. Watching Coach Fleck go crazy, running around the sidelines, that was definitely a funny deal to watch and I enjoyed that enthusiasm from him.
GopherHole: For fans of Minnesota, who haven't seen you before, how would you describe yourself as a player?
Cade McConnell: As a player, I would kind of describe myself as someone who is going to give it whatever it needs to happen to allow a team to win. I'm going to give it my all. Obviously, I am an "O" linemen, so I am going to bury people and I am going to be nasty, but I am also a team guy and if someone needs picked up, they are going to get picked up.
GopherHole: You are going to enroll in January. How much do you think that is going to help you get a little bit of a jump on that freshman year?
Cade McConnell: I think that it is going to do great things. I'm in there for spring and I have a month, month and a half ahead of all the other people who are coming in in the summer, especially with my injury. If it doesn't work out in the spring and I can't throw pads on in the spring, then I get fully recovered for that and I'm good for summer and fall camp, instead of twinkling around with getting healthy and getting back into it at the fall camp. I think that is going to help me a lot.
GopherHole: Have you thought much about a college major yet?
Cade McConnell: Yes. I am going to go into Mechanical Engineering. I guess Engineering with a Mechanical emphasis. It might be tough, but I think Minnesota has a great educational program and my academic advisors with the football program, so I think it will be smooth.
GopherHole: What do you like to do away from the football field?
Cade McConnell: Obviously, hang out with friends. I like that probably is a common answer, but I kind of get on the game a little bit, PS5. I got VR. I play that quite a bit and obviously watch some football. Play some fantasy football. Those are all big deals.
GopherHole: How's your team doing this year?
Cade McConnell: I think I am fifth in my league. I am watching this game right now. I got A Rod playing. I'm about to knock off #1 actually. It's always fun.