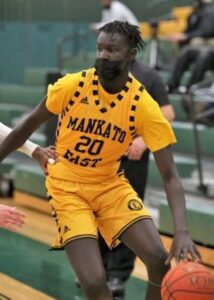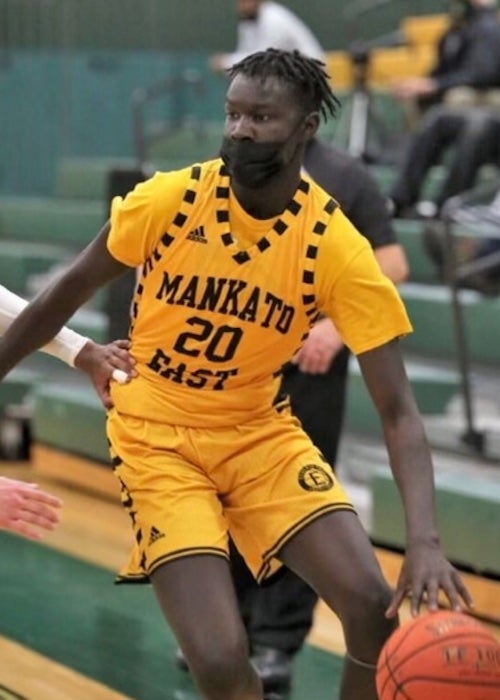 , a 6-foot-8 senior forward from Mankato (MN) East, is one of the top players in state from the Class of 2022. Omot's strong play this spring and summer with the D1 Minnesota AAU program earned him scholarship offers from Providence, Western Illinois, Bryant University, Cal Poly, University of St. Thomas and Western Michigan.
Omot averaged 21 points per game this past season, the second-highest season average in program history, with two games of 27 points. He also averaged 8.5 rebounds, with a high game of 18. Omot led the Scarlets with 3.1 assists and shot 54% from the field, including 40.4% from three-point range. He was named second team All-Big Nine Conference.
GopherHole: What is the latest on your recruitment right now?
B.J. Omot: Recruiting has been pretty slow lately, but it is starting to pick up now. Boston College recently hit me up. George Washington. I'm still talking with my people, who I got offers from. I got Wyoming contacting me. Basically, the same people from the summer.
GopherHole: You decided to wait until the spring, right?
B.J. Omot: Maybe spring. Maybe midseason, if I get a good offer. I might just commit. I'm going to wait it out. I think that I'll get some good offers.
GopherHole: I think the hope is that if you have a good senior season, which you are hoping to do, that you will hear from even more schools, right?
B.J. Omot: For sure.
GopherHole: What are the expectations for Mankato East? I know that you had a good year last season, but unfortunately had some COVID issues.
B.J. Omot: I think we are going to be back and better than ever. We are barely losing any people. Everybody has been in the gym this summer. We got a pretty good preseason ranking, obviously, so we just have to live up to the hype.
GopherHole: You are a senior finally. What does that feel like?
B.J. Omot: It's crazy. It felt like I was a freshman yesterday. I'm not going to lie. COVID made everything go fast. It's crazy.
GopherHole: What things are you really working on since this summer to continue to improve yourself as a player and get ready for a big senior season?
B.J. Omot: I've been in the weight room, so I can get ready for this season and also college. The bodies are really different in college, so I just want to be stronger and I've been working on my shot. Trying to get consistent with it. I'm trying to be more like a guard. Trying to get my handles right.
GopherHole: You also look like you've got bigger. What are you up to height and weight-wise now?
B.J. Omot: I'm 6-8 and 185.
GopherHole: What were you last year?
B.J. Omot: I was like 170 last year.
GopherHole: What is it going to mean to play Division I basketball?
B.J. Omot: It means a lot because when I was a kid, all I watched was college basketball. I dreamed of being on that floor chance to do that.
GopherHole: Are you hearing from the homestate school still?
B.J. Omot: I'm still hearing from them, but it is the same as the summer, they want to keep watching me more, so we'll see.
GopherHole: I know that you have a couple of tough games early on playing some good opponents. Do you like those tough opponents early in the year to get you ready for the regular season?
B.J. Omot: Yeah, playing good teams gets us better, so if we go to state, we are going to see those teams again, so we can be tougher and know how they play.
GopherHole: What would it mean to have the opportunity to play in the state tournament?
B.J. Omot: It would mean a lot, because we haven't been there since 2018. I've always dreamed of going to state and playing at the Target Center and Williams Arena, so it's a dream.