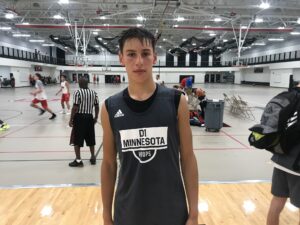 Jack Janicki, a 6-foot-4, 180-pound junior guard from White Bear Lake (MN) High, is ranked as the number three player in the state in the Class of 2023. He has a strong spring and summer with the D1 Minnesota AAU 16-and-under  program. Janicki recently picked up his first Power Five scholarship offer.
Janicki averaged 19.7 points per game last season for White Bear Lake, scoring in double figures in 18 of 19 games. He had five games of 20 to 29 points and three more games of more than 30 points  including a season-best 39 versus Stillwater.
GopherHole caught up with Janicki at the Breakdown Fall League to learn more about his recruitment and upcoming junior season. (Note I interviewed him November 7 and asked a few additional questions on the following Sunday after a new offer)
GopherHole: Getting ready for the season, you are a junior now. Does that feel weird being a junior?
Jack Janicki: No, I've always kind of felt that I had a leadership role on this team, so a year doesn't really change that. I felt like the only thing that is different is I have a bunch of dudes that I have always played with in my class that I'll be able to play with now. The job is still the same, just to get better. We have a new coach. I think he'll get us going for the season, so I am just excited.
GopherHole: What are the expectations for the White Bear Lake team this year?
Jack Janicki: My expectation would be to win the section, but I'm sure that's not anyone else's expectation, outside of this team, which is fine. I think we have a lot of new guys, so we might start a little bit slow with inexperience, but I think we'll get a lot better as the season goes on and be ready when sections come around.
GopherHole: What is the latest on your recruitment. What offers do you have right now?
Jack Janicki: St. Thomas, Loyola and Colorado State. Obviously, it is just a feeling out process with a bunch of schools. COVID's backed up. It's fall, so I'm not playing right now, so it is just like "we want to see you more," which I get. I think as this winter starts and I hopefully, a good AAU season, more will come around.
GopherHole: Are you liking the recruiting process? Obviously, it is different because of COVID a little bit.
Jack Janicki: I'm obviously happy to be the position I am, just to be a recruit and have these opportunities, but I would be lying, if it wasn't stressful or busy. I've been gone like almost the last four weekends. I'm looking forward to the season. Start playing, stay home a little bit and talk to coaches on the phone. Have them come up here. It is a little stressful, but I'm happy that I'm doing it.
GopherHole: Where all have you had a chance to go to this fall?
Jack Janicki: I've been to Loyola and I've been to Notre Dame and I'm going back out to Loyola here in a couple weeks. Wake Forest, I might go to and I'm obviously, going to try to get to a little visit at the "U." I've been busy. I think the "U" will probably be next.
GopherHole: What are you hearing from the Gophers?
Jack Janicki: Coach Thorson went to an open gym a couple weeks ago and was like "we have a short list of 2023 that you're on." I think that they wanted to get me out to a practice, but just not right away, because they were still working some stuff out, so I'll probably reach out to them at some point and figure something out.
GopherHole: Have you scheduled any time to go to any college basketball games? I know that you have been to a lot of college football games.
Jack Janicki: All I've done right now is I'm going out to Loyola on the 20th. They have like their second or third game (they face UIC), but I think Minnesota would be an easy one to do. It's the hometown. It's so hard with the unofficials and it's on your own dime, especially when the season starts, so I don't have any answers for you right now, but we'll see.
GopherHole: You have a lot of ties with Notre Dame. (His mother and father both attend college there and his mother played basketball at Notre Dame). What the experience like going up there for a few big football games?
Jack Janicki: I've been there like 16 times because we make a habit of going every year for a football game, so I kind of knew what to expect. The good thing was to see the coaches and start building a relationship with them, so that was the different aspect of it. Sit with the players for a little bit. It was a good visit. I think they'll come out in the winter, so we'll see.
GopherHole: What coaches are you talking to at Notre Dame?
Jack Janicki: Coach (Ryan) Humphrey and I sat down with (head) Coach (Mike) Brey and I think he might try to get out in the winter.
GopherHole: Coach Humphrey was a player who played at Oklahoma and Notre Dame, so he knows the program very well. Coach Brey has been there for a long time and assistant coach Anthony Solomon is on his third tour there. Is that kind of nice that they do have a continuity with their coaching staff?
Jack Janicki: Yes. It's nice to know what to expect from them, but the thing for me right now in terms of continuity, I just got to see how each school handles the transfer portal and what they recruit. I know what to expect from the coaching staff. I don't know what to expect from their roster right now. They have a lot of old dudes right now and a good freshman class, but behind that when I would be there is obviously too early to tell.
GopherHole: Does that make it a lot different with the transfer portal because it wasn't so big a few years ago?
Jack Janicki: It's huge now. Obviously, if I was offered from places, I would look more into it, but now it is just thinking about it. If it is a school known to do a lot of transfers, I don't know what the security of my position would be, if they are constantly bringing new guys, but that is nothing to do with a particular school. That's just in general.
GopherHole: I know that I have talked to some schools that they are only going to be recruiting the portal?
Jack Janicki: Yes and some aren't doing it at all, so that is just something that I have to figure out on my own.
GopherHole: You have some great opportunities already. What is it going to mean to you to play Division I basketball?
Jack Janicki: My main dream hasn't really been to play professionally, but I've always wanted to play in March Madness and the NCAA Tournament. I already have offers from places that have good chance and have been there before, so that's my dream and we'll see where it goes.
NOTE: These questions were asked on November 14th to supplement the previous interview.
GopherHole: You got an offer from Wake Forest. I know that they were up to your school for a visit. Were you surprised by the timing of it?
Jack Janicki: I was only a little bit surprised because I had never met their head coach or been to their campus. The first time their head coach called me was when I got an offer, so in that regard, I don't think I was prepared for it, but I think my adidas DI coach (Al Harris) had kind of an idea that this was going to happen, so in that way I'm not surprised.
GopherHole: Do you know much about their program or their head coach, Coach (Steve) Forbes?
Jack Janicki: I know they come from East Tennessee State and they had a lot of success there, so I know that they are starting fresh and I'm excited to just watch them this year and see how they grow and see how they coach and get out there maybe this winter.
GopherHole: That is your first kind of big offer out of the area. Does that make feel pretty proud of get that first big Power Five offer?
Jack Janicki: Yes, it means a lot because I work pretty hard. I work very hard to play at that level, so I don't want to say I'm surprised by it, because I think I deserve it, but I'm also like "this could get the ball rolling for me," so I'm happy about that.
GopherHole: I sometimes feel schools look at what other schools are recruiting a player and say "he's got a Wake Forest offer, maybe we need to step up our recruitment." Is that something you think might happen, too?
Jack Janicki: I hope so, because I have seen the snowball effect with a lot of people. You saw Josh Ola-Joseph last summer. Once you get that big one, you start to get a little momentum and coaches start making more moves, so hopefully when the winter season starts, I can keep playing well and more can come in.
GopherHole: I know when I talked to you last week you were going to try to go to some games. Have you thought more about that?
Jack Janicki: My winter schedule is obviously out now. I am kind of circling dates when they have home games and when we have home games. Our schedule and balancing Wake Forest's schedule with other schools. It's been a busy fall and I'm pretty sure it will be a busy winter, too.
GopherHole: I haven't looked at the schedule, but Wake should play Notre Dame.
Jack Janicki: They play them twice since they are in the same conference. We'll see. That could be a good one.