November 18th, 2023: Rhett Pitlick's two goal game propels Minnesota past Notre Dame avoiding the sweep, as the Gophers played a much better defensive game than yesterday's.
–> Follow @Dylanloucks4 on Twitter
---
Minneapolis – The Gophers played a good game against Notre Dame on Friday but walked away with a 4-2 loss. What costed them was costly turnovers and elementary level plays that led to high danger scoring chances for the Fighting Irish. Tonight the Gophers cleaned that up and came out on top, 4-1.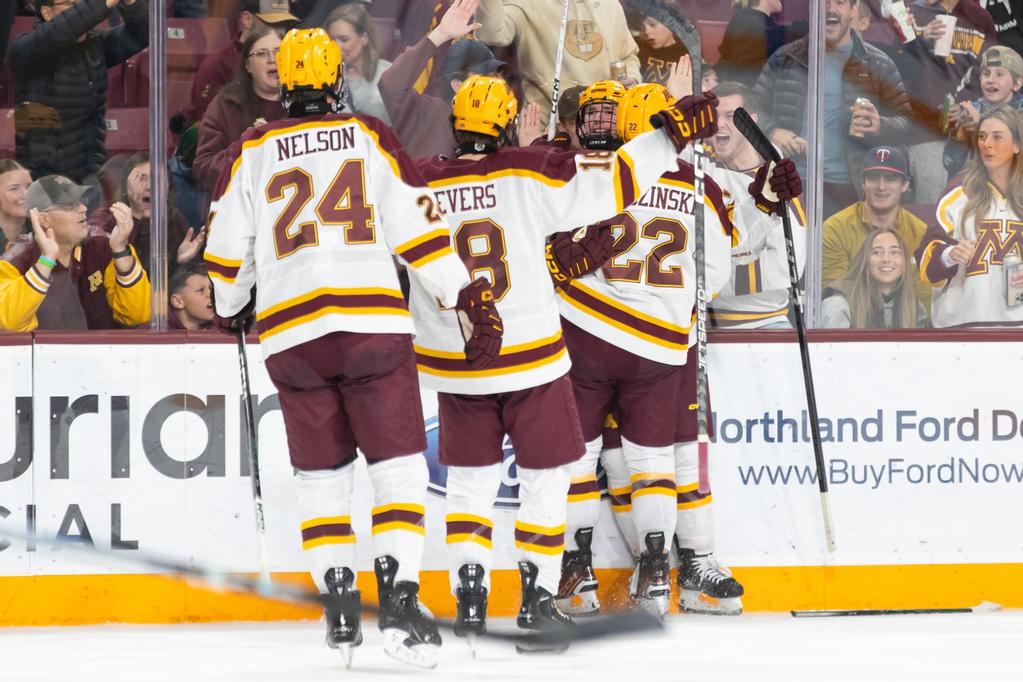 "12 games and we have been awfully good in six of them and that was another one of them," Gophers head coach Bob Motzko said after the win. "We were awfully good tonight, up and down our lineup. Notre Dame had a good little push in the first and we buckled in and in the second period we had our push and continued with it. I'm proud of all our guys."
One of the biggest changes from tonight's game was the amount of high danger chances the Gophers didn't allow off the rush. Yesterday, Minnesota allowed nine high danger chances off the rush but tonight they only allowed one. Part of that was because the Gophers played with seven defensemen tonight instead of six which they played with on Friday.
But the only reason they played with 13 forwards and six defensemen on Friday was because one of the Gophers forwards was battling with an injury but ended up playing through it. Tonight they went with seven defenders and Max Rud, who was the extra man, had a real good game. He was on the ice for five rush chances and all five led to no shots on goal.
"I do, I do like having seven defensemen playing," Motzko said. "We have six freshmen and sophomores, it gives some of them a little rest at times."
Out of the seven defensemen that played tonight, five of them were underclassmen with two freshmen and three sophomores. Only Mike Koster and Carl Fish were the upperclassmen. So with a young d-core like the Gophers have, it's nice to be able to take the load off some guys by having seven defensemen in the game.
Luke Mittelstadt was a big piece from the Gophers blue line last year that kind of went unnoticed with most of the attention on Brock Faber, Jackson LaCombe, and Ryan Johnson. So this year, it is crucial that guys like Mittelstadt, Cal Thomas, and Ryan Chesley take big steps and fill the shoes that those three left.
Chesley picked up his first goal of the season tonight, Thomas had one assist, and Mittelstadt played one of the more complete games he has played this year. The sophomore defenseman finished the night with seven successful zone exits on nine attempts and was a beast at stopping rush chances. Mittelstadt led the Gophers with 11 rush chances by Notre Dame that turned into no shots and only two that turned into shots.
"I thought Luke and Koster were outstanding tonight in our zone coming out," Motzko said. "I think they are the two that I really kinda put the flag on right now that stood out to me tonight. They were very strong for us tonight. I'm sure there is more when we break that thing down but they really stood out."
Along with solid defensive play by the Gophers, Rhett Pitlick continued to shine with another multi-point game. The junior forward notched the game's first goal and the last goal for his third and fourth of the year. He now has three goals and seven points in his last seven games with four of those seven games being multi-point efforts.
Chesley scored the Gophers second goal after his first shot was blocked by Cole Knuble's stick, Knuble's stick ended up breaking on the play which allowed Chesley to walk in on the right side and rip a shot over the left shoulder of Ryan Bischel, giving the Gophers a 2-1 lead.
Not long after, Jaxon Nelson scored his fifth goal of the year after Mason Nevers flung a pass to the slot that deflected off Bischel's stick and Bryce Brodzinski's before it reached Nelson's backhand. Nelson then deflected home Sam Rinzel's point shot under a minute later but was overturned due to a high stick.
Nonetheless, Nelson's line was a huge factor tonight, among all their lines. Not only did they factor in two goals, almost three, but they played well defensively and physically which helped spark the Gophers to a much needed win.
"That line had two great goals," Motzko said. "Would've been two big goals but I give that line a lot of credit. They played against their top line, shutting them down, and then finding a way to get a big goal."
The Nevers, Nelson, and Brodzinski line was put together last season and took off. It took a lot of pressure off the Gophers top line that season and provided the team with two really good scoring lines along with what could be a shutdown line. This year, it hasn't been in tact for every game but when it has, the trio does not disappoint and tonight they created three goals and shut down Notre Dame's top line.
"We know how to support each other and we all kind of think the game the same," Nelson said on playing with Nevers and Brodzinski. "I say we are all pretty disciplined in the defensive zone and try to make defense come first and usually that leads into offense."
Pitlick eventually got another goal in the third period after Koster lead a great rush out of the defensive zone. The senior defender then rushed into the offensive zone and waited for Pitlick to drive the net before feeding a cross ice pass to Pitlick who banged home his second of the night capping off a 'must win' game for the Gophers.