May 19th, 2023: After an incredible freshman season, Logan Cooley has announced he will be returning for his sophomore season.
–> Follow @Dylanloucks4 on Twitter
---
Minneapolis, MINN – Just three days after Jaxon Nelson announced he'd be returning for his fifth season and two days since Justen Close announced he'd be back for this fifth season, Logan Cooley announces he will be back for his sophomore season instead of signing with the Arizona Coyotes.
#Gophers fans:

We have some unfinished business, become a Dinkytown Athletes member today and let's do something specialhttps://t.co/jssynAnMVN pic.twitter.com/lObQLSEc8e

— DinkytownAthletes (@DTAthletes) May 19, 2023
Cooley put up some crazy numbers in his freshman season with 22 goals and 60 points in 39 games for the Gophers. The Pittsburgh native was drafted third overall by the Arizona Coyotes in the 2022 NHL Draft.
The rookie had a 16-game point streak from January 14th to April 7th, where he recorded 11 goals and 33 points in that span. With three points against Boston University in the Frozen Four, Cooley finished two points behind Thomas Vanek and John Mayasich for third all-time in scoring amongst Gopher freshmen.
Cooley ranked second in the NCAA in points with 60 and fourth in goals with 22. He ranks tied for first with Luke Hughes and Collin Graf for most assists in the NCAA with 38 and tied for first in assists per game at 0.97.
Jimmy Snuggerud is one of the many reasons why Cooley decided to come to the University of Minnesota to play for the Gophers. Snuggerud and Cooley have been playing on a line together for quite some time. Matthew Knies, who was a finalist for the Hobey Baker award alongside Cooley, played on that line during the 2022-23 season.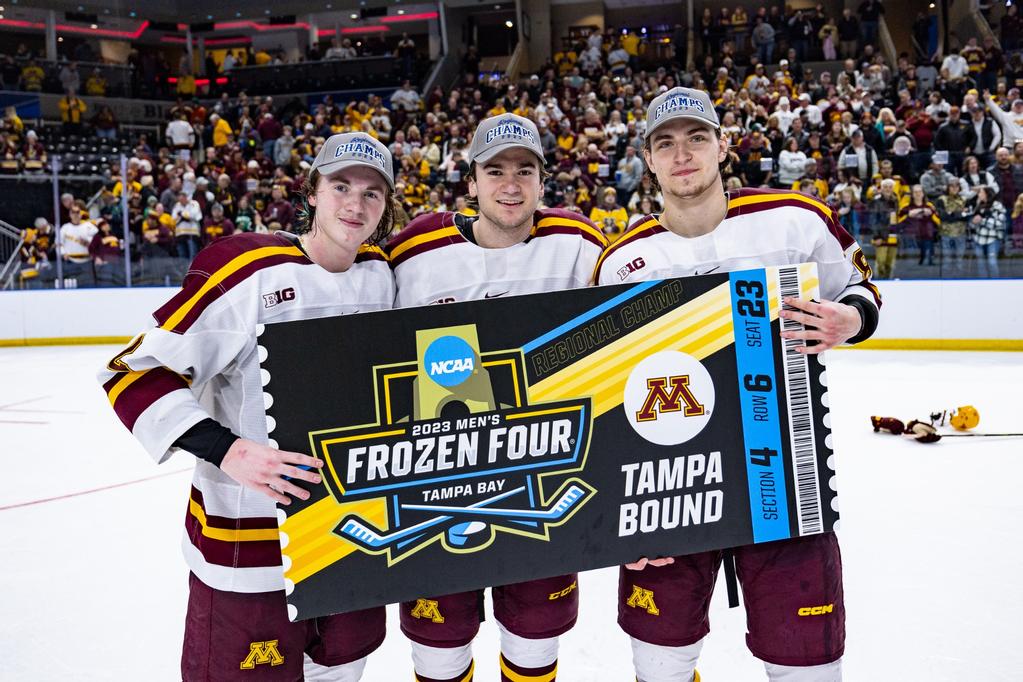 The trio scored 64 combined goals while recording a combined 152 total points. But the focus for Cooley on why he wanted to play college hockey was to win a national championship. He came one win away,  just one goal away.
"This is why you play the game," Cooley said the day before the NCAA National Championship game. "This is why you come to this school to play in the big bright spotlights like this. To win a national championship would mean everything to us."
The freshman ranked first on the Gophers in shot assists. Cooley played in all 18 of the games I have tracked for the Gophers and had 36 shot assists in that span which is an average of two shot assists per game.
"He's the best player in college hockey," Quinnipiac's head coach Rand Pecknold said before the NCAA National Championship game.
Other Tidbits
For most road games of his freshman year, Cooley roomed a lot with senior Bryce Brodzinski. The native of Blaine, Minnesota, played on a line with Nelson and Jackson Nevers for mainly the whole season and put up a career-best 19 goals and 31 points in 40 games.
It's been speculated that Brodzinski was pushing Cooley to come back for his sophomore season, among others, but while doing so, Brodzinski made it clear that he would be interested in coming back for his fifth season as well. Which would be welcomed by the Gopher Brass for sure.
Brodzinski was drafted by the Philadelphia Flyers in the seventh round of the 2019 draft. The General Manager who drafted Brodzinski was Chuck Fletcher who was recently let go from the Flyers GM duties. If Brodzinski decides to come back, he would be a college-free agent after the season ends and could sign with any team that wants him.