October 22nd, 2022: The undrafted Junior forward, Mason Nevers, is on pace for career-high seasons in all categories for the Gophers.
–> Follow @Dylanloucks4 on Twitter
---
MINNEAPOLIS, MINN – In a team full of freshmen, specifically forwards, you need your upperclassmen to step up. That is exactly what Mason Nevers has done to start the 2022-2023 season. The native of Edina, Minnesota has two goals and one assist for three points in the first five games of the season. 
Nevers ranks sixth on the Gophers in scoring chances created per 60 minutes and seventh in xGF. The five-foot-11-inch forward has been relayed upon in all zones for Bob Motzko's Gophers. Nevers is currently second on the team in defensive zone retrievals and plays a huge part on the penalty kill, a penalty kill that lost three of their four regulars.
"He's so mature the way he plays and obviously a guy who can put the puck in the net," Jackson LaCombe said about his penalty-killing teammate, Nevers. "He's a special player and very underrated too."
Nevers has started the season playing with senior associate captain Jaxon Nelson on what could be called a defensive third line. Those two have seen Freshmen Charlie Strobel, Connor Kurth, and John Mittelstadt play with them. Most recently with Brody Lamb, yesterday. When Nelson and Nevers are together they have the highest team CORSI amongst all Gophers' lines.
The Strobel-Nelson-Nevers line has 133 shifts together and has yet to allow a goal. They have created 12 shots on goal which ranks second on the team and first in shots against. The Mittelstadt-Nelson-Nevers line has allowed five shots which ranks tied for second on the team only behind the Kurth-Nelson-Nevers line. I think you get the idea. Nevers and Nelson shutdown play.
On the penalty kill, Nevers has skated in 72 shifts. When on the ice opponents have only gotten 14 shots with his team also creating five shots of their own. Before yesterday's 3-2 overtime win the Gophers were 11 for 13 on the penalty kill. Nevers hasn't been on the ice for any of the two goals against.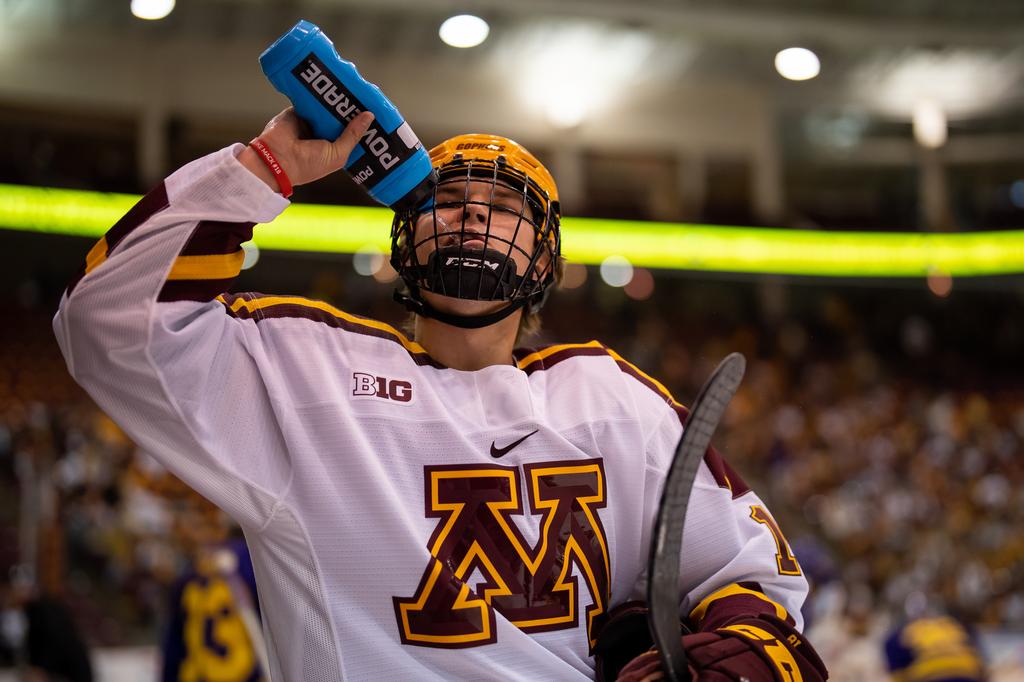 "He's just a workhorse, always battling for pucks in front of the net, and he's always in the best position, plays power play, and penalty kill," Nevers' teammate Matthew Knies said about Nevers after Friday's 3-2 win. "I think he's definitely shown that he's a leader on this team and he's such a valuable component to this win."
Nevers ranked tied for fifth amongst Gopher forwards in takeaways per game with 1.5 and eighth on the team in puck battles won per 60 minutes with 14. His aggressive ability and leadership date back to his high school days with Edina. Nevers was Edina's captain in his senior season where he notched 17 goals and 49 points in 24 games for the Hornets.
The right-shot forward finished his high school career captaining the Hornets to the 2019 MSHSL Class AA State Championship. After high school, Nevers played in the USHL with the Des Moines Buccaneers. In his second season with the Buccaneers, Nevers recorded 40 points in 47 games. His 40-point season finished second on the team. His 19-goal season was tied for first in goals with Alex Laferriere, who currently plays for Harvard University.
In the first game against the Fighting Hawks, Nevers got the call from his head coach, Motzko, to hop over the boards for the extra attacker down a goal. Nevers all season and really his career, has flown under the radar behind the Gophers' top talent, but he continues to show he's something special.
IT'S LOUD IN HERE pic.twitter.com/YT0usI81Rx

— Minnesota Men's Hockey (@GopherHockey) October 22, 2022
As humble as it gets, Nevers just goes about his business and plays a complete game day in and day out. His leadership on the ice has helped carve a path for all freshmen forwards. His defensive ability has improved everyone's game around him and provides the Gophers with a shutdown talent.
"I thought Nevers was our best player tonight," Motzko said in Friday's post-game media availability. "Just working his tail off so we reward him by putting him out there and he scores right away. Couldn't be happier with the upperclassman stepping up."
Fighting Hawks are back tonight
The Gophers will look to sweep the University of North Dakota Fighting Hawks tonight at 3M Arena at Mariucci. Yesterday's 10,418 attendance was the seventh largest in Gophers history and tonight, by the looks of the seat maps, looks to break yesterday's record.
"Overall great atmosphere, fantastic, it's a hell of a battle with this program," Motzko said. "I thought North Dakota played great, they played just the way they wanted to, but we weathered the storm."
LaCombe added: "This is it at it's finest. Two special teams battling at it, it's super fun to play in. Whenever it's a crowd like that they want one to get them into it, that's what it felt like for sure, so loud. To get one like that was pretty cool."