February 25th, 2023: Gophers' head coach Bob Motzko is in his 18th career season as a college head coach but credits this D-core as the deepest he has seen in his time and will ever see. 
–> Follow @Dylanloucks4 on Twitter
---
Minneapolis, MINN – Bob Motzko spent 13 years building St. Cloud State into a championship program before taking over as the Gophers' head coach in 2018. While in St. Cloud, Motzko helped develop Hobey Baker Award winner Drew LeBlanc and eight All-Americans. He previously coached at Miami Ohio and Denver, where he helped Miami win the CCHA title as an associate head coach in 1993.
During his college head coaching career, Motzko has been recognized as a conference coach of the year six times, winning the award twice in the WCHA, twice in the NCHC, twice in the Big Ten, and maybe on his way to a third time in the Big Ten.
Motzko has coached 21 All-Americans, eight of which were defensemen. When he was an assistant coach from 2001 to 2005 with the Gophers, Motzko worked with Hobey Baker Award-winning defenseman Jordan Leopold, as well as six All-Americans. Motzko served as an assistant coach in Minnesota's back-to-back national championship teams in 2002 and 2003.
In addition to his time as a college head coach, Motzko coached the U.S. National Junior team to back-to-back medals at the IIHF World Junior Championship, winning gold in 2017 and Bronze in 2018.
Yet with all the players and teams, he's coached, Motzko states he has never seen a defense core as good and deep as this one.
"It's the deepest D-core I've ever had or ever will have," Motzko told the media after Friday's 4-0 win over Ohio State. "It won't come around again."
The History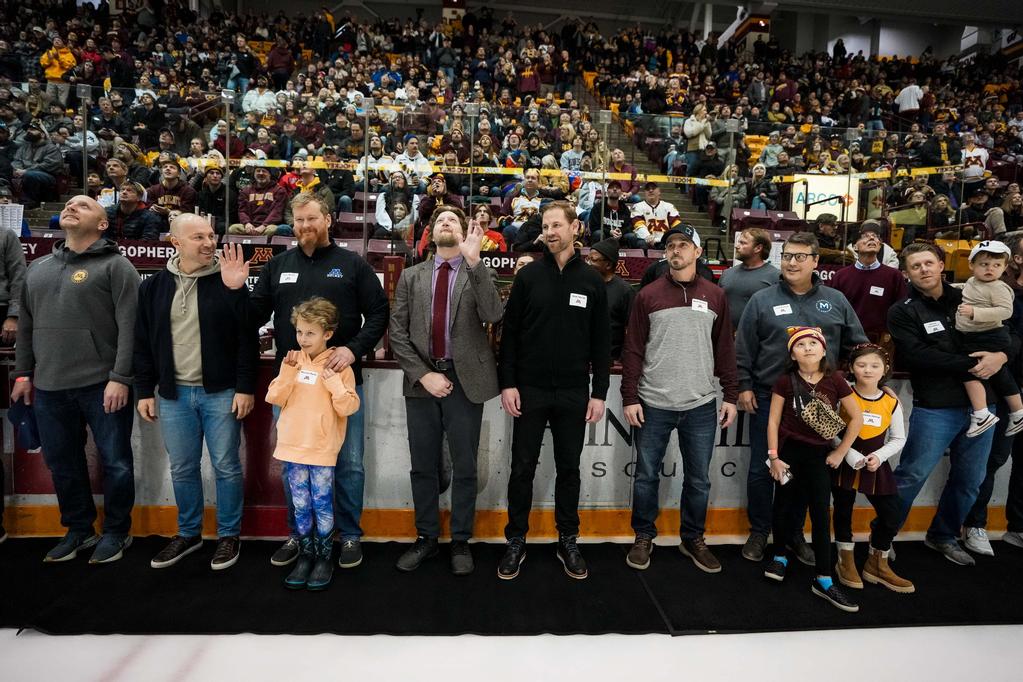 From Jordan Leopold to Keith Ballard, Paul Martin, Alex Goligoski, Nick Jensen, and Jimmy Schuldt, Bob Motzko has coached a lot of good defensemen. You can even go back to the defenseman he has coached at the national level with team USA in Adam Fox, Charlie McAvoy, Caleb Jones, Ryan Lindgren, Casey Fitzgerlad, Jack Ahcan, Mikey Anderson, Quinn Hughes, Dylan Sandberg, Andrew Peeke, and Scott Perunovich.
Ballard and Martin played together for a couple of seasons with Motzko on the bench. Ballard had 33 goals and 100 points in 123 career games for the Gophers. He went on to play ten seasons in the NHL while recording 175 points in 604 career games.
Martin had 20 goals and 97 points in 127 career games for the Gophers. He went on to play 14 seasons in the NHL where he notched 50 goals and 320 points in 870 games.
Leopold had 45 goals and 144 points in 164 career games for the Gophers. He went on to play 695 games in the NHL where he notched 214 points in 12 seasons in the league.
Goligoski had 25 goals and 98 points in 118 games for the Gophers. While still playing in the NHL today with the Minnesota Wild, Goligoski has notched 463 points in 1,028 career NHL games across 16 years in the league. He also won a Stanley Cup with the Pittsburg Penguins.
Jensen has carved out a pretty good NHL career so far with the Washington Capitals and Detroit Red Wings. He has notched 113 points in 467 career games across seven NHL seasons.
Schuldt has spent a lot of his time in the American Hockey league and is currently in the Vegas Golden Knights organization.
Motzko has seen, helped coach, and guide so many extremely talented defensemen at every level they have played at but yet this D-core in the 2022-2023 Gophers season has been the most special. But what makes this D-core so special and good?
The Depth
The Gophers arguably have the best defensive core in the nation and even without their leading point-getting defender and Hobey Baker nominee Jackson LaCombe last night, the Gophers still found a way to shut out the Ohio State Buckeyes.
"The D-core is so deep," Motzko said. "With size and talent, someone else steps up when you give him those minutes. That D-core was really good tonight."
In the last three weeks, the Gophers have had injuries to many key players. Ryan Chesley suffered an upper-body injury in Wisconsin two weekends ago, the same weekend Gophers' captain Brock Faber did. Weeks before Chesley and Faber were hurt, freshman defender Luke Mittelstadt was out with an injury. LaCombe suffered a lower body in practice just earlier this week.
Carl Fish is one defender that the Gophers have relied on to eat some minutes during the absence of their regular seven defenders. But he has done more than just eat minutes. Since he's entered the lineup, Fish has recorded the fewest puck losses amongst all Gopher defenders and the lowest opponent expected goals average.
"He just steps in and gives us strong minutes," Motzko said on the junior defenseman. "He just eats strong minutes for us and is getting more confidence. Carl has played very strong. He has done it last year when he stepped in for us. We are just so darn deep it's hard to get those guys in the lineup."
How deep, you may ask? So deep that senior defender Matt Staudacher is red shirting this year after playing three straight seasons with over 26 games played where he notched over 30 games played in two of the three seasons.
Brock Faber, Jackson LaCombe, and Ryan Johnson are some of the best upper-classman defenders in the nation. Faber and LaCombe are current nominees for the 2023 Hobey Baker Award and Johnson is the glue that puts this D-core together. He does it all. Leading the Gophers in controlled zone exits, a true elite defensive defenseman.
Besides the top three, the Gophers have three freshman defenders who have all played important minutes for Minnesota. Ryan Chesley currently leads the team in hits and has become more and more comfortable in breaking up plays and rush chances. He's been super physical and more aggressive as the season has been going on.
Sit 'em down.@ryanchesley_ pic.twitter.com/Yjk6tYHpqT

— Minnesota Men's Hockey (@GopherHockey) January 28, 2023
Cal Thomas is probably the most underrated defender on the team. He started slow but once he got the hang of college hockey, he's been a major factor in all the Gophers' wins this year. Thomas has the fewest puck losses of any Gopher defender this season and is tied for first on the team in defensive zone retrievals with Faber.
Luke Mittelstadt is the last freshman defender on the team. Mittelstadt has been on the team's second power-play unit and has notched two goals and 17 points in 31 games for the Gophers. He ranks second in the fewest puck losses of any Gopher defender this season behind Thomas.
The last defender who is worth talking about with how he has played this year is Mike Koster. Through 33 games this year, Koster has new career highs in goals with five, assists with 18, and points with 23. He is coming off a four-point night last night against Ohio State and has come up huge for the Gophers when they have needed him the most.
Koster ranks second on the team in expected goals amongst Gopher defenders, only trailing LaCombe who has eight goals and 31 points in 32 games this year. Koster ranks second in team-expected goals when he is on the ice and fourth in takeaways. The junior defender is having a monster season.
MIKEY IS FEELING IT pic.twitter.com/fgzklhNYSW

— Minnesota Men's Hockey (@GopherHockey) February 25, 2023
"Everyone stepped up for us," Motzko said after yesterday's win. "Mikey Koster was great tonight and he has been playing that way for a while now. It was great to see him get rewarded too. He's got a heart of gold."
After Koster scored his second goal, he let out some serious emotion. He joked he didn't even know what kind of celebration he did.
"I didn't even know I had one leg up," Koster said. "Just so much energy I didn't even know what to do. I was just excited, it was a 1-0 game for a long time so it was a big goal for us. Just energy. I don't even know if I want to see it if I'm being honest with you."
Logan Cooley added: "He's done that every goal I've seen him score this year it's the same celly but you can't really chirp a guy who had four points tonight. He was unbelievable."
With the last regular season game of the year tonight, you can bet Motzko will be leaning very hard on his experienced and extremely deep D-core through the playoffs. It's been 20 years since the Gophers have last won a national title and with this year seeming like their best shot to add another, the D-core will have to come up huge, like it has all season when it matters most.