April 14h, 2022: Gophers' Blake McLaughlin signs a contract with the Anaheim Ducks and Ben Meyers signs a contract with the Colorado Avalanche. All that plus some more updates on transfer portal news.
–> Follow @Dylanloucks4 on Twitter
---
MINNEAPOLIS, MINN – On Sunday evening Blake McLaughlin became the first Gopher player this offseason to sign a contract with an NHL team. Since the Gophers lost to Minnesota State in the NCAA Frozen Four semifinal on Thursday, many have been preparing for some of the players to follow their dreams and sign with NHL teams. 
Since the University of Michigan lost on Thursday against Denver University, who later went on to defeat Minnesota State in the NCAA Championship game, Owen Power signed an entry-level contract with the Buffalo Sabres, Kent Johnson signed an ELC with the Columbus Blue Jackets, Matty Beniers signed an ELC with the Seattle Kraken, and Nick Blankenburg signed a contract with the Columbus Blue Jackets.
Many thought the Gophers would soon follow with guys like Brock Faber, Ryan Johnson, Matthew Knies, Jackson LaCombe, Sammy Walker, Blake McLaughlin, and of course the best college free agent, Ben Meyers.
It was Blake McLaughlin who was the first Gopher to sign with an NHL team. He signed with the Anaheim Ducks on a two-year entry-level contract beginning in the 2022-2023 season with an amateur tryout (ATO) with the San Diego Gulls for the remainder of the 2021-2022 season.
The #FlyTogether signed '18 3rd Rounder Blake McLaughlin to 2 yr ELC starting 22-23:

Yr 1 750K Base, 92.5K Signing Bonus, 82.5K GP Bonus, 70K Minors
Yr 2 832.5/92.5/0 PB/70

Cap Hit 884K, AAV $925K

Rep'd by Ben Hankinson @OctagonHockey https://t.co/HULXytdbeq

— PuckPedia (@PuckPedia) April 10, 2022
McLaughlin recorded 38 goals and 67 assists for 105 points in 142 games for the Gophers. In his senior season, McLaughlin posted career highs in goals with 13, assists with 20, and points with 33. The native of Grand Rapids, Minnesota, ranked second on the team in scoring chances behind Matthew Knies, and first on the team in penalties drawn and zone entries. McLaughlin also ranked first amongst Gopher forwards in expected goals per shot, puck battles won, and penalties taken.
Other News:
As reported by Michael Russo in his article  'top college free agent Ben Meyers open for business' from the Athletic, Meyers was expected to officially interview with NHL teams Sunday and Monday. According to Russo and The Athletic, the Minnesota Wild are going hard at trying to sign him.
Meyers finished with 17 goals and 24 assists for 41 points in 34 games for the Gophers. In his career, Meyers notched 39 goals and 56 assists for 95 points in 102 games with the Gophers. Meyers was also a runner-up for the Hobey Baker Award which was given to Minnesota State's goaltender Dryden McKay.
Updated April 13th: Ben Meyers has signed an NHL contract with the Colorado Avalanche.
---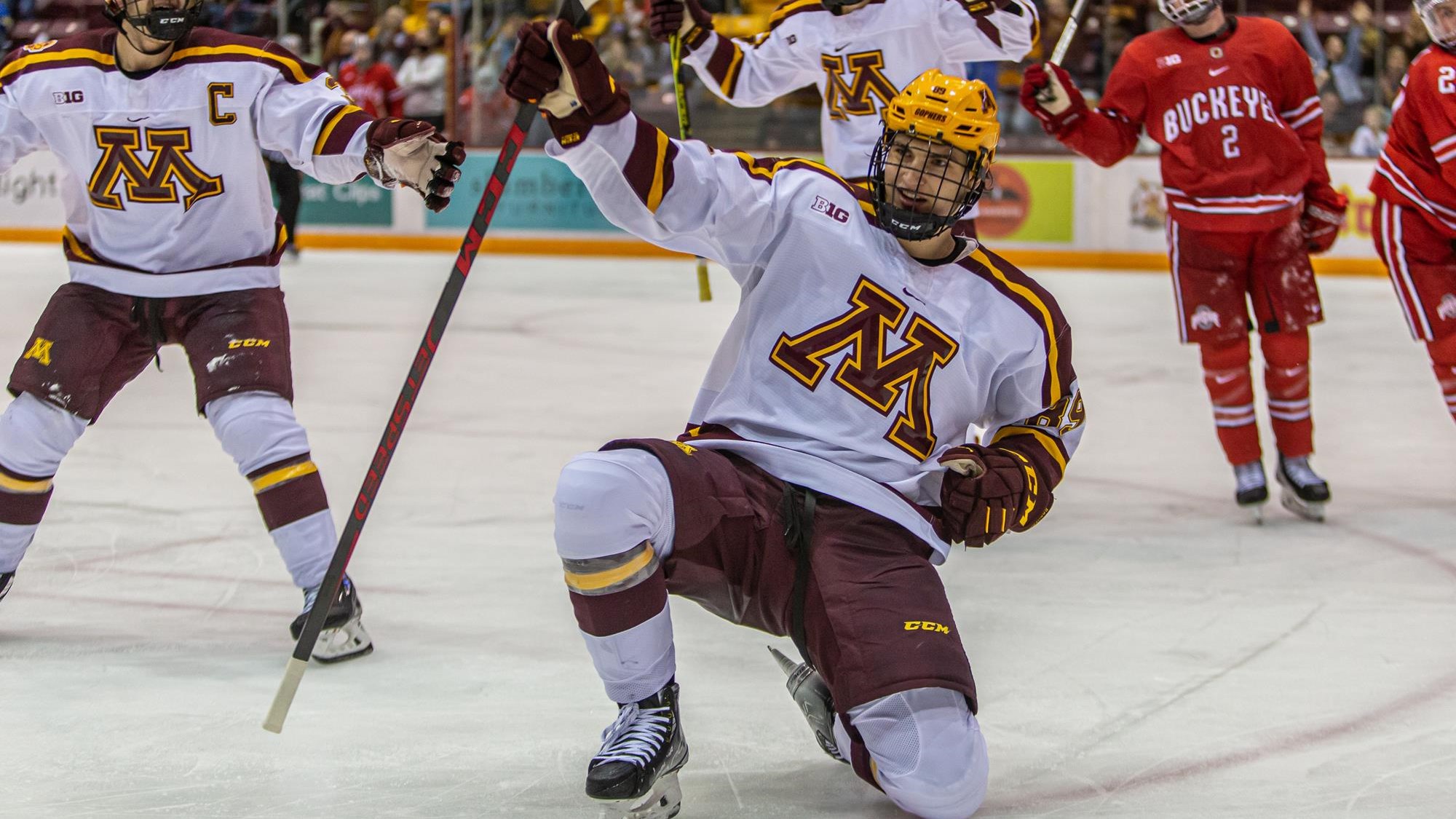 Once the season ended many thought Matthew Knies might leave after his freshman season to help the Toronto Maple Leafs in the playoffs. Many sources have said Leaf's general manager Kyle Dubas wants Knies to sign. But Knies on the other hand seems to be leaning towards returning to the University of Minnesota for his Sophomore season.
The second-round selection by the Leafs in the 2021 draft finished his freshman season with 15 goals and 18 assists for 33 points in 33 games. Knies also appeared in the 2022 Olympics as a member of the USA Men's hockey team. The Arizona native grabbed the attention of everyone when he scored five goals in five playoff games for the Gophers this year.
Knies will meet with Kyle Dubas on Tuesday or Wednesday to sort things out.
Update April 14th: Knies has met with the Leafs and has decided to return to the 'U' as he has some unfinished business to do.
Matthew Knies and Brock Faber played big roles in bringing Logan Cooley to Minnesota and now they will return to the Gophers to play alongside him.
In regards to Brock Faber, John Hoven reported Faber met with Los Angeles Kings General Manager Rob Blake about what's next for Faber and the Kings. The native of Maple Grove, Minnesota, just finished his sophomore season where he won Big Ten Defenseman of the year. Faber notched two goals and 12 assists for 14 points in 32 games with the Gophers and also competed in the 2022 Olympics with Knies and Meyers for team USA.
According to a source near me, Faber also attended the Kings V.S. Minnesota Wild game yesterday April 10th, to take a look at his future team.
UPDATE: at 5:00 pm April 11th- Brock Faber will return for his Junior season.
Since Buffalo Sabres prospect Owen Power signed with the Sabres following his season with Michigan University, some thought Ryan Johnson would follow. John Vogl of the Atheltic has reported Sabres general manager Kevyn Adams met with Gophers defender Ryan Johnson following the loss against Minnesota State. Johnson completed his Junior season with the Gophers where he notched three goals and 16 assists for 19 points in 39 games.
It will be an interesting week for the Gophers Men's hockey team. Stay up to date with all Gopher hockey news here at Gopherhole.com.
Transfer Portal Update:
Senior Defender Ben Brinkman, Junior forward Jonny Sorenson, and Senior forward Grant Cruikshank all join the NCAA D1 hockey transfer portal.
Brinkman had one goal and seven assists in 37 games for the Gophers. He also ranked third on the team in hits and fourth in penalty minutes. The Dallas Stars' prospect has two goals and 21 assists for 23 points in 141 games for the Gophers.
Cruikshank spent three seasons with Colorado College before transferring to Minnesota. In 34 games for the Gophers Cruikshank put up seven goals and eight assists for 15 points. Cruikshank ranked 11th on the team in scoring chances and carries 60 points in 123 games in the NCAA.
Sorenson spent a lot of time this year as the team's extra forward. Averaging only eight minutes and 47 seconds a night, Jonny scored four goals in 36 games. Sorenson adds great speed to the lineup and is looking for a chance to be a D1 regular in a lineup.
Update April 14th at 4:00 PM: 
Grant Cruikshank has now transferred to St. Cloud to play for the Huskies. Matt Denman, the 23-year-old from Prior Lake, Minnesota has entered the transfer portal. Denman had 46 points in 89 career games with the Minnesota Magicians of the NAHL before he played for the Gophers. Denman put up two assists in 17 career games for the Gophers and has only played in three games in the last three years. He had those two assists his freshman year where he played in 14 games.