April 7th, 2023: After winning a championship in the USHL, Ryan Johnson began to live his whole life through Jesus Christ. He will continue to do so tomorrow when the Gophers play for the National Championship. 
–> Follow @Dylanloucks4 on Twitter
---
Tampa, Fla – In his stall after the Gophers beat the Boston University Terriers, Ryan Johnson said he grew up hearing about God but only ever went to Easter on Sundays every once in a while. He and his family had good values but Johnson says he didn't have a real relationship with God.
But it all changed in 2019 when Johnson was playing for the Sioux Falls Stampede. It was during the USHL Playoffs that Johnson picked up his bible and started reading it.
"I found this peace and joy from the word that I've never felt before in my entire life," Johnson told Gopherhole. "God is helping me by giving me the gifts to play hockey. I felt like my response to him helping us win the Championship that year was to follow God. I want to lay my life down for you, God."
But Johnson didn't buy a bible while he was playing in Sioux Falls, he brought one with him that was given to him when he was just 13 years old.
Johnson grew up in California, he had a friend that would regularly come by. When he was 13 years old his friend gave him a bible and said she was praying for him.
Sitting in Sioux Falls, Johnson thought he was playing the best hockey of his career which was during his NHL Draft year. While playing for the Stamede Johnson thought of Raina, who was his friend.
"I had a friend from Mexico, her name was Raina," Johnson said. "She gave me a Bible when I was 13 years old. I tried to read it in Genesis, but it didn't make any sense. But, she said she was praying for me. I think it was just the prayers and the faithfulness of a Mexican lady who was so humble, that really showed me the love of Christ."
Johnson added: "She had so much joy and peace. It's amazing and it's like, I want that, and that's exactly what I found."
Since that moment of realization, Johnson has been picking up the Bible to read scriptures and say a few prayers before every practice and game. Reading the Bible has become his life and now his pregame ritual.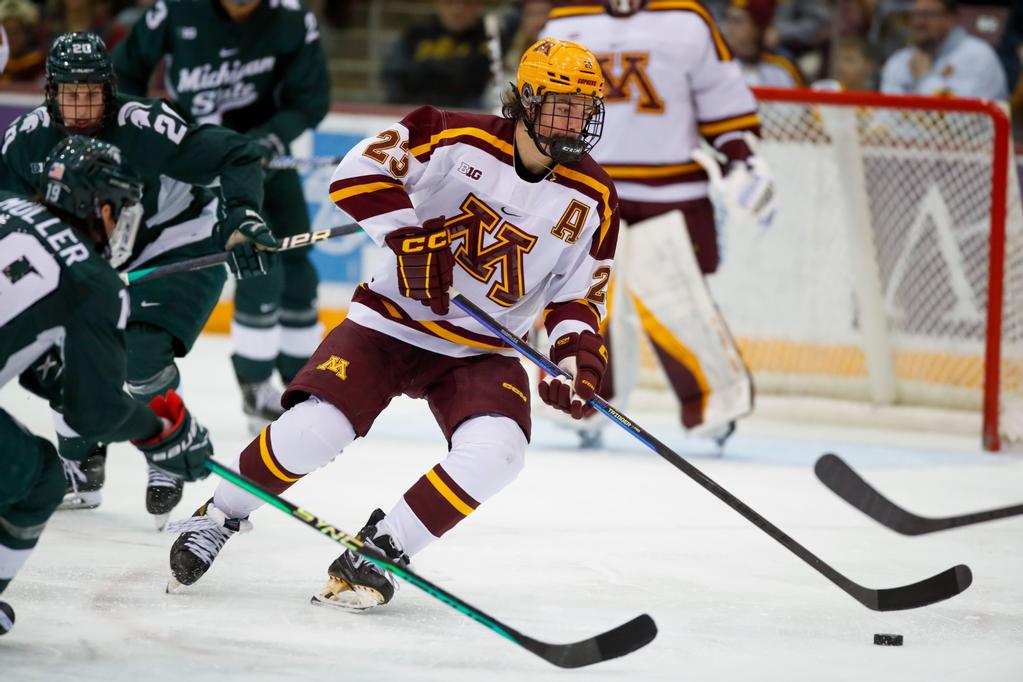 Every Tuesday night in Dinkytown a company called Jesus Burgers stands outside the University of Minnesota campus to hand out burgers to students walking by. The mission Jesus Burgers has is so that people would know and experience the love, power, kindness, grace, and preeminence of the Father, Son, and Holy Spirit whenever and wherever they are.
The senior defender was guided into doing a similar practice by a man named Steve, who has been mentoring him.
"I was a sheep without any guidance and a shepherd," Johnson said. "I was kind of doing something like that before. I was telling people about Jesus before, on my own. I watched guys on YouTube do it and was like I can do that. Steve kind of pushed me to get a plan in place."
That plan involved Ryan hosting some friends and other Gopher sports athletes at his apartment for a Bible study and some worship. Johnson and his friends will spend anywhere from ten minutes to an hour worshiping God by singing music and praising him then they go out into the apartment and knock on people's doors and tell them the word of God.
"It's our job and responsibility to preach Jesus to them, preach about the cross, and about the resurrection," Johnson said. "Then they actually have the ability to believe that and go through with that, they can inherit salvation. The more they go after him, the more they know him. That's the wisdom that gives you salvation, to save you from your sins."
Johnson added: "There's a lot of darkness, even in our own hearts, that needs sanctification that needs help from God, and that's the work of the Spirit."
Throughout the year Johnson has shown up to press conferences or even just in the locker rooms wearing a shirt from one of his favorite Christian-based bands, Bethel Music. He has done a great job of spreading the word. Which is a big reason why he was a nominee for the 2023 Hockey Humanitarian Award.
Hockey Humanitarian Award is an award that is meant to be seen as a true measure of a person's worth, not just as an athlete, but as someone who embodies those values that merit our recognition.
Even with all that Johnson still tries to get the whole Gopher team involved. Some of the guys will go to his apartment on Tuesdays for his worship or any day of the week for Bible study. Some of the Bible studies are hosted by Bill Butters who used to play and coach for the Gophers.
Before every game now, a group of 10-15 players will get together outside the locker room and rattle off prayers before each game. Each player will say a prayer in the circle while everyone listens.
It is something Johnson believes has brought this team together, it has pushed them to their limits each day and has allowed them to be their very best for each game.
"I think a lot of times as Christians we overthink or be overanalytical like, oh, am I doing this right? Or are we bound by law," Johnson said. "Jesus says no, I set you free from the law. Step into freedom in the forgiveness of sins, and you won't be bound by that."
Christianity isn't about following the list of rules to attain acceptability and value. Following a bunch of rules or behavior modification is not the gospel but it is a life empowered by the cross and resurrection of Jesus that fuels the life of an everyday believer leading to transformation.
"Christ set us free. Don't be subject to going to the yoke of slavery," Johnson said. "So be free. Stop putting on those chains, just let go, that's it. Just surrender." Romans 10:4 – For Christ is the end of the law and righteousness to everyone who believes.
"He is the one you praise; he is your God, who performed for you those great and awesome wonders you saw with your own eyes." Deuteronomy 10:21 NIV.