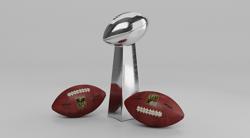 The list of former Golden Gophers who won the Super Bowl runs to 17 players with five of those winning on multiple occasions. It's a pretty extensive list and so today we're only going to talk about the most recent winner and the five players who won it more than once. But before we get to that, let's take a look at that list.
Name Year(s)
Gale Gillingham 1967, '68
Bobby Bell 1970
Aaron Brown 1970
Bob Stein 1970
John Williams 1971
Tony Dungy 1979, 2007
Keith Fahnhorst 1982, '85
Jim Fahnhorst 1985, '89, '90
Ray Hitchcock 1988
Brian Williams 1991
Chip Lohmiller 1992
Chris Darkins 1997
Tyrone Carter 2006, '09
Darrell Reid 2007
Ben Utecht 2007
Matt Spaeth 2009
Damien Wilson 2020
Pretty impressive reading, right? So let's start with the most recent in Damien Wilson.
Damien Wilson
Wilson is the first former Gopher Super Bowl champion since Matt Spaeth in 2009. The chances of the Chiefs making it two in a row would be slim enough, but if we're talking NFL betting such as proposition wagers, then he's a great option for most sacks or tackles in a game. In fact, in the 2014 season, Wilson led the team in tackles and tied for sacks. And that's no mean feat!
Wilson has been nothing short of a revelation at the Chiefs and if expert opinion is anything to go by, most feel that the former Gopher and his defensive teammates could be one of the best in the country. Again, we're not sure that they'll go all the way again this year, but if the Chiefs get it right, Wilson and co could be about to start something of a legacy.
Tyrone Carter
Carter went straight to the Vikings in the draft but after an injury, he was released and moved onto the New York Jets. He played well and recorded some career highs, but a year later in 2004 was once again released. It was with his next team that he made his mark. At the Pittsburgh Steelers he won the Super Bowl in 2006 and again in his final season in 2009. Although Carter was a regular for four seasons in a row, injuries to other players gave him his chance. A true professional, Carter bided his time and was well rewarded for his patience. Did you know that Carter is the Gopher's all-time leader in tackles?
Jim Fahnhorst
The only player on our list to have won the Super Bowl on three occasions, Fahnhorst is the younger brother of Keith and a 49ers legend. Interestingly, before his success with 49ers, Fahnhorst was drafted by the Vikings. He turned down the contract and was unable to play in the NFL for two seasons. When he did finally join his older brother in San Francisco, he became a team legend. Three championship rings testify to that.
Keith Fahnhorst
The older brother has two of his own championship rings, but even so possibly had the better 49ers career. He played 193 games for the 49ers throughout a blistering career which was unfortunately cut short in 1987 due to a neck injury. At 6 foot 6 ins, he was a giant of a man and a true force in the 49ers offensive unit. Unfortunately, Keith passed away in 2018 at the age of just 66.
Tony Dungy
The man needs no introduction but we'll give it a shot. Dungy is one of the most influential Golden Gophers of all time. He is one of the select few men to win the Super Bowl both as a player and as a coach. He was the first coach to defeat all 32 NFL teams. He was also the first African American head coach to win the Super Bowl. Dungy's playing success came with the Steelers in 1979. His win as coach came in the 2007 Super Bowl as his Colts beat the Bears.
Gale Gillingham
The last man on our list also happens to be the very first Golden Gopher to win a Super Bowl. Gale Gillingham played with the Green Bay Packers in an illustrious career that saw him play in the team that won Super Bowl I and II. An incredible lineman, Gillingham was the winner of the first Forrest Gregg Award for the NFL Offensive Lineman of the Year at the end of the 1970 season. And in 1972, the last player of the Lombardi era was deservedly inducted into the Green Bay Packers Hall of Fame.
In years to come we may find ourselves looking back on Wilson as a legend in the mold of Gillingham, Carter, or even three-time winner Fanhorst, but only time will tell. For now, we're more focused on the current crop of Gophers to make the step up to the NFL. Can Antoine Winfield Jr make the grade? We certainly think so.