November 17th, 2023: Gophers made Elementary level mistakes in their 4-2 loss to Notre Dame which seems to be the same way they have lost almost all of their games this season.  
–> Follow @Dylanloucks4 on Twitter
---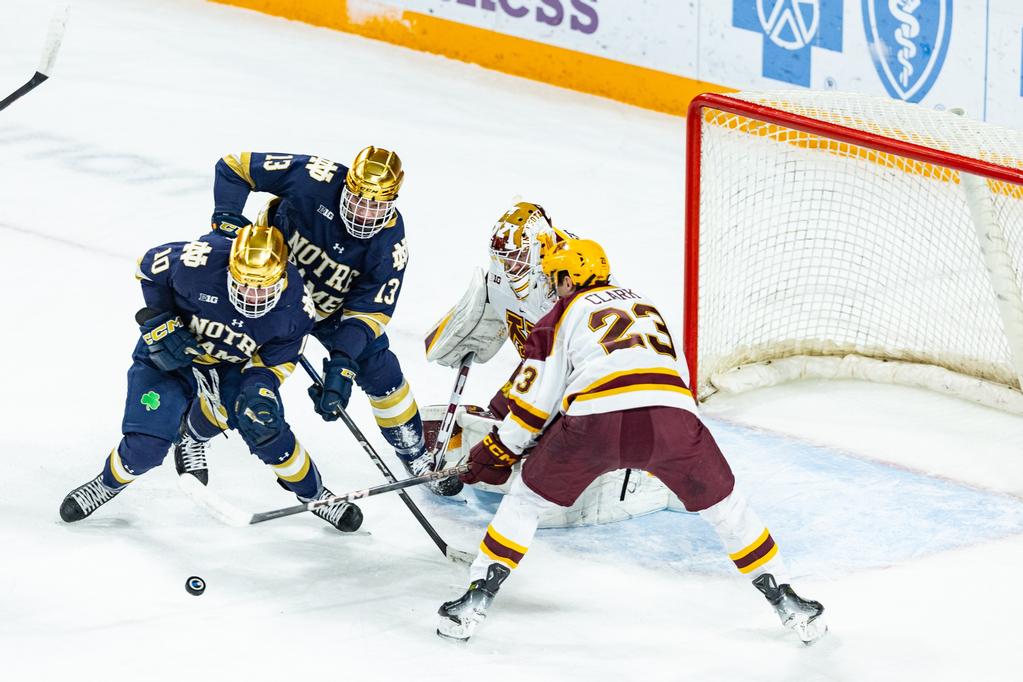 Minneapolis – The Gophers have lost four regulation games this year out of the 11 they have played and almost all four of them have been the result of the same mistakes. Tonight, horrible back checks and costly turnovers allowed Notre Dame to score three goals past Justen Close on 22 shots. 
"Two of their goals were on bad back-checking out of the offensive zone," Gophers head coach Bob Motzko said. "Three of our four losses are related, they are related losses and we need to have a hockey team that matures."
Minnesota essentially dominated the second period, they outshot Notre Dame and completely outplayed them but went into the third period in a tie game. The shots in the second period where at one point, 25-8 yet every Gopher player had their head down because they weren't winning or scoring.
"We were playing pretty well," Motzko said. "In the second period we had it going, everyone in the building knew except our guys on the bench. If they're not scoring, they get frustrated. They want it to be easier and it's not."
Notre Dame capitalized on the mistakes just like every team that has beat Minnesota has. Early in the first period, Cal Thomas lost his footing at the blue line, along with zero back checking by the Gophers lead to an odd man rush for the Fighting Irish and Grant Silianoff made them pay.
Only 47 seconds into the second period, Ryan Chesley tried for a behind-the-back pass behind his own net and turned the puck over. In a matter of seconds, Patrick Moynihan gave Notre Dame a 2-1 lead.
In tonight's game, the Gophers allowed nine high danger chances off the rush and the Thomas-Chesley defensive pair was on the ice for six of them. It also didn't help that Mike Koster was visibly grimacing on the ice every shift and went down the tunnel on two different occasions. Koster did play the rest of the game but will be evaluated before tomorrow's game.
"I wish I was educated to be in the brain of a young person," Motzko said after the loss. "To really understand why you can do something Monday through Thursday so well when we put them in situations and then in a hockey game you go off script. Some elementary stuff, we went off script. I wish I could answer."
There was a slight positive to come out of this game though and it was the power play, which hasn't been that good to start the season. It was something that was stressed that needs to be better, they worked a lot on it in practice and have messed around with different looks and players. Tonight they got a much needed power-play goal which tied the game 2-2 in the second period. 
They got many looks on the previous three attempts but Ryan Bischel stopped them all. One thing they changed up was instead of having four forwards and one defenseman on the power plays, they would have two defensemen and three forwards. 
Jimmy Snuggerud broke the seal though with a power-play goal with under two minutes left in the second period. The goal came on a pretty broken play, it didn't come from a great pass or play but sometimes that's what you need to happen when you have had a power play like this struggle.
It is funny how it works though, the Gophers hit the post twice on a previous 5-on-3 power play in the first period and had four shots on their next power play with tons of looks but nothing to show for it. Then a loose puck that Snuggerud picks up eventually sneaks past Bischel.
Coming into tonight the Gophers had five power-play goals in ten games so scoring one tonight will hopefully spark the team a little bit.
"Yeah definitely," Rhett Pitlick said on if it feels good to connect with a power-play goal with their early season struggles so far. "There's a long way to go for the power play but it was good to get that goal for sure."
But just over three minutes into the third period another bad back-check by the Gophers lead to another goal after Notre Dame defenseman Drew Bavaro snuck in behind the defense and banged home his fourth of the year which was the eventual game winner.
The Fighting Irish picked up an empty net goal later and walked away with their second regulation win in the last 11 games they have faced the Gophers.
Minnesota will get a chance to correct their mistakes with another game tomorrow against Notre Dame but they need to do it quickly before the season gets away from them.
"The message is just to reflect on tonight," Pitlick said. "We know we have it in this group so hopefully we come out tomorrow a little stronger and more focused. I'm sure we will be more motivated after Bob's speech and I hope you guys will see a better effort tomorrow."