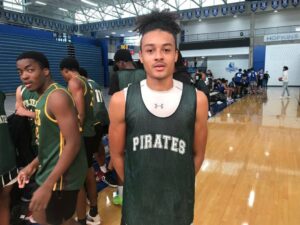 Braeden Carrington, a 6-foot-3 guard from Brooklyn Park (MN) Park Center, become the first Gopher commitment for the Class of 2022. He is one of the top guards in the Midwest in the Class of 2022 and is ranked as the number five senior in the state by Prep Hoops.
Carrington averaged 18.1 points per game this past season. He scored in double figures in 15 of 19 games as the Pirates finished 16-5, losing to then-undefeated Champlain Park 69-63 in overtime in the section finals. Carrington scored 30 or more points four times, including 33 points in a first round 72-56 playoff over Roseville.
GopherHole caught up with Carrington at the Breakdown Fall League to learn the latest on signing day and expectations for the upcoming season.
Gopher Hole: Signing day is coming up this week. Are you doing something at the school?
Braeden Carrington: Yes. We are doing a little ceremony, me and Leo (Torbor, who is signing with San Jose State) signing at Park Center at our gym at 7 a.m. on Wednesday.
GopherHole: Is that going to be a good feeling to finally get that done? Obviously, it is something that you are looking forward to, but a lot of pressure, too.
Braeden Carrington: Yeah, I mean it's like a dream come true, because once I sign, it's like I feel like I finally made a goal of my life that I have been wanting to do since I was who knows how old, but it is going to be a special moment, for sure.
GopherHole: What is that going to mean to your family? I know that they have been a big part of your basketball career.
Braeden Carrington: It's going to be really special. Everybody that was there from Day 1, like my mom. She has been pushing me since Day 1 to be great and get to this moment. Three years ago today, I would have never thought that I'd be going D1, let alone playing for the homestate, so the whole family can come watch me, so it is very special.
GopherHole: Does that make pretty proud of how much work you have put into it, too?
Braeden Carrington: Being in the gym every week as much as possible. Had a couple of injuries throughout the last few years, but I still fought through and now I feel like I am the top player in the state, so it has really worked out.
GopherHole: What things have you really been focusing on to have a really big senior season? What things have you been working on to continue to improve?
Braeden Carrington: Me personally, I have been working on my handle, my defense and my shot, for sure. I always want to improve my shot, because I am known as a shooter. I always want to improve on that facet of my game and also my leadership. I feel like I am a leader on this team, so I want to make sure my guys are cool, calm and collected when times get tough. As a team, we just need our chemistry up and I feel like we are unbeatable.
GopherHole: You are finally a senior. Does that feel weird to finally be a senior or have you gotten used to it already?
Braeden Carrington: It definitely went by quick. I feel like just yesterday, I was playing my first varsity game. You don't really understand how quick it is going to go until it really happens.
GopherHole: You have two other local kids committed, even though Josh Ola-Joseph is playing out-of-state. Have you been in contact with them a lot to talk about Minnesota?
Braeden Carrington: Yeah, we talk all the time. They (The Gophers) are struggling right now, but it is a "rebuild." They aren't expecting too much, but when we come, we are expecting to help change the culture at Minnesota.
GopherHole: What are you saying to Josh and Pharrel (Payne) about getting things going, hopefully next year at Minnesota?
Braeden Carrington: We just say that we have to come in and give our best. A 100%, every practice, every game. We've got to make a statement our first game, our first time playing. It is definitely going to be different for all of us, going from high school to a conference like the Big Ten. A power five school. We've just got to go out and give 100% and see what we can do.
GopherHole: How do you feel that your skills compliment each other? You are more the "2" guard who can maybe play a little of the point. Josh is a "3" who can maybe play a little bit of the "4" and Pharrel is more of a 4 or 5.
Braeden Carrington: I really feels like we can really space the floor because Josh is developing a jump shot. I can shoot. Pharrel, down low. We can run a 4 out, one in type of thing, I hope, depending on what the offense is there. I feel like it is going to be tough to guard. Josh can get to the rim. I can get to the rim. Pharrel is great in the post and he can step out and shoot the three, too. I feel like it is triple threat.
GopherHole: Are you working on any other kids to get them to come to Minnesota?
Braeden Carrington: I haven't talked to many, but we are trying to get a point guard for next year. I'm not sure, but I think they are thinking about Willie Wilson from North. I can't think of any others, but I know that there is not too much left in 2022 they are looking for.