Joined

Nov 5, 2008
Messages

9,213
Reaction score

540
Points

113
Q&A with Akeem Springs - It was a nothing tweet, his bro is the Kanye of the family
Here's a short interview with Akeem Springs. He was in great spirits and all smiles at Media Day.
http://www.gopherhole.com/news_article/show/714605?referrer_id=331171
Q. What did your tweet mean last night that was deleted?
FYI - this was the tweet ->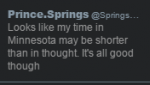 A: The tweet didn't mean much, it was just a tweet like I said before. I'm still getting used to the Big 10 media, the Big 10 reporters and everything. It was just a nothing tweet honestly, like I told someone recently. When I walked in the locker room after that, because I actually went to shoot last night, I tweeted before I went to shoot. When I walked in the locker room, my teammates were laughing because we have jokes on the team like weather – "Oh, the weather is bad, I'm leaving" or "The practice is too hard, I'm leaving," so when I tweeted that I didn't expect to have that outcome. I didn't expect people to read into it that much. 12 months ago if I would have tweeted that, nothing would of happened. It's different and I'm still getting used to it, but the tweet didn't mean anything.
Q. What about your brother's follow up tweets, there were a lot of them? A fan would think, he is talking to Akeem, and must be where he's getting his information.
(This is his brother's Twitter handle -> @Wayne2times)
A: Yeah, I love my brother, I love my family, they're an intense bunch. Actually, I didn't talk to my brother, and didn't know he was tweeting until I talked to Coach later that night. Coach told me "your brother's tweeting something," so I go on there, I didn't talk to my brother until afterwards actually. So before he went on his little rant, I didn't know anything about it. I think he just wants me to be successful, they love me and we're invested into this sports thing, we have a very strong sports family. If you can imagine Kanye, he's the Kanye of our family. My advice to you guys about my brother's tweets is to not read too much into them. He loves me and he's gonna be, if we win, "oh, the best team in America," and if we lose "something needs to change." That's just how he is, I wouldn't read too much into my brother's tweets.
Q: Is some of this just that fans, and your Twitter followers, and us media just don't know your personality yet?
A: Yeah, you don't know me, and that's fun. We have a year together, it's going to be a fun year, so you'll get to know me. Like I said, I'm a team guy. I came from a team last year in Milwaukee, we were an older group of guys and we grew close through the turmoil. You guys weren't privledged enough to follow the way I exited Milwaukee, but we grew close (This is a link that gives a small synopsis of that -
http://fox6now.com/2016/03/21/uwms-...s-with-firing-of-coach-jeter-meeting-with-ad/
) . We had a close group of guys. I'm a team guy. If you ever have a chance to watch one of our practices, I tell all the guys "you all are the best shooters in America," and that's just who I am. I love my team, and that's why I was so eager to get here and if you talk to Coach Pitino, he'll tell you that me and my Dad called him probably twice a day until I got here, "Coach, I wanna get there, I wanna get there," because I just wanted to meet the guys. It's a great group of guys and I'm excited about the year.
Q: This team had some turmoil too, are you a guy that can come in and sort of act as a stabilizing force? They had a rough year both on and off the court here last year.
A: I actually got a question about that earlier. At Milwaukee I had a season where we won 8 games, and the next year, we went to the tournament. I know the ups and downs and the adversity. I know how buying in is a big part of it. I think the image of the team is not where it should be. Where I'm from, I'm from right around Chicago, I know bad kids, kids that don't want to do the right things, and we don't have those kids. I think as long as we buy in and stay confident. That's a big thing, especially for some of the leaders like a Nate Mason or a Jordan Murphy, or anybody on the team. As long as we're confident, I think we'll shock a lot of people this year because we have a nice group of guys. Like the young guys just getting in, Amir…if they buy in, and they're confident I think we'll be fine.
Q: What is the meaning of the #Prince on your shoes?
A: If you have seen Coming to America, you get it. Prince Akeem.