Joined

Mar 13, 2019
Messages

728
Reaction score

538
Points

93
First, for anyone who hasn't signed up for a free account on https://cbbanalytics.com/ I highly recommend it. You can follow one team for free and you get some insane stats. I'm getting these charts and data from the free user account (I'd be interested in what you could get with the $40 per month account).
Cooper 10.7 PTs, 4.3 REBs, 6.3 AST:
Overall, I think you must give Cooper a B- Grade. He's an odd two-level scorer, either right at the rim or a three. He has a very poor % on mid-range shots. His ability to stretch the floor with his 3 PT % has been a huge bonus for Gopher fans this year shooting an insane 56% (we need to get him more looks *currently gets up 2.9 per game). Well known issue with his lack of speed and FT % (as a freshman he shot 81.7 on 1 less attempt per game). He needs to become a player who either shoots a three, or gets a layup, as the data is not favorable for anything else on his shot chart. Cooper's immediate improvements (offensively) should come at the FT line as a goal should be to get back up to the high 70% and get back to being an above average finisher at the rim (the blue color at the rim means he is still below his peers when finishing at the rim).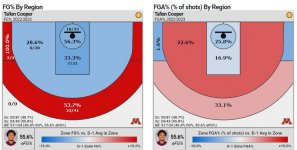 Garcia 15.5 PTS, 6.7 REBS, 1.7 AST:
I will say that this grade is a little skewed as I believe his extreme weight loss at the beginning of the year (20-30 lbs) dramatically affected his game until the last few weeks, so the season long numbers should be taken with a grain of salt. I'm really basing his grade off the last 6 games:
Overall, you must give Garcia
B
Grade. In the college game he is a very hard player to guard with his skillset. 6'11", fluid and can finish inside and hits the three above the hash marks above 37%. There are not a lot of centers in the Big10 who will want to stretch away from the hoop and keep up with him and his motor. He needs to get away from settling on midrange jumpers (which make up 20% of his total shots) as he only hits on 22% of those shots. Either get to the rim (he's an elite finisher at 74% or get a 3 from above the hash. Defensively, Dawson is in a bad spot playing center. While it is to his advantage on the offensive end, it kills him on the defensive end as he doesn't have the bulk to match up against real beef down low. This coupled with his less than great athleticism leads to getting in foul trouble and giving up easy buckets. He is a PF playing out of position, but in order to cook offensively he needs to have the opposing team's C guarding him.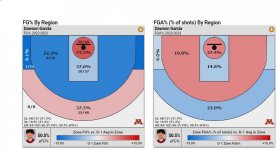 Battle 13.4 PTS, 3.9 REBS, 1.8 AST:
Coming into the season with a pre-season all conference selection, Battle has not yet delivered on those lofty expectations. With year two in Maroon & Gold, he has shifted over to SF and is facing much faster / athletic defenders who are pestering him and causing havoc for his offensive game, which is built around jump shots. Battle's game has two staples: set shots or 1-to-2 pound dribble pull-ups / Harden step backs. Defenders have realized this and are starting to sit on his ball dominant left hand and are making very difficult for Battle this year. Battle lacks the ball handling and athleticism to get to the rim, which could be a reason why he takes so few shots in the lane or at the rim (16.2% of his total shots). And when he does get to the rim, he is a below average finisher compared to his peers in the NCAA (which is why that zone is blue on the chart). Shot selection is another weakness for Battle as he does not know his limits and has almost shot the Gophers out of a few games in recent weeks (effective FG % is 45%). Battle ranks in the 98th percentile for the dreaded mid-range 2, 97th % for above break 3s, and 95% for corner 3s… 5% in In the Paint and 10% percentile At the Rim. Aside from his shooting, his assist/turnover ratio is .87, which is extremely poor for someone who we rely on so heavily for offense.
GRADE C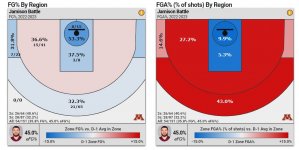 Payne 7.7 PTS, 4.7 REBS, 1.1 AST:
Payne has been a bright spot amongst the 4 freshmen who play an high number of minutes for a P5 team. Payne is a game-changer for the Gophers when he is on the court as he brings another level of athleticism & physicality to the floor that they lack when he is on the bench. He is most likely the only player that teams fear in the post (regarding double teams) while also being the only player who can handle the other team's best big man in a one-on-one situation without needing help coming to double. To Payne's credit, he knows who he is. He is a dunker / layup man. Of all his shots this year (66) 92.4% of them have come at the rim. One would think that Payne should be playing more minutes, but there are a few issues (outside of playing the same position as Garcia, which he needs to play C to make him most effective offensively), he is a turnover machine (averaging 2.2 per game *assist / turnover rate of .48) and he is a putrid FT shooter, currently 41.3%.
GRADE B+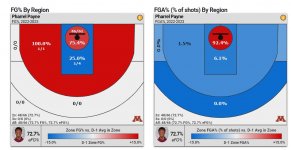 Carrington 6.2 PTS, 4.2 REBS, .8 AST:
I'll try to be objective on Carrington and present the data (people think that my opinion is too negative), but I base my opinion on what I see and what the data tells me.
Carrington came into the U as the 2021-22 MN Mr Basketball Winner (averaging 17.8 pts per game when he won on a state title team). One of the things that he was billed as was a pure shooter. So far this year, in the 287 minutes that he has played, he has 74 total shots (16 have been 2-point attempts). He has played in 13 games (average min per game of 21.9). On the few attempts that he's gone to the rim, he's finished above 50%, but the data is really lacking and there are too few attempts to see any trends. When he shoots a dreaded mid-range 2 pointer he is 1/8 on the year. Moving beyond the arc, where he shoots a total of 78.4% of his shots (as a 29.3% shooter) he has really struggled above the hash marks. His best shot so far this year (excluding getting to the rim) is the corner 3, which he is connecting on a 33% clip. There seems to be a lack of attacking mentality, as if you just consider getting to the rim or in the paint, he's done it 6 times in 287 minutes or 13 games, that's not even once every two games. With a team lacking guard depth / guard athleticism, this could've been a great chance for him to come in and show that he can get to the rim, while also shooting 30% + from deep, but he hasn't put it together yet.
*Carrington has scored a total of 80 pts this year, but 20 of which came against Arkansas Pine Bluff
Outside of offense. Carrington has proven to be an excellent rebounder for his position and especially as a freshman. Defensively, he's had moments of good, but these are overshadowed by the continually repeating mistakes he makes on defense (falling asleep) i/e the Nebraska game (he got lost 3 times in a row for layups in the first half), along with the multiple times he gets out of position or gets blown by in every game leading to open layups for the other team.
Grade: C-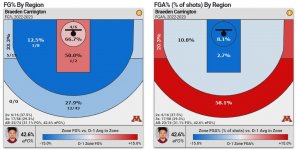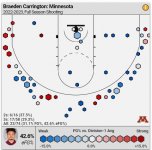 OLA-JOSEPH 6.9 PTS, 2.6 REBS, .1 AST:
JOJ knows who he is, and that is not an offensive player. He is a blue-collar player and wants to muck it up and bang on offense. He is not the guy who will be taking 3 pointers or settling for mid-range jump shots. When he shoots (76 times this year) those shots are coming either at the rim or within the paint (85.6% of the time). He needs to play with floor spacers (Battle, Garcia) otherwise there is too much chaos going on within the paint for the team to really operate. What JOJ lacks is offensive vision and an ability to set people up. For the season he has 1 assist in 281 minutes. This is become meme worthy. Does he reach the 500 minutes played mark this year with under 5 assists? Other teams know that they can completely sag off him (A) he doesn't shoot threes (B) when he does, he is 14.3%. While he is a good finisher at the rim due to elite athleticism, teams know that they hold the Ace up their sleeve with him, they can just put a good hard foul on him and send him to the line, where he shoots 51.6%. His immediate next evolution is raising that FT % up to the high 60s to mid-70s, then becoming a 1.2+ assist to turnover player. Defensively, he is a jack of all trades and has been deployed in numerous ways this year from guarding SFs, SGs, and even an EDEY (to great success – which was very inspiring). I see him being a solid rotational piece for years to come.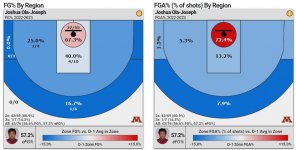 GRADE B
Samuels 2.6 PTS, 1.5 REBS, 1.3 AST:
Individual attributes are lacking on Samuels; extremely slow / out-of-shape, can't stay in front of quick guards, but he does one thing well…he doesn't turn the ball over. His assist to turn over ratio is 2.38 which is in the 93rd percentile. He doesn't get to the line., he shoots 16.7% on 2 twos, he can't finish at the rim (when he gets to the hole), but he will occasionally knock down an open three (currently shooting 37%). Most likely to teams putting such an emphasis on Battle and Garcia, but a shot is a shot.
GRADE B
Henley 3.9 PTS, 1.9 REBS, .9 AST:
Henley posses a different skill set compared to the other non-Payne freshmen. He is tall and can be electric with the ball in extremely short bursts. Is he in control during those short bursts? (50/50)…but he possesses raw talent and size that the Gophers coaching staff and trainers need to be able to mold for him to be successful. The only real success that I have seen from Henley was against Nebraska (4 pts, 3 ast, 0 TO, 50% shooting in 12 min)…but then he was for some reason taken out of the game when he was playing his best basketball and providing the spark that created the Gopher run. Outside of that stretch, in the 10 games that he has appeared, he makes 2 to 3 boneheaded plays on the regular (look no further than his .54 assist to turnover ratio).
Henley could be the ultimate case of adjusting to the talent gap from high school to the big10. If you look at his shot chart, the data shows 2 things;
1) he doesn't know where he makes his shots: He makes them in the paint or at the rim
2) he doesn't know what a good shot is: Mid-range contested twos are not good: the analytics would even go further (if you're a true analytics believer) say say that any 2 pt not in the paint or rim is a terrible shot...and the only shots that should be taken are 3s or good 2s (paint or at the rim)
I believe learning the difference between a good shot and bad shot will come with time, same with understanding where you score from. But raising your shooting 3PT % from 21.7% to around 35%+ will be a mountain of work.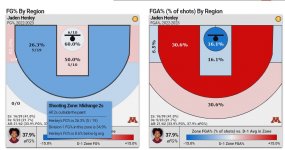 Grade C
Last edited: