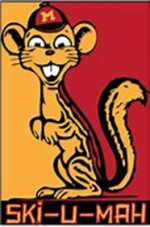 Gopher_Guy_69
was the only one correctly picking all 6 games correctly. Furthermore, he correctly predicted all games correctly two weeks in a row! Congratulations!
After 12 weeks heading into the final week. Listing those who are in the 30's. Current Standings!
37 points…AZGopher8
37 points…cloupher
37 points…Some Day…Maybe
35 points…GFBfan
35 points…Goldenboy
35 points…GopherWeatherGuy
34 points…BleedGopher
33 points…JayBobDobbins
33 points…MirandaB
33 points…nextyear_76
33 points…Oily Gopher
33 points…Stan
33 points…swelna
33 points…Triple D
33 points…WAGopher
32 points…USAF
31 points…HitMeAgainI'mStillMoving
31 points…pk2
30 points...Gopher-in-Keno
30 points…MGGopher
Remember
GopherHole
Staff
has graciously donating
cash
of
$75.00
for 1st place,
$50.00
for 2nd place, and
$25.00
for 3rd place. You can use this money for whatever you're wishes are!
This weekend there are
7
regular games on tap.
2
games will be played on Friday and
5
games will be played on Saturday. Also a tie breaker of
3
games will be added that will add to the games needed to be picked.
The tie breaker will be different this year.
There will be
3
college games to be picked after the regular games as tie breakers. If after the three tie breakers (
each one is a sudden death-do realize that
), there is still a tie. Then the 4th tie breaker will be the number of points the Gophers score (
you can go over
). The 5th tie breaker will be the number of point's Wisconsin scores (
you can go over
).
Clarification:
The tie breakers are head to head. Meaning if the highest posters are tied, they will go through the tie breaking procedure one game at a time
head to head
. If there is a tie is for 3rd, then the tie breaking procedure will
start over
for those people (meaning we will
go back
to the tie breaking games
one
at a time
before moving to the point total for Minnesota and Wisconsin if necessary).
If confuse. Please ask.
Yes, many games to be picked this weekend. It is our last Pick'ems week of the year! Do your homework! It could be very well that the tie breaking mechanism won't be needed. If you don't like it, we can perhaps change it for next year. I'm always open for suggestions.
For all posters,
please PM your picks
to me. This way we can have a few surprises perhaps when the totals are announced. You may announce however on the thread that you have PM me and your picks are in to
keep the thread towards the top.

Please have your picks in by 11:00 a.m., Friday, November 24th.

Friday games
:
Iowa Hawkeyes at Nebraska Cornhuskers 11:00 a.m.
Penn State Nittany Lions at Michigan State Spartans 6:30 p.m.
Saturday games
:
Ohio State Buckeyes at Michigan Wolverines 11:00 a.m.
Indiana Hoosiers at Purdue Boilermakers 11:00 a.m.
Wisconsin Badgers at Minnesota Gophers 2:30 p.m.
Northwestern Wildcats at Illinois Fighting Illini 2:30 p.m.
Maryland Terrapins at Rutgers Scarlet Knights 2:30 p.m.
1st Sudden death
tie
breaker
if necessary: Kentucky Wildcats at Louisville Cardinals 11:00 a.m.
2nd Sudden death
tie
breaker
if necessary: San Jose St. Spartans at UNLV Rebels 2:00 p.m.
3rd Sudden death tie
breaker
if necessary: UNC Tar Heels at NC State Wolf Pack 7:00 p.m.
4th Sudden death tie
breaker
: Points Minnesota will score ____.
5th Sudden death tie
breaker
if necessary: Points Wisconsin will score____.
Last edited: