Joined

Mar 9, 2011
Messages

1,470
Reaction score

580
Points

113
The last win against Michigan State was at home on Oct. 31,
2009
, during the inaugural season at TCF Bank Stadium. Here was the recap from the AP
Weber's 5 TDs propel Minnesota despite penalties, Decker's absence
MINNEAPOLIS -- Adam Weber passed for 416 yards and five touchdowns, helping Minnesota hurdle a school-record 17 penalties and hang on to beat Michigan State 42-34 on Saturday night.

Playing without injured star wide receiver Eric Decker for the first time, Weber stepped up for his struggling offense at the best possible time. Completing 19 of 31 passes for the career high in yardage, Weber had his first five-score game since his freshman year.

Running back Duane Bennett caught two of the touchdowns for Minnesota (5-4, 3-3 Big Ten), including an incredible recreation of the famous Immaculate Reception by Franco Harris for the Pittsburgh Steelers in 1972 to stretch the lead to eight with 6:04 left.

Tight end Nick Tow-Arnett, who had a career-high eight catches for 81 yards and two scores, caught a third-and-17 pass from Weber near the Michigan State 35 and landed on his back after a jarring hit. The ball never touched the ground and popped right up into the hands of Bennett, who ran the rest of the way for the 59-yard touchdown.

The fans were fed up with the refs, who flagged the Gophers for 157 yards in penalties -- also the most in their history. The calls evened out in the end, though.

Right before Bennett's score off the bobbled ball, Tow-Arnett lost a fumble that was recovered by the Spartans. It was overturned by replay review, which ruled an incomplete pass.

On the following possession, the Spartans were whistled for four of their nine penalties. They reached the 39, but Kirk Cousins overthrew his receiver on fourth down. They stopped the Gophers on third-and-1, but punter Blake Haudan drew a roughing call on Kendell Davis-Clark and Minnesota was able to run out the clock.

The Spartans (4-5, 3-3) were fortunate to be in the game in the second half, given all the self-inflicted problems by the Gophers. This was a familiar tough loss, though; all of Michigan State's defeats this year have come by eight points or less.

Cousins dropped a snap and threw an interception in the first half, but neither turnover led to points for Minnesota. He finished 21 for 35 for 236 yards and two touchdowns, both of them impressive throws. His 11-yard toss to tight end Dion Sims gave the Spartans their first lead, 31-28 heading into the final quarter.

The third quarter actually belonged to Keshawn Martin.

The sophomore wide receiver took the kickoff back 82 yards for a score and then raced 84 yards for a touchdown on an end around to put the Spartans in position for the wild finish.

The Gophers ditched their spread offense for a pro-style power running system this season, and Weber's struggles have been glaring at times during the transition. Without Decker, it was natural to assume the worst.

On the first play from scrimmage, though, Weber used a textbook play-action fake to find Bennett open along the sideline for a 62-yard catch and tiptoe streak along the sideline.

After the Spartans fumbled the kickoff, Weber found Brandon Green in tight coverage in the corner of the end zone from 37 yards out to make it 14-0 just 107 seconds into the game.

Decker badly sprained his foot the week before and will have season-ending surgery on Wednesday. Leaning on crutches, he smiled at Weber as his close friend and roommate hugged him following the second score.
Here are highlights from that game
The last time the Gophers defeated the Spartans in an away game, meanwhile, was in
2006
. They won that game and went on to beat Iowa the next week to get Floyd back.
Cupito sets Minnesota mark as Spartans' sad season continues
EAST LANSING, Mich. (AP) -- Bryan Cupito became Minnesota's all-time leading passer.

If the Golden Gophers win their regular-season finale next week, he will really be able to enjoy the feat because his career will end at a bowl.

Cupito threw two second-half touchdowns to help Minnesota pull away for a 31-18 victory over Michigan State on Saturday.

The Gophers (5-6, 2-5 Big Ten) kept their postseason alive and now need to beat Iowa at home to play in a bowl game for the seventh time in eight years.

Cupito's 37-yard TD pass to Ernie Wheelwright, who eluded two Spartans with spin moves, put Minnesota ahead 24-12 midway through the third quarter. On the play, Cupito broke Cory Sauter's school-record 6,834 yards passing set from 1994 to 1997.

"It's a great honor, but I'll be more excited about it if we can win next week," Cupito said.

Nothing can get the Spartans excited about this season.

Minnesota's win knocked Michigan State (4-7, 1-6) out of the bowl picture in what was an inglorious home finale, 1½ weeks after John L. Smith was fired and permitted to finish the season on the sideline.

"I feel bad for our seniors," Smith said. "I feel bad that we weren't able to get out of here with a win in their last (home) game."

With only pride at stake, the Spartans will end the season at Penn State and fail to be bowl-eligible for the third straight year, their worst postseason drought since the early 1980s.

Michigan State returned a blocked punt for a score and had a safety, taking a 9-0 lead midway through the first quarter before falling apart because of mistakes and missed opportunities for its seventh loss in eight games.

"We had plenty of chances and we couldn't convert," Smith said. "That has really been the story of our season."

Michigan State quarterback Drew Stanton was sacked late in the first quarter and left the game because of dizziness in his last home contest. Smith said Stanton was hit so hard, it crushed part of his helmet.

"It's really hard to have my last game in Spartan Stadium go this way," said Stanton, one of five finalists for the Unitas Award. "I just thought I would be hurting my team more than helping if I was out there."

Minnesota went ahead for good with 8:53 left in the first half when Mario Reese sacked Brian Hoyer, whose fumble was returned 48 yards by Steve Davis to give the Gophers a 14-9 lead.

The Gophers stayed in command, and Cupito's 41-yard TD pass to Logan Payne early in the fourth quarter gave them a 19-point lead.

Cupito was 16-of-28 for 243 yards -- 6,916 for his career -- with two TDs. Payne caught five passes for 96 yards and a score. Amir Pinnix had 113 yards rushing on 23 carries.

"I'm very pleased that we're going home victorious. What makes it a lot more rewarding is how we started that game," Minnesota coach Glen Mason said. "We self-destructed.

"It was one of those things where all the momentum was going Michigan State's way. When someone else has momentum, you've got to get it back. A couple of turnovers forced by our defense enabled us to get it rolling. And once we got it rolling, we pretty much had control of the game."

Hoyer completed 26 of 50 passes for 330 yards with a TD, two interceptions and a fumble. Kerry Reed caught 11 passes for 147 yards and Matt Trannon had seven receptions for 131 yards and a score.

Hoyer's 26-yard TD pass to Trannon made it 31-18 with 2:54 left, but the Spartans didn't have much hope for a comeback and neither did their fans, who left the stadium almost empty in the fourth quarter.

"We definitely notice," Michigan State running back Jehuu Caulcrick said. "It doesn't look good for the program. You get recruits coming in and seeing the stadium half-full. Who wants to come here?

"But this is a great program. We can turn this around."

Michigan State athletic director Ron Mason said before the game that the school plans to narrow its coaching search after talking to candidates and hopes to have face-to-face interviews soon, but he would not comment on specific names or a timetable for the search.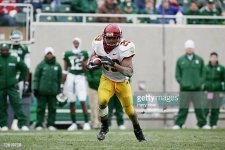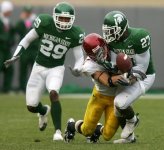 Since the 2009 game, the Spartans have won five in a row against Minnesota.
2010: Spartans won 31-8
2011: Spartans won 31-24
2012: Spartans won 26-10
2013: Spartans won 14-3
2017: Spartans won 30-27
The 2011 game was notable in that a rebuilding Gophers team was able to keep up with Michigan State, which would go on to win their division and the Outback Bowl.
In 2017, the Gophers tried to rally in the game against the Spartans but it was too little, too late. That Michigan State team was Mark Dantonio's last 10 win season.
Since the 2009 game, the only teams Minnesota hasn't beaten in the Big Ten are Michigan State and Ohio State.