Natalie Darwitz
, General Manager of Minnesota PWHL pro women's hockey team, has named
Charlie Burggraf
the new head coach of the historic new Minnesota PWHL women's pro hockey team.
Natalie Darwitz and Charlie Burggraf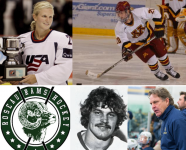 Why Coach Charlie Burggraf was a Great Hire
The hire reflects both Darwitz and Burggraf's deep roots with Minnesota hockey and Upper Midwest hockey. He brings 16 years of coaching experience in the Upper Midwest and many years of hockey success in the Upper Midwest. Darwitz appears to be reaching out to the broader Upper Midwest hockey community with this hire.
For background, Darwitz is a Minnesotan who could have landed prominent head coaching roles in other states but wants to stay in Minnesota because of her passion for Minnesota hockey and living here. She came up the coaching ranks as an assistant coach at Eagan High School and then Lakeville. Darwitz then turned around a bad Hamline women's hockey program to the Frozen Four before becoming an assistant coach for University of Minnesota Gophers.
Before that, Darwitz was a Hall of Fame hockey player for Minnesota Gophers and Team USA, one of the best to ever play the game. She helped lead the Gophers to back to back national championships and broke the record for points in a season. She played youth hockey for Eagan (in the Twin Cities area). Her dad was a hockey coach.
Enter Charlie Burggraf as the new head coach of PWHL Minnesota.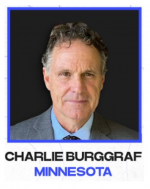 Charlie Burggraf played youth hockey in
Roseau
, Northern Minnesota near the Canadian border, as a team captain and standout player. Roseau has a long tradition of hockey excellence. Then he played college hockey for North Dakota as a center and a captain. He became one of the school's all-time leading scorers, won the WCHA championship, and played for the national championship. He still holds the school record for most shorthanded goals in a single game. He played pro hockey in Europe for two seasons.
Burggraf has 16 years of coaching experience. That includes two seasons as an assistant coach at University of Minnesota where he was Darwitz's coach. Darwitz experienced his coaching first-hand. Burggraf then coached at Bethel for 12 seasons as the women's hockey and men's hockey coach. He started as a grad assistant at North Dakota and at Fergus Falls High School.
While an assistant coach at Minnesota, the Gophers won a national championship. While a graduate assistant coach at North Dakota, ND won a national championship.
Burggraf is unique in that he has ties to Northern Minnesota hockey (Roseau and Fergus Falls), Upper Midwest hockey (North Dakota), University of Minnesota "Big Time" WCHA hockey with Olympian players, DIII hockey (Bethel), youth-college-pro hockey, and both women's and men's hockey. He's a bit of an old-timer with a lot of hockey experience.
Why the Burggraf Hire Will Raise Eyebrows
Unlike the other PWHL coaching hires, Burggraf doesn't have Olympics coaching on his resume. He's not a blockbuster international-reputation hire. In fact, probably nobody in Europe knew about him before this hire.
In contrast, Ottawa's new coach Carla MacLeod is the coach of the Czech women's national team she has built into an international contender. Toronto's coach Troy Ryan is coach of Canada's women's national team.
The Verdict
Everyone can think for themselves about the wisdom of Natalie Darwitz's decision to hire Charlie Burggraf. Either way, it was a bold decision by Darwitz that clearly reflects Darwitz's opinions and her leadership. The competition in the PWHL will be fierce. We will find out how this turns out.
Grade: A - the Boss
The historic first-ever draft will be held Monday. I will post a follow-up to that. Minnesota Gophers' center Taylor Heise is projected to be the #1 overall pick.
Taylor Heise of the Minnesota Gophers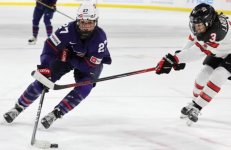 #CharlieBurggraf
#CharlieBurggrafMinnesotaPWHL
#NatlieDarwitz
#MinnesotaPWHL
#PWHL
#NatlieDarwitzMinnesota
Last edited: