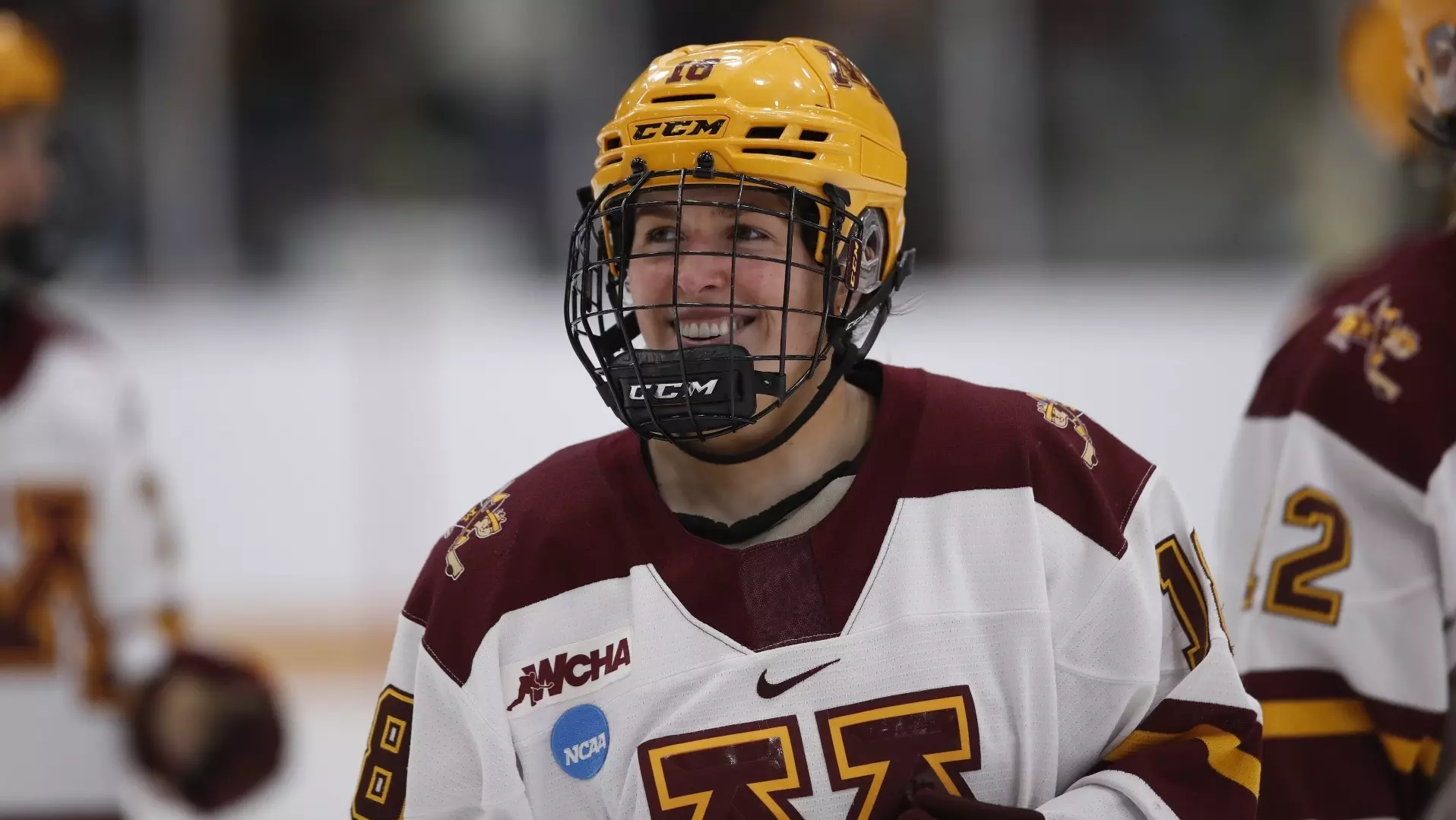 MINNEAPOLIS – The Golden Gopher women's hockey team ranked third in the WCHA preseason coaches' poll, the conference announced Monday. Redshirt junior Ab...
gophersports.com
Redshirt junior forward Abbey Murphy was named to the Preseason All-WCHA Team. Fifth-year senior defender Madeline Wethington and junior goaltender Skylar Vetter also received votes.
The Minnesota Gophers placed #3 in the preseason coaches' poll.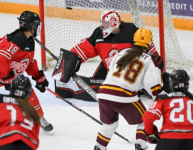 Right forward Abbey Murphy with her upper left corner money shot -- sometimes from a wide angle
Look for Murphy to compete for the WCHA scoring title this season. I think Skylar Vetter is going to have a strong season, if the Gophers defense is solid. I don't know defenders well except to write that Madeline Wethington generated 20 assists and 6 goals as a defender last season. Defender Nelli Laitinen, not making the list, was worthy of acknowledgment.
Also, at this point I thought junior forward Peyton Hemp would appear on this list. She was a top high school recruit (named Minnesota Ms. Hockey) and started strong at Minnesota (winning both WCHA and National Rookie of the Year).
Hemp was 7th on the team for points (28) last season and 5th for goals (16). Maybe this is Hemp's big breakout year. There's opportunity ahead.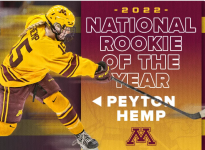 Is Peyton Hemp a breakout candidate this season?
Four of five of Minnesota's top-producing forwards graduated this offseason: Taylor Heise, Grace Zumwinkle, Abigail Boreen and Catie Skaja.
Bloomington, Minn. - Defending national champion Wisconsin and defending league champion Ohio State are the picks among league head coaches to win the Western Collegiate Hockey Association's 2023-24 regular season title.
wcha.com
Minnesota enters the season ranked 3rd in the WCHA behind Ohio State and Wisconsin. My view is they are the Big Three so it's not that bad to be #3, plus that's ahead of UMD, but... it's an uneasy feeling to see Wisconsin and Ohio State tied for #1 ahead of Minnesota.
2023-24 WCHA Coaches Poll
(Coaches could not vote for their own team. First place votes are in parentheses)
1. Wisconsin (4) 46 points
1. Ohio State (4) 46
3. Minnesota 35
4. Minnesota Duluth 33
5. St. Cloud State 27
6. Minnesota State 17
6. St. Thomas 17
8. Bemidji State 7
Preseason WCHA Player of the Year
:
Caroline Harvey, Soph., D, Wisconsin (7 votes)
Others receiving votes: Hannah Bilka, F, Ohio State (1).
Preseason WCHA Rookie of the Year
Joy Dunne, F, Ohio State (5 votes)
Others receiving votes:
Eve Gascon, G, Minnesota Duluth (2); Kelly Gorbatenko, F, Wisconsin (1)
Preseason All-WCHA
F: Jenn Gardiner, Sr., Ohio State (tie) with Kirsten Simms, So., Wisconsin
F: Abbey Murphy, Jr., Minnesota
F: Casey O'Brien, Sr., Wisconsin
D: Cayla Barnes, Sr., Ohio State
D: Caroline Harvey, Soph, Wisconsin
G – Amanda Thiele, Sr., Ohio State
Others receiving votes (listed alphabetically by position):

Forwards
– Hannah Bilka, Sr., Ohio State; Jenna Buglioni, Sr., Ohio State; Britta Curl, Sr., Wisconsin; Lacey Eden, Jr., Wisconsin; Jamie Nelson, Sr., Minnesota State; Makenna Webster, Sr. Ohio State.
Defense
– Nina Jobst-Smith, Sr. Minnesota Duluth; Madeline Wethington, Sr., Minnesota.
Goaltender:
Jojo Chobak, ; St. Cloud State; Skylar Vetter, Jr., Minnesota;.
Minnesota Women's Hockey at the football game last weekend: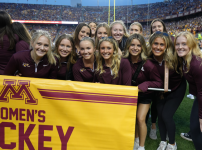 Minnesota
Last edited: