Joined

Dec 5, 2010
Messages

6,431
Reaction score

2,242
Points

113
Go ahead right wingers. Hang your hat on the inaccuracy of the polls in 2016 when Trump ran and lost the popular vote by 3 million against the worst Democratic candidate in decades. If it's the only thing that will help get you out of bed in the morning between now and November, have at it.
Biden could win in a landslide
A half dozen new swing-state polls released Thursday mMiorning suggest that not only would President Donald Trump lose if the election were held today, he would lose in a landslide. The surveys, conducted by The New York Times and Siena College, show Trump trailing former Vice President Joe Biden by double digits in Michigan (Biden +11), Wisconsin (Biden +11) and Pennsylvania (Biden+ 10) and by mid-single digits in North Carolina (Biden +9), Arizona (Biden +7) and Florida (Biden +6).

Trump won every one of those states in the 2016 election. Switch them from red to blue and you can quickly see just how bad hings look for Trump at the moment. Give Biden those six states -- Michigan, Wisconsin, Pennsylvania, North Carolina, Arizona and Florida -- and keep the rest of the 2020 map just as it was in 2016, and the Democratic nominee has 333 electoral votes to just 205 for Trump. That would be a larger Electoral College margin than President Barack Obama won with in his 2012 reelection.

But even that doesn't capture how dark things could get for Trump. A Quinnipiac University poll in Ohio released Wednesday showed Biden at 46% to Trump's 45%. (A Fox News poll released in early June showed Biden at 47% to Trump's 45%). If Ohio went to Biden, he would be at 351 electoral votes.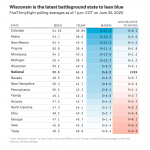 Read complete article at:
https://www.cnn.com/2020/06/25/politics/donald-trump-swing-state-polls-new-york-times-siena/index.html
Last edited: