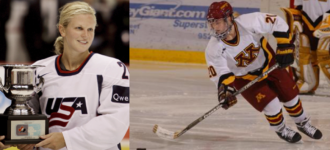 Hockey great Tessa Bonhomme, defense for Team Canada and Ohio State, described Minnesota Gopher great Natalie Darwitz, a forward, as "
a nightmare to play against
." Darwitz broke the NCAA record for most points in a season on her way to winning back-to-back national championships with Minnesota.
Now as General Manager for Minnesota's PWHL team, she's built the franchise in her image -- a scoring attack onslaught. I'll walk you through the draft and free agency so you see what I mean.
Making Sense of the Draft Picks and Free Agency Signings
Free Agent Signings
1. Kendall Coyne-Schofield, Forward
2. Kelly Pannek, Forward
3. Lee Stecklein, Defense
Draft Selections
1. Taylor Heise, forward/center
2. Nicole Hensley, goaltender
3. Grace Zumwinkle, forward
4. Maggie Flaherty, defense
5. Susanna Tapani, forward
6. Clair DeGeorge, forward
7. Natalie Buchbinder, defense
8. Denisa Krizova, forward
9. Sidney Morin, defense
10. Sophia Kunin, forward
11. Amanda Leveille, goaltender
12. Michela Cava, forward
13. Liz Schepers, forward
14. Minttu Tuominen, defense
15. Sydney Brodt, forward
Kendall Coyne-Schofield
is one of the biggest stars in hockey, revered for her blazing speed and offensive firepower. She won the Patty Kazmaier Award for the best player in college hockey and won gold with Team USA. She's generated a lot of buzz for her leadership in hockey.
She's the first woman to compete in the
NHL
All-Stars Competition, recording a race time of 14.326 seconds in the fastest skater challenge, comparable to the rest of the NHL competition and not last place. She's also been a color commentator and broadcasting analyst for NHL games.
Factoid: Her husband is an NFL offensive lineman.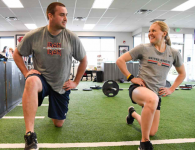 Kelly Pannek
won two national championships with Minnesota plus numerous achievements with Team USA. She was a finalist for the Patty Kazmaier Award after scoring 62 points in 39 games in 2016-17. She's a native of Plymouth, Minnesota.
Factoid: Pannek once scored a hat trick (3 goals) in high school in 22 seconds! Whoa!
Kelly Panneck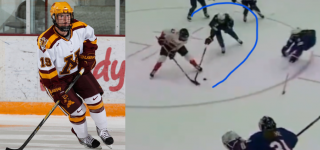 Lee Stecklein breaks up the Canada attack and passes for a break away goal by Abbey Murphy of the Gophers in the Gold Medal victory over Canada this year.
6' 0"
Lee
Stecklein
is a shut down defender who facilitates scoring and scores points herself. She's arguable Team USA's best defender, though a few names get mentioned. As a defender for Minnesota Gophers she was consistently ranked one of the leaders in the nation for points by a defender. She won two national championships with Minnesota Gophers.
With their first draft pick,
Taylor Heise
is a scoring menace who led the NCAA in scoring this year. She won the Patty Kazmaier Award as the best player in women's college hockey. Today her name is all over the news as the #1 overall draft pick of the inaugural PWHL draft. She's from Minnesota. (To keep this post relatively concise, I'm not going to post all her accolades).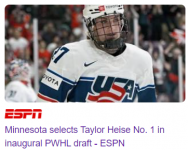 With their second draft pick, GM Darwitz drafted the best goaltender in the draft,
Nicole Hensley
. The pick was a surprise because Hensley was expected to be drafted before Minnesota's 2nd pick. Hensley was the goaltender for Team USA until this season when she was edged out for the starting spot, but she's still ranked among the most-elite puck-stoppers in the world and played lights-out in pro hockey this year.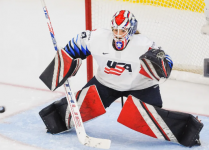 Before the draft, Darwitz said Minnesota probably wasn't going to draft a goaltender until the 4th-5th round, perhaps bluffing Hensley down to Minnesota's pick.
(FYI: Earlier that 2nd round, Boston sniped Toronto's pick one spot before, Sophie Jaques of Toronto. Boston, they hate you!)
With their third pick of the draft, Minnesota PWHL drafted another Team USA Minnesota Gopher in forward
Grace Zumwinkle
. She's consistently year after year one of the top scorers in the NCAA and does everything great, including able to play defense. She twice was a finalist for the Patty Kazmaier Award. She's from Minnesota.
Zumwinkle Patty Kazmaier Award Nomination Biography -- the First Time Nominated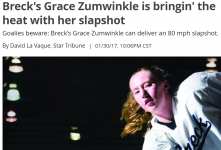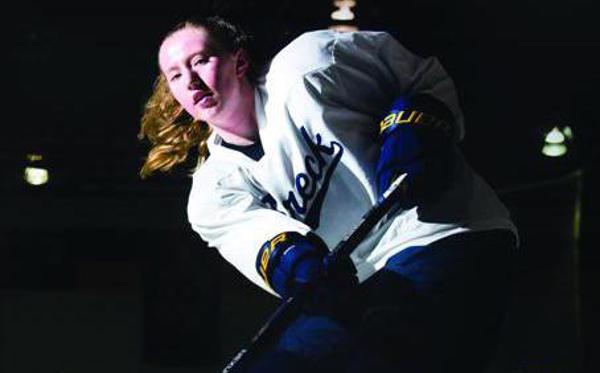 The official home of Minnesota girls' high school hockey.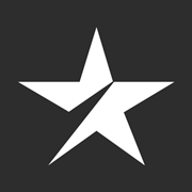 www.mngirlshockeyhub.com
In the fourth round, Minnesota drafted UMD defender
Maggie Flaherty,
one of the best defenders in college hockey. UMD is known for a stout defense. She's from Minnesota.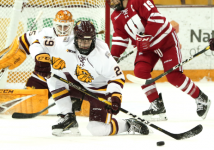 The Finland Attack (Hyökkäys Suomesta)
More speed and agility. With their 5th round pick, Minnesota PWHL selected forward
Susanna Tapani
of Finland, a truly unique pick. Besides one of the best hockey players in Finland, she's officially one of the greats in the sport called ringette that is similar to hockey but with some lacrosse elements; it's fast, the fastest game on ice, and requires more skating and team passing to succeed than hockey. She also competed in in-line skating. She played for the Finland national hockey team.
Ringette goal by Tapani:
With their pick in the 14th round, Minnesota PWHL drafted defender
Minttu Tuominen
of Finland. At this round you're looking for value and hidden gems. Well, Tuominen is unique in that she was a forward who switched over to defense. She led leagues in Finland for scoring by a defender. She played for the Finland national hockey team where she won 7 Bronze Medals and a Silver.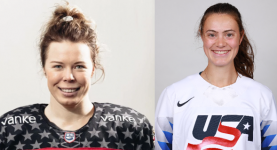 With their 6th round pick, Darwitz drafted another left shooting Team USA forward in
Clair DeGeorge
.
Six of the nine top players are forwards. The team has speed. The defenders are producers. The team just drafted the best player in NCAA hockey, the scoring leader. Attack, attack, attack and attack. This is exciting hockey to watch.
There is some risk. The Minnesota Gophers this last season led the NCAA is scoring. It got them to the Frozen Four. It was exciting to watch. But the defense looked overwhelmed at times, though that looked corrected in the post-season.
Good thing Minnesota PWHL has an elite Team USA goaltender.
If scoring sells tickets, this new Minnesota PWHL team should have plenty of fans in the seats.
Early Thoughts
Minnesota probably will lead the PWHL in scoring. Boston looks dangerous. The Canadians are the Canadians -- Toronto's coach is also the head coach for Team Canada's national women's team. My thoughts... intensely competitive. They all badly want to win.
#PWHLMinnesota
#PWHL
#NatalieDarwitz
#MinnesotaPWHL