Joined

Dec 5, 2010
Messages

6,473
Reaction score

2,260
Points

113
According to recent polls, half to three-quarters of Americans intend to get the vaccine if one becomes available
— woefully short of what we'll need to protect our communities.
If a vaccine against coronavirus becomes available to the public, 49% say they plan to get vaccinated, and 20% say they will not.
Another 31% are not sure. A 2019 survey conducted for the National Foundation for Infectious Diseases found a similar number, 52%, planned to get vaccinated against the flu that season.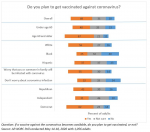 The anti-vaccine movement was once linked primarily to wealthy white parents.
Nowadays these views are expressed both by liberal parents, who align with "natural" health and parenting identities, and conservative parents, who emphasize their distrust of government and the importance of individual liberty.
Race matters, too:
For some families of color, the sordid history of unethical experimentation on vulnerable communities makes them reluctant to vaccinate.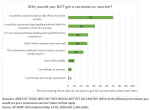 https://www.nytimes.com/2020/07/09/...l?action=click&module=Opinion&pgtype=Homepage