Interview conducted by Chris Monter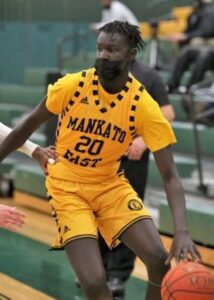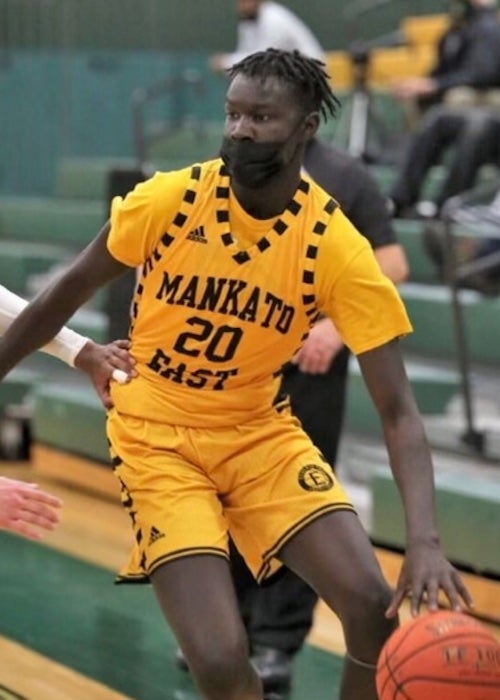 B.J. Omot, a 6-foot-8 junior from Mankato (MN) East, is one of the top players in state from the Class of 2022. Omot's strong play this spring with the D1 Minnesota AAU program earned him a recent scholarship offer from Providence.
Omot averaged 21 points per game this past season, the second-highest season average in program history, with two games of 27 points. He also averaged 8.5 rebounds, with a high game of 18. Omot led the Scarlets with 3.1 assists and shot 54% from the field, including 40.4% from three-point range. He was named second team All-Big Nine Conference.
GopherHole: You had a very good weekend playing in the Battle of The Lakes. How pleased were you with how well you played, individually?
B.J. Omot: I was pretty pleased, because the other weekends, I wasn't as aggressive as I was this past weekend. I shot the ball pretty consistent this weekend. I was more aggressive, more like me. Like how I played during the high school season and I was comfortable with it.
GopherHole: How about the team? You were 3-1 this past weekend. How pleased were you with how well you played?
B.J. Omot: We played really well. The first game, obviously, we lost off a game-winner, but then we bounced back. Played more aggressive. Shared the ball more. Played better defense. We just looked good out there.
GopherHole: You guys have played well, but I know that is tough because you have teammates from all over the area, so it makes it tough to practice. Does that make it a little tougher than you would like it at times?
B.J. Omot: It does make it a little tougher, but we do a lot of team bonding. We talk with each other a lot. We hang a lot and we just have good bond off the court, too, so that makes it better on the court.
GopherHole: How about your junior season? How pleased were you with how things went?
B.J. Omot: I was really pleased. I averaged 21 points. That's second most in school history at Mankato East for the boy's, so I was very pleased.
GopherHole: How about your team's performance?
B.J. Omot: Our team performance was pretty good. We went 13-4. Lost a couple of games. We could have won those games, but then we bounced back the next games and won those games. Sections, I didn't get to play and me and four others didn't get to play, so it was a bummer. We lost that game, but we'll bounced back next year, for sure.
GopherHole: What was the reason for that?
B.J. Omot: A kid on our team tested positive for COVID.
GopherHole: Was that frustrating to know that it could have been a lot different?
B.J. Omot: It was really frustrating because two years ago, we didn't have this problem. COVID wasn't here. That's the way life goes now. COVID.
GopherHole: How is that dealing with everything going on in the world  and trying to go to school and play basketball. How hard is it compared to before?
B.J. Omot: It is very hard, because everything is different. You just have to move differently now. You have to make decision differently. You don't want to be around a lot of people without masks and stuff. You just got to be aware of everything.
GopherHole: Does that make you appreciate the "good old days?"
B.J. Omot: Oh, yes. I really miss the good old days. I want to go back to them, for sure.
GopherHole: You picked up an offer from Providence last week. How many offers are you up to right now?
B.J. Omot: I have five offers all together. I've got Western Illinois, Bryant University, Cal Poly, University of St. Thomas and Providence.
GopherHole: What other schools are you hearing from besides those five?
B.J. Omot: I'm hearing from Iowa, Iowa State, SDSU, NSDU, Butler University, Nebraska-Omaha. Minnesota coaches followed me the other day, so I'm pretty sure that they are going to hit me up soon
GopherHole: Where is your family from originally?
B.J. Omot: My mom and my dad, they are from South Sudan. They came here in 1998, migrated here and I was born here.
GopherHole: Knowing what they had to go through to get here, does that make you appreciate things more, in terms of the classroom and your basketball, to work hard?
B.J. Omot: It does make me appreciate it. It makes me more motivated because they worked hard to get over to America, so I am going to work hard on the court and in the classroom to make them happy.
GopherHole: Obviously, you have some good opportunities, college-wise. What will it mean to play Division I basketball?
B.J. Omot: It will really mean a lot, because I have been looking forward to this my whole life. I have been playing basketball my whole life, so it is really a dream of mine, for sure.
GopherHole: Has your recruitment picked up a lot since the end of the season?
B.J. Omot: It has. Ever since AAU started, it has really picked up a lot. My phone has been more busy. I have calls from colleges every day. Texts from every day, so it's been pretty busy lately.
GopherHole: Do you like that though or are you starting to see how it can get to be a little bit overwhelming at times?
B.J. Omot: I like it, but sometimes I'm at different places, like I'm busy and my phone keeps blowing up, so I can't answer it, so it is kind of frustrating. But, it is what it is.
GopherHole: It is different because you can't visit schools like you could in the past, but what are going to be the main factors that will make you pick Schools A over School B or C?
B.J. Omot: For sure, I'm going to look at the academic program. I want to see what kind of schools have good academic programs. My relationship with the coaches. See how much they love me and stuff. A good basketball program, I guess.
GopherHole: It looks like you have grown a little even since last year. What are you up to height and weight-wise?
B.J. Omot: I'm at 6-7 1/2, but I just say 6-8. I think I grew an inch and a half since last year. I'm 185. I gained ten pounds over the offseason from last year to AAU. I am still getting in the weight room every day. I want to get to at least 195 before next year's season, so I'll be in the weight room a lot this summer.
GopherHole: What things are you really working on to continue to improve yourself as a player?
B.J. Omot: Working on my shot. I want to be a more consistent shooter. I want to have better handles, because I want to be a big guard, for sure and moving my feet defensively quicker, because I am going to guarding guards in college. Those are the main things that I want to work on.
GopherHole: Do you think that is one of your strengths is that because of your size, but you can play more than one or two positions?
B.J. Omot: Yes. I think my best game is being versatile. I could guard different positions, like 1 through 4. I can score against the 1 through 4.
GopherHole: You mentioned the Gophers and that you may start hearing from them a little bit more now. What would it mean to hear from the homestate school?
B.J. Omot: It will really mean a lot because if they offer me, it would be very pleasing, because I can have the thought that you can stay home and play college basketball and still see your family, not that far away, so that would be pretty pleasing.
GopherHole: Do you watch a lot of college basketball?
B.J. Omot: I do watch a lot of college basketball.
GopherHole: Are there certain teams you watch or do you watch certain players?
B.J. Omot: I watch the Gophers, obviously and I watch the top players and teams, like Oklahoma State. I really like watching Cade Cunningham play. He is a really good player. Gonzaga, obviously. Jalen Suggs. Minnesota boy, so it is pretty good watching those schools play.
GopherHole: Do you try to take some stuff from their game and incorporate it into your game?
B.J. Omot: Yes. Cade Cunningham. I really watch how he plays. I learn stuff from him because I think I look and play the same as him. He is a point guard and I am a 2 or 3, but I still pick up moves from him.